The St. Louis Blues find themselves in 2nd place in the jam-packed Central Division, and also 2nd overall in the Western Conference, despite having the 3rd most man-games lost due to injury (79). The team also has the most key injuries sustained so far this season, as shown by their incredibly high 274.90 IIT-CFrel% (injury impact to team based on Corsi %). To put this in perspective the next closest team in this advanced stats category are the Tampa Bay Lightning, at just 155.40. This shows exactly how impressive the Blues have been this season, and it's largely in part to several odd cogs stepping up to keep the ship going in the right direction through these adversities.
A True Team Effort
First off, one of the only reason the Blues are in the position they are in is because they've played an adaptive game that can change slightly to become more effective against certain opponents. However that type of game plan can only work if every player knows their role and executes it every shift. That's a kudos to the Blues as a whole, as young guns and crafty vets have all stepped in and stepped up to fill these gaps left by injuries, and the coaching staff have managed them well.
Though team scoring is down (and pretty one dimensional) at this point, it's still been great to see the Blues find other ways to win, something that may just translate to a better playoff performance this spring. That being said here's a breakdown of the Note's offense to this point of the season:
| | | | | | | | | | |
| --- | --- | --- | --- | --- | --- | --- | --- | --- | --- |
| | CP60 | PDO | FO% | SCF% | HSCF% | MSF | BSA | OCOn% | Pen Diff |
| Blues | 105.1 | 100.3 | 49.70% | 49.60% | 48.70% | 229 | 304 | 56.00% | -15 |
| League Average | 108.64 | 100.01 | 50.02% | 49.97% | 50.07% | 243.2 | 291.93 | 53.86% | 0 |
| Blues Rank | 26th | 14th | 19th | 17th | 19th | 17th | 10th | 9th | 26th |
The chart above illustrates exactly how resilient the Blues have been so far this season. They rank in the top 43% of the league in the least amount of shots that miss their target and in the top 30% for blocking opposing shots to the net, but beyond that the team shows no clear signs of being a powerhouse. Their CP60 (Corsi for and against per 60 minutes) is near the last in the league, meaning they have almost as many chances against them as they create. Their SCF% and HSCF% (scoring chances for %, and high-danger scoring chances for %) are both slightly below the league average, meaning that when the team does get scoring chances, normally they are lower quality ones.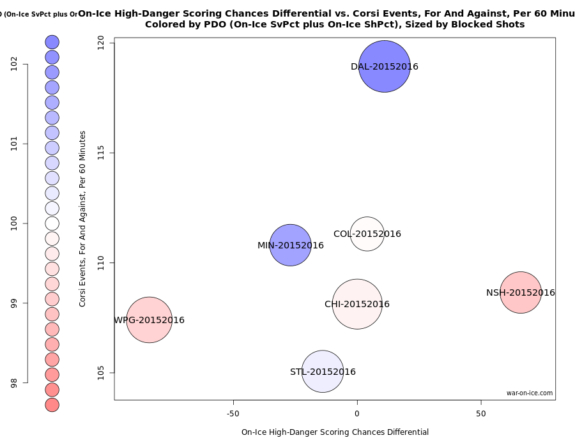 That's no surprise to fans who have seen an absence of cycling and moving feet in the offensive zone throughout this year. The Note also rank near last in Pen Diff (penalty differential) meaning that they have taken 15 more penalties against, than they have had power plays for. Finally the team has struggled in an area they normally are atop the league in, face-off percentage (FO%). However despite all of these mediocre advanced stats the Blues still manage to win consistently. With a variety of players in and out of the lineup and with Hitchcock's line juggling, which is pretty standard, this feat becomes even more impressive. Outside of being 9th in the league in getting shots through traffic and on net (OCOn%, thanks largely to Colton Parayko) the Blues have proven that heart outweighs these advanced stats in the thicket.
The Bright Side
Though these stats may cause some fans to freak out, they are actually a sign of a great team. As previously mentioned the Blues keep finding ways to win in spite of being statistically average (or below), and are doing so without key players like Jaden Schwartz, and those who have recently returned from longer injury stretches like Kevin Shattenkirk, Paul Stastny, Jori Lehtera, Steve Ott, and Robby Fabbri. Thanks to crafty vets like Scott Gomez, Scottie Upshall, David Backes, and (briefly) Martin Havlat filling the gaps the Blues were able to keep stride and score just enough to win these big games early on. This sets them up for a much better winter and spring, and should help ease the load heading into the postseason.
The biggest pieces of the puzzle have been the Blues goaltending, specifically Jake Allen, who is truly settling in to his #1 status, and is giving fans highlight reel saves each and every night. He is relying on his supreme athleticism and reflexes to stay sharp; and his laser focus and excellent positioning have allowed him to turn aside over 93% of all shots he's faced so far this season. The primary compliment to Allen and Elliott's great play has been the top line wingers in Vladimir Tarasenko and Alex Steen.
Tara-Steen-ko
The pair of skilled wingers have combined for 39 of the team's 156 points this season (25% of all offense), and are a combined plus-9 showing that they aren't just threats in the offensive zone. They seem to feed off of each other very nicely, and now that their number-1 center, Paul Stastny, is healthy expect the line to pick up their torrid pace even more. With their high hockey IQs and individual play-making ability this top line should rival the best in the league, and provide some (more) highlight reel plays of their own moving forward.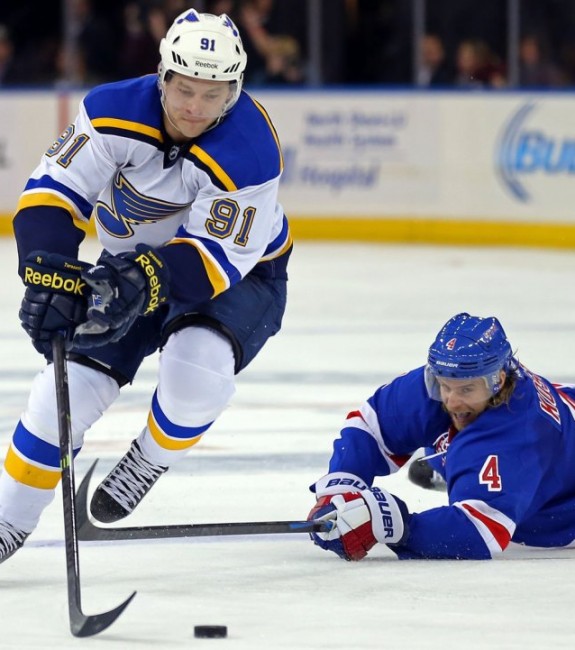 If the Blues can manage to stay healthy for a large portion of the rest of this NHL season they should find themselves in a great spot come April. If they can find ways to win then as they have now it will finally be a year where fans can rejoice about a 2nd round appearance at least, if not more. The heart of the team has really shown through this early season adversity, and gives fans hope for things to come as players return.
Like what you've just read? Follow me on Twitter: @pep30
Mike has covered the St. Louis Blues and Tampa Bay Lightning in depth for The Hockey Writers since 2013. He is also a contributing writer for KSDK News Channel 5, the St. Louis area NBC affiliate, and has been a credentialed media member of the Blues since 2014. Follow him on Twitter @pep30.