The Calgary Flames have again waived a goaltender.
This time it's Finnish goaltender Joni Ortio. The 24-year-old is in the final year of a one-way contract that pays him $600,000 and leaves him as a RFA at the end of the season.
The Flames started the season carrying three goaltenders, knowing they believed Ortio was the future of their net, even if it was most likely that Jonas Hiller or Karri Ramo would be the guy taking the majority of the work this season. It put the team in a situation where they'd rather carry three goaltenders than lose Ortio by waiving him.
Yet, despite a plethora of options, the goaltending in Calgary has been atrocious, forcing the team to waive Ramo earlier in the season. Hiller and Ortio performed poorly in Ramo's absence, then Hiller was injured, forcing the team to recall Ramo. At that point Ramo grabbed the reins, playing the last 11 games and giving Ortio no ice time at all.
In the limited time Ortio had before riding the bench the last 11 games he put up an .868 save percentage and a 0% quality start percentage.
But there are two teams that could benefit from acquiring the young netminder who still shows promise, posting a .912 in the AHL last year and a .926 the prior season.
Toronto Maple Leafs
Toronto is playing for the future and that's the reason claiming Ortio might make sense.
Jonathan Bernier and James Reimer have danced back and forth for the last few years and neither has really taking the reins. Though Reimer has been outstanding recently and has been the man between the pipes in every Leafs win this season. After taking a fall in practice this week, his injury status may play a role in whether the Leafs have a need for some assistance in net.
On of the problems with the Leafs goaltending situation is that both Bernier and Reimer are likely to be in their 30s by the time Toronto is ready to seriously compete. With neither being a clear cut guy who can take them on a playoff run, they may be apprehensive to stick with them as they head toward the back of their career in anything more than a back-up role.
Both of the guys who are next in line are quite young with Antoine Bibeau at just 21 and Garret Sparks at 22. Bibeau has struggled this year, but had a pretty good year last season and Sparks continues to look like a very good prospect.
Claiming Ortio may depend a bit on how the team views Bibeau's development, what their goaltending plan is for next season with Reimer's contract expiring this season and how patient they plan to be with Sparks.
Buffalo Sabres
Buffalo is also a team building for the future, even if they've taking some huge strides forward this season.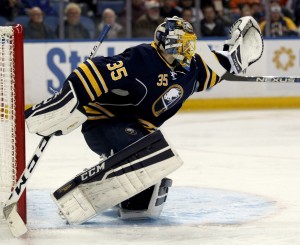 With the ransom they paid to acquire Robin Lehner from Ottawa and that he was injured in the first game of the year, they likely still want Lehner to be their de facto number one. But he still hasn't returned from injury.
The 29-year-old Chad Johnson is a UFA in the summer and there aren't many signs that the team wants to stick with him. After posting an .889 save percentage through 19 games with the Islanders last season and a .904 through 14 games this season, there isn't much reason to make a commitment to him.
With Lehner out and Johnson not providing the numbers of a starter, the Sabres have turned to 22-year-old Linus Ullmark. He has a .916 save percentage through 10 games. His inconsistency is an issue though and he may still be their goaltender of the future, but need a little more development before he's really ready to take the reins full-time.
Ortio's ability to benefit the Sabres may rely on how the team views their situation internally. If they're ok carrying three goaltenders for the rest of the season and see that Ortio could be a long-term investment then it may make sense.
Ortio could provide a cheap back-up for the next couple seasons if Lehner is the number one and they want to leave Ullmark in the AHL developing and getting starts for when the team is ready to make a legit run at a Cup. It has the potential to solve their back-up problem with a low cost move that has high-upside.
Standing in the way here is Nathan Lieuwen and Andrey Makarov in the AHL, both of whom are young and developing, but both have struggled this season. Lieuwen has an .890 save percentage in eight games and Makarov stands with a .901 in eight games.
Edmonton Oilers
Would the Oilers add a 43rd goaltender to their rotation?
It depends on whether GM Peter Chiarelli believes the problem in net lies with the guy standing between the pipes or if it's the guys standing in front of him.
Either way, they clearly need some steady goaltending. Anders Nilsson has been playing better, but with a .906 save percentage that's really just relative to what the team has gotten previously. Cam Talbot has not been the savior they needed and it's been a carousel of guys for years who have played well somewhere else and then failed to match those numbers when they play behind Edmonton's patchwork defense.
Outside of Talbot and Nilsson, the team has Ben Scrivens making some big money in the American League and 22-year-old Laurent Brossoit getting the majority of the work on that team, and handling it quite well. They also have Eetu Laurikainen, who played one game with AHL Bakersfield before being allowed to go back to Finland to play this season.
Their depth in goal is both deep and shallow, with a lot of question marks despite some recognizable names. The weird path of Tyler Bunz from have a NHL game last year to stepping out of pro hockey is also a blow to the system.
Claiming Ortio would be more out of desperation than anything. It's hard to asses whether they have their "goaltender of the future" since no one appears to be able to play well behind that team.
Where Does He Go
As with most guys who are waived, Ortio is most likely just headed to the AHL. If any team is going to claim Ortio off waivers, it's going to be a team that believes he has an ability to help the team down the road and is willing to carry three goaltenders now. Or there's the possibility a team with an injury grabs him as a short-term solution.
Either way, there just aren't many fits for Ortio, making him passing through waivers entirely likely, where his getting claimed off waivers a month ago was almost a sure thing.
UPDATE:
Ortio has cleared waivers, according to Elliotte Friedman.
Dustin Nelson writes about news and the Minnesota Wild for The Hockey Writers.