Connor McDavid has hit another level this season, especially when it comes to his goal-scoring ability. And, if there's one person who can recognize just how good McDavid has gotten at that particular skill, it's former NHL legend and goal-scoring icon Brett Hull. Hull, who scored 741 goals over a career that spanned 1269 games (adding another 103 in 202 playoff games), recently spoke with Betway about McDavid's magic and he's more than impressed.
---
---
In fact, Hull likes McDavid's game so much, he believes this Oilers team has the potential to be as good as the Dynasty Years when Wayne Gretzky ran roughshod over the league.
McDavid's Skill and Speed Make Him the Ultimate Teammate
McDavid has added a new level of danger to his game. Previously known as an incredible playmaker, he's now a threat to score every time he touches the puck and that not only makes him someone opposing players have to watch and respect, but it opens up opportunities for his teammates, many of whom are having career seasons. Just look at Ryan Nugent-Hopkins, who everyone in Edmonton knows is good, but is on pace for his first 100-point season. Zach Hyman could hit 37 goals and Leon Draisaitl is likely to shatter his own career highs. McDavid simply ups the production level of everyone around him.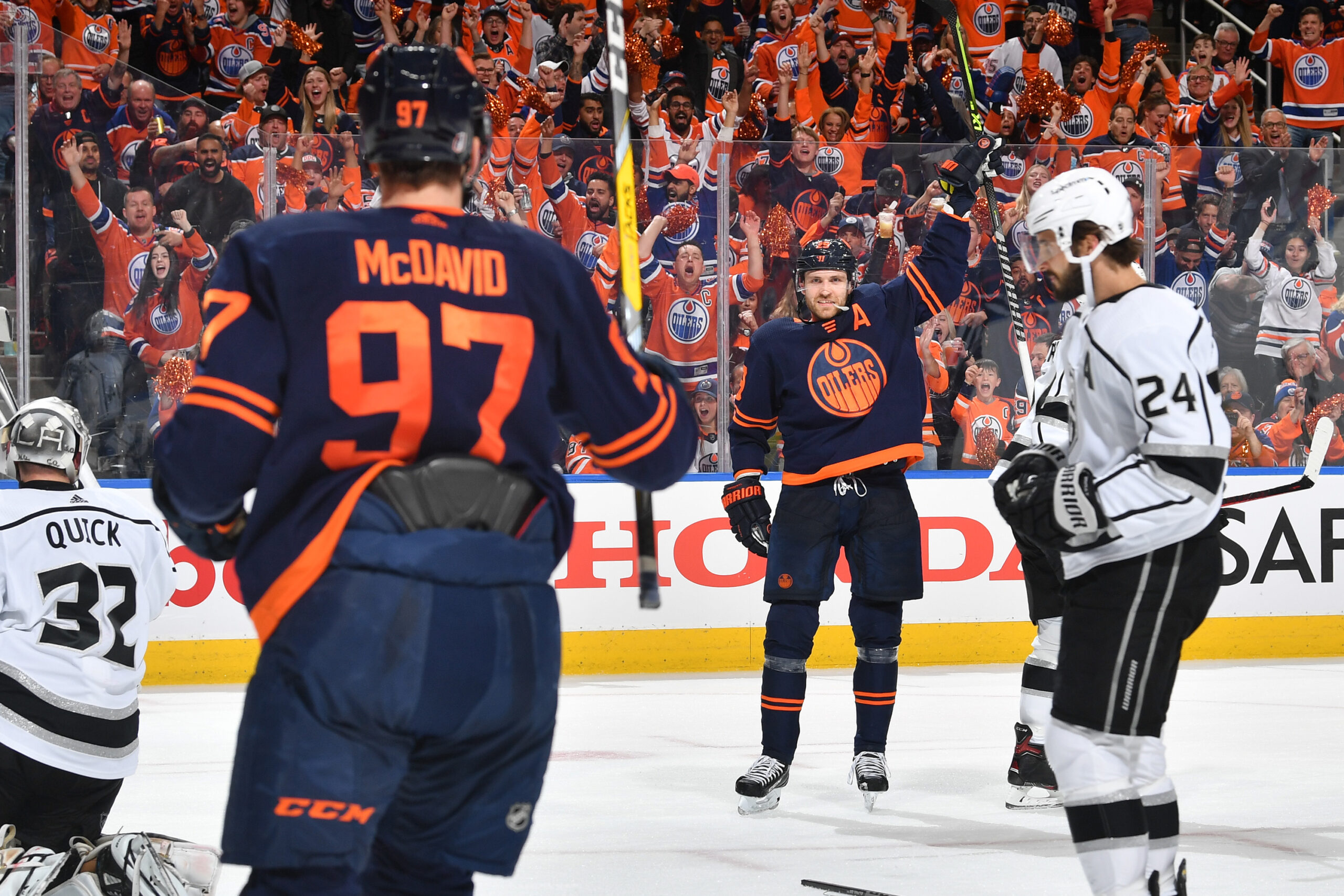 As the Oilers get better and better and McDavid gets more and more deadly, he's only going to attract the best of the best who want to be a part of what he's doing in Edmonton. The trick for the Oilers is finding pieces that mesh. When asked which player he would have most liked to play with, Hull said, "I would love to say Connor McDavid, but it would never work because I could never keep up with him. He's too fast!" He specifically marveled at his skating ability saying, "It looks like he floats on top of the ice."
There's an art to playing with McDavid and as his game changes, the skill involved in keeping up requires attention and practice. If the Oilers really want to elevate McDavid's game beyond what he's doing himself, Holland needs to find the right dance partners.
Is McDavid Gretzky Good?
Bryan Hayes and Jamie McLennan of TSN Overdrive recently discussed McDavid's incredible season and noted it compares to some of the best in NHL history. Saying he's lapping the field when it comes to the rest of the NHL, he's likely to end the season with 30 or more points than anyone else. The hosts asked if this season can be compared relative to the years when Gretzky dominated. They noted it's hard to do, but when you look at how the game has changed and note the improvements in opposition, goaltending, and coaching, the argument is there.
---
Latest News & Highlights
---
Hull knows all too well what it's like to be in the league with players of McDavid's ability and he played some key years against players like Gretzky and stars like Mario Lemieux. He noted during the interview that Alex Ovechkin may catch The Great One's goal-scoring record, and that may be the only record broken, but that shouldn't take away from what McDavid is accomplishing. It's hard to even fathom where McDavid will be when his career is said and done and his stat totals calculated.
Could Oilers See Return to the Glory Days?
When you think of Gretzky, you think of the Oilers Dynasty of the 80s. And, for all McDavid is doing, he'll tell you all day long that he just wants to win. Hull wondered how far away from those years this current Oilers' roster might actually be and noted that Draisaitl and McDavid could usher the Oilers back to their glory years when the team won five Stanley Cups between the years of 1983 and 1990.
He noted, "It's scary if they could surround them with a little more talent and some goaltending. Edmonton could be back to the glory days with Gretzky and Messier and Grant Fuhr." The Oilers have certainly tried to do that by adding Zach Hyman, Evander Kane, and other pieces that could turn into the core of a group that wins over and over.
The window to a championship is small and GM Ken Holland pushed all in this deadline to try and surround his two stars with the best possible auxiliary pieces. Will Edmonton ever win that many Cups in so few years? That remains to be seen, but starting with one while McDavid is wowing the hockey world would be a good place to kick things off.
You may also like: