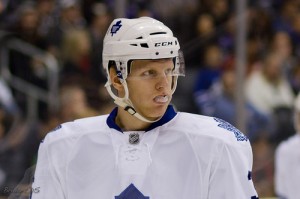 Since taking the reins of the Maple Leaf franchise in late 2008, Brian Burke has been anything but shy about making trades. He's improved the Leafs' depth, acquiring some very good prospects and draft picks near the 2011 trade deadline. Over the summer, he's swung deals to bring John-Michael Liles, Cody Franson and Matthew Lombardi on board. Most recently, the Leafs welcomed seeming faceoff whiz David Steckel.
As the season opens, Toronto seems improved, but are anything but a playoff lock. Tim Connolly, Joffrey Lupul and Lombardi need to be healthy and able to perform at career high levels. Dion Phaneuf needs to play as he did when he broke into the league. James Reimer must show last season's performance was no flash in the pan. Even then, this team has some obvious needs.
The goalie tandem features a grand total of 103 NHL games of experience. Burke and coach Ron Wilson have put a lot of faith in Reimer and Jonas Gustavsson. But, if neither of these netminders is up to the task, there's no veteran in Toronto's system, only more rookies to turn to. Reimer begins the season with a shutout, but the Leafs have little in the way of insurance should problems arise.
Maybe more pressing, the last time a Maple Leaf finished a season with 40 goals or 80 points was 2002. It's not that Burke hasn't assembled a nice group of forwards, but it's been ages since the Leafs had a duo like Sittler/McDonald, Gilmour/Andreychuk or even Sundin/Mogilny. Phil Kessel is a consistent 30-goal scorer, but not yet an established superstar. Youngsters Nazem Kadri and Matt Frattin may surprise, but are still rookies getting accustomed to the pro game. Lupul, Connolly, Mikhail Grabovski, Nik Kulemin and Clarke MacArthur could legitimately score 60 points, but that's a far cry from more spectacular duos like the Sedins or Stamkos and St. Louis. In short, there is no scary-good Art Ross threat here.
Burke is not alone in pursuit of player upgrades, but what he has done is build organizational depth that could allow some flexibility to deal. It may not be the type of depth that could land a Crosby or Ovechkin, but, in the right situation, improvement is possible. Burke has few untouchables, meaning almost anyone could be involved in a swap.
The greatest depth is to be found on the blueline. Simply put, Toronto has 11 defenders that fall into the category of NHL veteran or well-thought-of prospect. It would seem captain Phaneuf wouldn't be dealt, given his contract and that the better he plays, the more Toronto would prefer to keep him in the fold. The roster includes Mike Komisarek and Jeff Finger, veterans who have contracts that are not very attractive, and frankly have not distinguished themselves with their play in Toronto. Still, a team needing veteran blueline help could have interest. Komisarek could be part of a deal if a big contract was coming back to Toronto, while Finger becomes a free agent at season end. JM Liles also has a contract expiring, and if a team came calling he could be available. Then there's the 7 young men aged 25 and younger. It's true, Burke probably prefers not to deal big-bodies Luke Schenn, Cody Franson and Keith Aulie, or more offensive-minded players like Carl Gunnarsson and Jake Gardiner, or Matt Lashoff and prospect Jesse Blacker, and each has deficiencies that will take experience to iron out. But, there is no doubt that at least some of these players curry interest among teams looking to strengthen their own blueline corps. It would not be out of the question to see one of them in a package that could yield an offensive forward.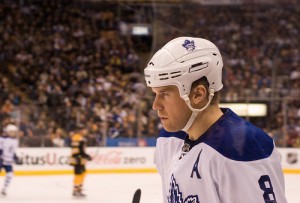 Among the forwards, the Leafs have stock-piled what might be considered many 3rd and 4th line players. The addition of Steckel and the somewhat surprising recovery of Lombardi has created a logjam that is relieved temporarily by Tyler Bozak and Matt Frattin being elevated to fill in for Connolly and MacArthur. Again, it may be difficult to imagine a Colby Armstrong, a real Burke-type player, being traded, or that a Colton Orr or Mike Brown alone would bring high value. The truth is every team needs checkers and grinders. On the Maple Leaf depth chart, once you get past Lupul-Connolly-Kessel and Kulemin-Grabovski-MacArthur, the group includes 11 players, prospects like Kadri and Frattin, and players like Joey Crabb and Darryl Boyce who played over 40 NHL games last season in call-up roles.
Toronto's GM is looking to upgrade his offensive firepower, and a creative deal is not going to scare Burke. Sure, a fan always wants to trade his team's castoff for another team's 85-point centre. And make no mistake, it's not necessarily that other GM's are beating on Burke's door begging to swing a deal. But methodically, Brian Burke has built organizational depth on the blueline and among the bottom-6 type forward. While Cody Franson and Keith Aulie may not be this year's Norris Trophy winners, the fact is these 2 young NHL-ready defencemen are 7th and 8th on Toronto's depth chart. If Tim Connolly is healthy, the Leafs have 5 centres, not including Nazem Kadri and Joe Colborne, who will at one point or another be have to be tested with the Leafs.
And, in his time with Toronto alone Brian Burke has managed to make some surprising deals. He secured JS Giguere and unloaded the contracts of Vesa Toskala and Jason Blake. He acquired his team captain by trade, and managed to bring prospects Aulie, Gardiner and Colborne. Time will tell but the early returns suggest he stole Franson and Lombardi in return for Brett Lebda and AHLer Robert Slaney. Is it unreasonable to suggest that Burke could create a package attractive enough to pry a scorer and maybe a veteran back up goalie?
Rumors aside, a deal may not be imminent, and Toronto may have to wait for the help it needs. But, when other NHL GMs come calling, Toronto finally has a couple assets in the cupboard that could be the currency necessary to bring a top-flight talent back.
A graphic designer and production artist by trade, Mark is a long-time hockey fan. He was a Maple Leafs contributor to TheHockeyWriters.com for over 2 years, and has written for other websites. You can follow him on Twitter @MarkAscione