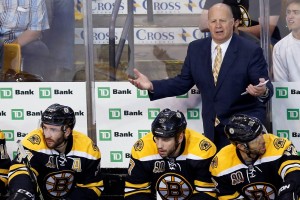 Craig Cunningham's first career NHL goal in the first period should have given the Boston Bruins the spark they needed to beat the Ottawa Senators on Saturday.
Milan Lucic's fight against Mark Borowiecki in the second period should have provided the team with some type of energy and emotion when the game was tied.
Tuukka Rask's highlight reel saves towards the end of the game should have given the team a bit of defensive stability when they needed it most.
Instead, the Bruins were beaten 3-2 in a shootout by the Senators and handed their fifth loss in the last six games. No matter how you tell the story of Saturday's matinee game, the result stays the same: the Bruins are not a very good team right now.
After the game, Bruins coach Claude Julien didn't want to look towards excuses or even blame injuries for the team's poor record.
"We're looking for solutions," Julien said.
But what types of solutions exactly? The Bruins have dressed 30 different skaters so far this season, only two less than they did through 82 games last year. Momentum can't come when there's inconsistent lineups and although it's no fault of the coach's, there hasn't exactly been much success in production from the Bruins lineup.
"We're obviously struggling to score goals and we continue to see that from our hockey club, but there's a lot of other things in our game that could be better," said Julien. "I didn't think we moved the puck well from our back end and when you don't do that it certainly takes away a good part of your offense and you know, at the same time, there's a lot of situations where we're forcing things instead of making the right play so that again is probably guys trying so hard to try and turn this thing around, but overall we just need to be better and I don't think this is good enough for our hockey club and we can definitely be better."
Even though the line Brad Marchand, Patrice Bergeron, and Reilly Smith have combined for 17 goals this year, tied for best amongst all other team's combos in the NHL, there hasn't been enough of chemistry to create production. While you could point at the injury to David Krejci as a big reason the Bruins are struggling offensively (it is, though Julien didn't want to acknowledge that), the other forwards on the roster haven't done enough for the team to put up goals.
Maybe that's the momentum their missing. Every game for the Bruins has a different line combination making it difficult to build chemistry and create momentum from shift to shift. The Bruins' roster consists of players who aren't producing along with rookies scoring their first NHL goals (that's happened three times this season).
"As a team right now, it's what we have and you work hard and you try new things, make things work out," said Julien. "There's still injuries, as you know. There's an injury to a key player that would make a big difference in our lineup as far as depth and who they play with and we talk about Looch and we know, we've seen them in practice this week together how those two really read off each other.
"There's a lot of things that can help us down the road, but that's for the future and hopefully the near future and we get a guy like him back and we'll go about it that way, but right now I'm working with what we have and those guys that are here deserve to be here right now."
It's tough to assign fault with this Bruins team and that might be the most frustrating part of the season thus far. The Bruins are 15-3-2. That's the team's worst record through 30 games since Claude Julien became the head coach in 2007-08. While there's still another 52 to play, it's beginning to get to the point where the Bruins are in trouble if something doesn't change soon.
Follow Mike on Twitter for more Bruins updates, news, and commentary.
Mike Miccoli covers the Boston Bruins for The Hockey Writers and has been a credentialed member of the media for all Bruins' home games for the past five years. As a former player, coach and official, Miccoli has been around the game of hockey since the age of three. Along with his work on THW, Miccoli has also been published in the New England Hockey Journal, Improper Bostonian magazine and on BostInno.