Depth, as always, will be a strength for Canada at the upcoming world junior tournament.
That pertains to every position, but especially up front, with the plan to roll four equally effective forward lines. Head coach Benoit Groulx has gone on the record in saying they want to spread the offence around and not employ a defensive-minded checking line. This team will be picked based on the players' ability to contribute at both ends of the ice, with an emphasis on scoring potential.
Canada has 18 forwards at this weekend's selection camp and there's still a slight chance a couple more could be loaned by NHL teams — namely, Curtis Lazar of the Ottawa Senators and Bo Horvat of the Vancouver Canucks. Jonathan Drouin will be sticking with the Tampa Bay Lightning, and Nathan MacKinnon, although still eligible, was never a consideration for the Colorado Avalanche.
Assuming Lazar and Horvat aren't made available and Canada is picking its 13 forwards from the 18 currently auditioning, Groulx will end up making 5 cuts.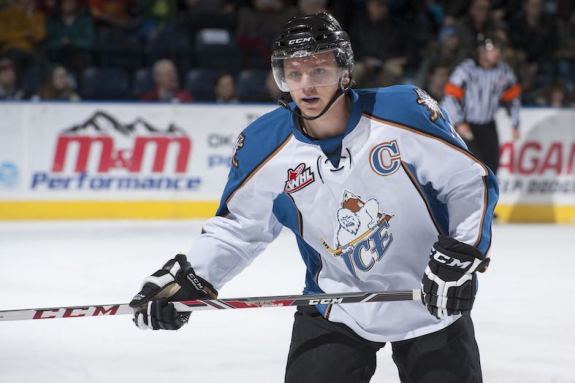 The Locks
There are four locks for the team up front — three returnees in Connor McDavid, Sam Reinhart and Nic Petan, plus Anthony Duclair, who was reassigned by the New York Rangers. They will all be NHL players sooner than later, but for now, their collective focus is on ending Canada's medal drought, having not won gold since 2009 or a medal of any sort since 2012.
Those four guys are going to drive the offence and likely be paired up based on line combinations from the second day of selection camp.
Domi-Reinhart-Duclair
Dal Colle-Dickinson-Point
Ritchie-Gauthier-Virtanen
Elie-Paul-Baptiste
Klimchuk-Chartier-Fabbri
Petan-McDavid-Crouse

— Mark Masters (@markhmasters) December 12, 2014
The Right Fits
Regardless of who rounds out those trios, Canada will have two very potent lines at its disposal. Look for Groulx to insert some size next to McDavid and Petan, which could open the door for Nic Baptiste or Jake Virtanen, though 6-foot-3 under-ager Lawson Crouse got the first spin alongside that dynamic duo. If Crouse, who is 2015 draft eligible like McDavid, is getting serious consideration for the final roster, then that might be his spot to lose.
It looks like Max Domi, who nearly made the Arizona Coyotes out of training camp, is going to stick with Reinhart and Duclair unless they fail to develop chemistry during the pre-tournament games.
The Bottom-Six
When it comes to the third and fourth lines, there will be plenty of competition for spots and the blender could be churning out several different combinations over the next couple days. Groulx may try to find two more pairings rather than complete lines, then mix-and-match the leftover wingers until somebody clicks and settles into a spot.
Frederik Gauthier should be a safe bet at centre, as the only other returning forward from last year's team that placed fourth in Sweden. He made that team as a checker, so he'll need to show more offensive upside this time around to secure his spot again. He has been skating between Virtanen and Nick Ritchie, a pair of power-forward types who were both top-10 picks in the 2014 NHL draft. That line would offer a lot of size, but Gauthier needs to go on the attack and get the puck to his wingers or to the net in order for that combination to succeed.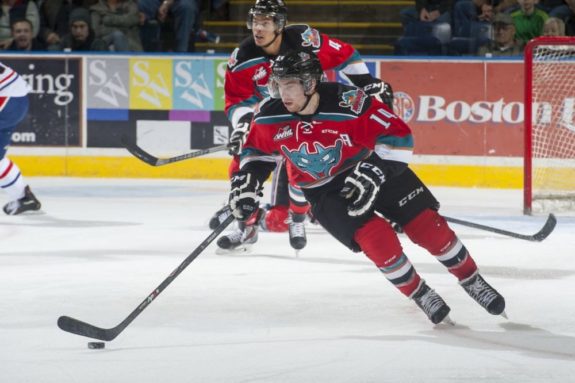 On The Bubble
That leaves only one centre spot for Jason Dickinson, Nick Paul or Rourke Chartier. Chances are two of them will be going home come Monday, so they need to stand out and prove their worth in this weekend's exhibition games against the CIS All-Stars.
Chartier is the lowest draft pick of the three, a fifth-round selection of the San Jose Sharks, but the highest scoring with 32 goals in just 30 WHL games for the Kelowna Rockets. He's also very versatile, capable of playing any forward position with a strong two-way game and ability to kill penalties.
Those attributes might give Chartier the edge, and he had a favourable assignment between Morgan Klimchuk and Robby Fabbri, two wingers expected to make the cut in some capacity. If that becomes Canada's so-called third line, it should be in good shape to contend for a medal in Toronto and Montreal.
Missing The Cut
There are three more forwards at selection camp who have yet to earn a mention — Michael Dal Colle, Brayden Point and Remi Elie. The latter two are likely long-shots and wouldn't be surprising cuts. Dal Colle, who was selected fifth overall by the New York Islanders in June, is in the mix and shouldn't be ruled out just yet. If nothing else, he could battle Crouse for the 13th forward as an extra. Seemingly only one of them will make the cut, so it depends how high Hockey Canada's brass is on Crouse as the younger guy.
The coin flip goes to Dal Colle, meaning Crouse, Dickinson, Paul, Point and Elie are the odd-men out. If that prediction comes to fruition — with Lazar and Horvat remaining out of the picture — Canada could ice the following lineup:
Domi-Reinhart-Duclair
Petan-McDavid-Baptiste
Klimchuk-Chartier-Fabbri
Ritchie-Gauthier-Virtanen
Dal Colle
Solid On Paper
That looks about right and should satisfy Groulx's goal of going with four scoring lines. Maybe they keep Dickinson or Paul over Dal Colle if they feel one of them offers significantly more offence than Gauthier, who would then become the extra for defensive-zone face-offs and special shutdown assignments. Pay attention to that possibility in the exhibition games, whether Dickinson or Paul takes Gauthier's spot between Ritchie and Virtanen for a few shifts or an extended period. If they do, then Groulx might be leaning towards keeping five centres rather than an extra winger.
Now, if one of Crouse, Point or Elie has a monster game tonight or Sunday and forces their way onto the roster, then all bets are off. They likely know where they stand on the current depth chart and will be out to make a statement in hopes of earning a spot, which could still happen.
Check out these links for a closer look at Canada's defence and goaltending, and feel free to leave a comment with how you see the roster shaking down over the next couple days.
Larry Fisher is a sports reporter for The Daily Courier in Kelowna, British Columbia, Canada. Follow him on Twitter: @LarryFisher_KDC.
Larry Fisher is a senior writer and head scout for The Hockey Writers, having been an at-large contributor for THW since August 2014. Fisher covers both the NHL and the WHL, specializing in prospects and NHL draft content, including his annual mock drafts that date back to 2012. Fisher has also been a beat writer for the WHL's Kelowna Rockets since 2008, formerly working as a sports reporter/editor for The Daily Courier in Kelowna, British Columbia, Canada from 2008-2019. Follow him on Twitter: @LarryFisher_KDC.