In recent years, Boston Bruins general manager Don Sweeney has been active around the trade deadline to improve his team's offense before the playoffs. In hindsight, some of these deals were not great. One that comes to mind is the Rick Nash deal in 2018 that sent a 2018 first-round pick and defenseman Ryan Lindgren to the New York Rangers. Nash suffered a concussion that March and wasn't a factor in the team's 2018 second-round loss to the Tampa Bay Lightning. He retired at the age of 34 due to concussion-related symptoms.
The jury is still out on other deadline deals. Nick Ritchie and Ondrej Kase were both acquired around the 2020 Trade Deadline. The trade for Ritchie could prove beneficial, but Kase's injuries and scoring woes haven't made acquiring him look good. Still, a little more time will give us a better idea of how these trades will be remembered. 
Related: Bruins: The Good, The Bad, and The Ugly in January
However, Sweeney's acquisition of Charlie Coyle on February 20, 2019, is easily his best deadline deal and maybe the best trade of his tenure as Bruins GM.
Beginning of Coyle's Career
Coyle was a first-round selection at the 2010 NHL Entry Draft, taken 28th overall by the San Jose Sharks. The Weymouth, Massachusetts native spent two years playing at Boston University. While he was still in the NCAA, he was a part of a major trade at the 2011 NHL Draft that sent him, a 2011 first-round pick and Devin Setoguchi to the Minnesota Wild for Brent Burns and a second-round pick in 2012.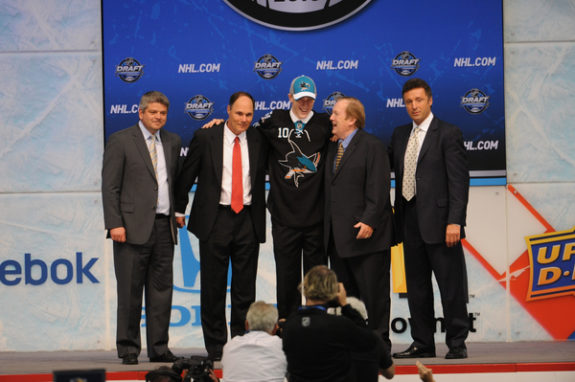 Coyle made his professional debut in the 2012-13 season, playing 47 games with the Houston Aeros of the AHL and 37 games with the Wild, where he had 8 goals and 14 points.
His breakout season came in the 2016-17 when he had had 18 goals and 56 points in 82 games. He was also a plus-13. He struggled to match that the next season and in 2018-19, he had 28 points in 60 games before being traded to the Bruins.
The Trade
At the 2019 trade deadline, Coyle was sent to Boston for Ryan Donato and a 2019 fifth-round pick. Donato was also a local kid who was selected by the Bruins in the second round of the 2014 Draft. He played three seasons at Harvard University where his father, former-NHLer Ted Donato, is the head coach.
Related: Bruins Weekly: Pastrnak, Cassidy, McAvoy & More
Donato had an auspicious start to his career in Boston, scoring five goals and nine points in 12 games to finish out the 2017-18 regular season. He only played in three playoff games in 2018 and then struggled to find consistency the following season. He spent some time in Providence, playing 18 games there and 34 in Boston, where he had nine points and was a minus-11.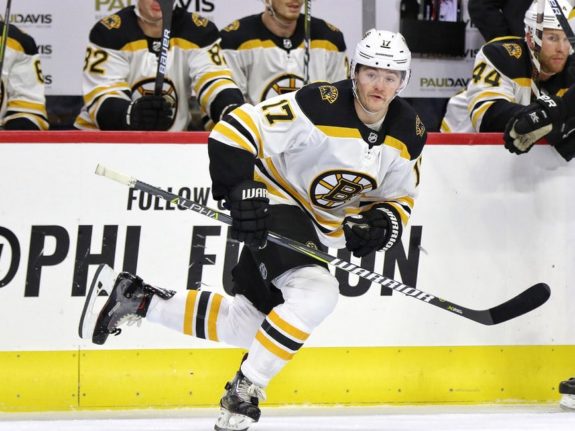 Both players needed a change of scenery and the trade was largely considered beneficial for both parties. The Bruins needed a third-line center and the Wild needed youth.
Coyle didn't have the best start in Boston. In 21 games, he had six points and was a minus-2, just the second time in his career that he was a minus player. But he really made his presence felt in the playoffs that season. In 24 games, he had 16 points, including 9 goals and was a plus-8. He and Marcus Johansson, another deadline acquisition, found tremendous chemistry and provided some much-needed scoring depth.
Success in Black and Gold
Since then, Coyle's tenure with the Bruins has been solid. Is he a superstar? No, but he's a fairly consistent, two-way center who's been excellent anchoring the third line. Similar to second line center, David Krejci, he has spent most of his time playing with a rotation of wingers. While he hasn't been the final solution to the team's scoring issues, he always finds a way to come up big at the right moment. In the past two playoffs, he has been one of the Bruins' better offensive players.
Coyle was signed to a six-year, $31.5 million extension in Nov. 2019 with a modified no-trade clause that went into effect this season. He wants to be in Boston and the team values his presence. As Patrice Bergeron and Krejci get older and closer to retirement, he will provide some stability to the lineup as the team goes through major changes in the coming years.
Through the first 10 games of the 2020-21 season, Coyle has two goals and four points, which is right around where he should be. For most of his career, he has averaged somewhere around 0.5 points per game.
Sweeney's Best Trade Acquisition
Coyle is Sweeney's best trade acquisition. Since taking over the GM position in May 2015, he has made 18 trades. Four of them were to clean house and make room for draft picks when he first took over and two of those picks became Jeremy Lauzon and Trent Frederic, who are finally starting to make an impact this season.
Of the trades that brought established NHL players to Boston, Coyle is the only one who has firmly managed to earn a permanent spot in the lineup and make an impact on the team. Sweeney's other acquisitions include Nash, Nick Holden, Tommy Wingels, Johansson, Kase, and Ritchie.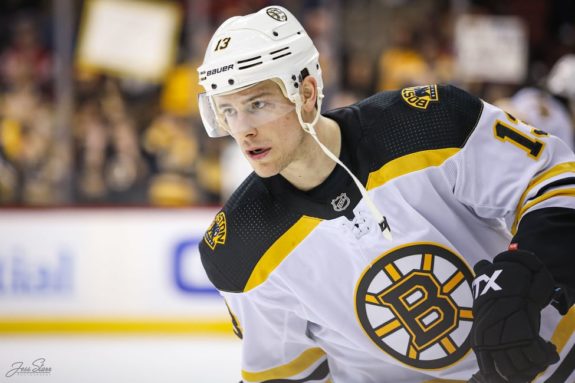 Johansson was a great rental player who wasn't expected to last with the team, and, as mentioned, the jury is still out on how impactful Kase and Ritchie will be. Of Sweeney's acquisitions, Coyle has the second-highest points-per-game average and has played the most games wearing a Bruins uniform. In fact, he's the only trade acquisition who has lasted in the lineup more than half a season.
Cyole has also made an impact off of the ice. He's often involved in community initiatives and is well regarded in the locker room. You'd be hard pressed to find another player acquired by Sweeney who has been better for the team.
Related: Bruins' Pastranak Hasn't Missed a Beat Since Returning From Injury
Meanwhile, Donato had a great start to his tenure with the Wild, scoring 16 points in 22 games, but he struggled in 2019-20 and was traded, coincidentally, to the Sharks in October. Through eight games this season, he has five points.
More Local Guys Returning to Boston?
When Coyle was traded to Boston, it was considered a homecoming for him. He is now one of three players on the team who was born and grew up in the area, along with Chris Wagner (Walpole) and Matt Grzelcyk (Charlestown).
Rumors have swirled since the offseason of the possibility that Sweeney will target another Boston native. Noah Hanifin, originally a fifth overall selection by the Carolina Hurricanes who is now with the Calgary Flames, was rumored to be of interest to the team. Keith Yandle from the Florida Panthers has also been tossed around, especially now that he seems to have fallen out of favor with the organization.
Hanifin and Yandle are defensemen, and management seems committed to giving young players a shot on the blue line. But, don't be surprised if these names, particularly Yandle, continue to circulate as the 2021 Trade Deadline approaches, especially if the Bruins are leading their division. They'll need to bolster a young defensive core with more experienced players in preparation for a hopefully deep playoff run this summer.
---
---