There are no certainties in the NHL. Making it to the highest level in hockey isn't easy and playing at a superstar level is even harder. This is why players returning from injury are often expected to take some time to ease back into form.
For anybody unaware of the situation, it would be hard to convince them that David Pastrnak was out for any sort of extended time with an injury, then. The 24-year-old winger would undergo a right hip arthroscopy and labral repair on Sept. 16, 2020. This surgery was expected to keep him out of action for five months, or until the middle of February in 2021. He'd return a few weeks earlier than anticipated, however, and in three goals has already looked to be in mid-season form.
Pastrnak Producing at Career-Best Rate for the Bruins
Hitting the ground running, Pastrnak has taken 19 shots on goal, scoring five goals and seven points in three games. Both of his assists came in the form of primary assists as well. To put some of those numbers in context, Pastrnak ranks third on the team in goals behind only Patrice Bergeron and Brad Marchand who have both scored six goals apiece. He also ranks sixth on the team in points.
Three games is a small sample size, but there's no reason to believe that Pastrnak's success should be anything other than the norm at this point in his career. The Czech-winger would score 48 goals and 95 points in 70 games last season and has progressively improved in just about every way every season of his career. He'd be named a co-winner of the Rocket Richard Trophy alongside Alex Ovechkin and was likely to score over 50 goals and 100 points had the regular season not been cut short.
Though he isn't likely to score at the 2.33 points-per-game clip that he's currently producing at, it isn't that far of a stretch to say he should be capable of producing at a similar rate to last season.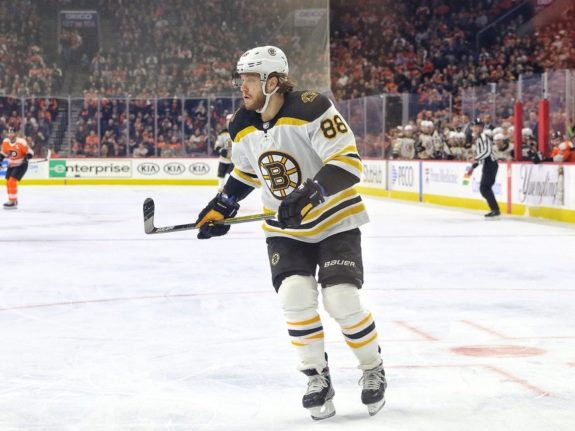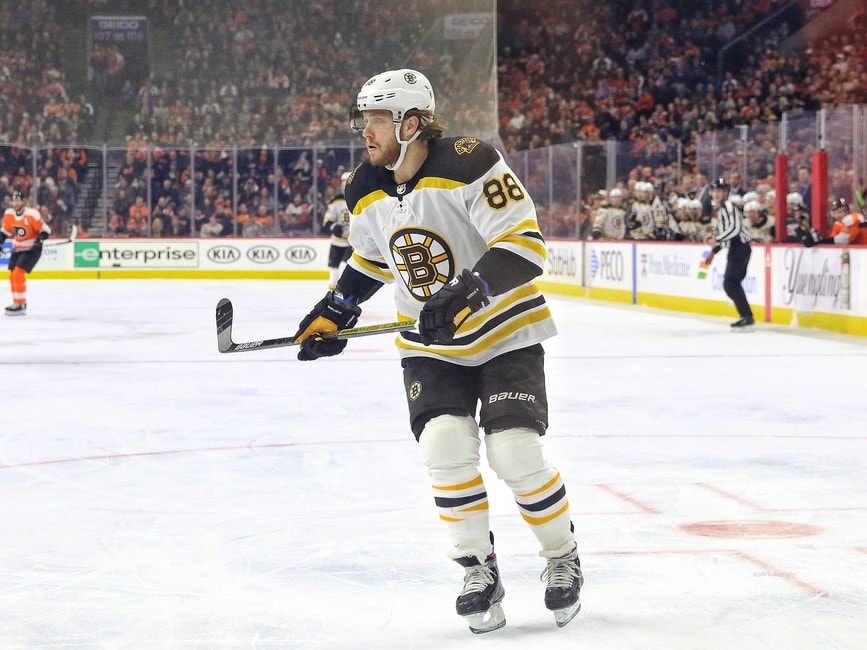 With the Bruins looking to compete for a Stanley Cup this season, Pastrnak will have to produce at this level.
So far, the Bruins have found ways to win games despite finding themselves in holes late in games. Coming back from 3-0 deficits in consecutive games against the Washington Capitals, earning one point in overtime in the first game and winning the second game in regulation, the Bruins would keep fans hoping for more once again Wednesday when they trailed the Philadelphia Flyers late.
In a game that started off so well with a Pastrnak goal coming just 12 seconds into the first period, it didn't seem likely that they'd be playing from behind late once again. Still, the Flyers would find a way to score three unanswered goals and take a 3-1 lead late into the third period.
Pastrnak would score his second goal of the game with under eight minutes remaining in regulation. He'd complete his hat trick with exactly 15 seconds remaining to even the score at 3-3, forcing overtime. It wouldn't take long for Patrice Bergeron to score the game-winner, finding the back of the net just 31 seconds into overtime and giving the Bruins their seventh win of the season.
Bruins Sitting Atop the NHL Standings Once Again
This win would propel the Bruins into first place in the division while also putting them in a tie for points with the Montreal Canadiens who sit atop the league. Both teams hold identical 7-1-2 records through 10 games. The Bruins would finish the 2019-20 season as the only team to secure 100 points prior to the pause, earning them a Presidents' Trophy in the process. They'll look to have a similar year this season with more postseason success this time around.
The Bruins will undoubtedly need to get more scoring from the rest of their team, especially at five-on-five, if they hope to have any chance of winning down the stretch this season. While their special teams have been stellar, playing well at even strength has been an issue for a few seasons now for the Bruins. This will have to be rectified moving forward, but ideally, that will come with time.
Related: Boston Bruins: The Good, The Bad, & The Ugly in January
It's also important to note that the Bruins are still playing with Ondrej Kase, who remains out without a clear timeline for his return, as well as Jake DeBrusk and Matt Grzelcyk who are both day-to-day. When the team is finally back at full-strength, it'll be easier to produce at even strength assuming the team fires on all cylinders. For now, appreciating the fact that the Bruins are sitting atop the NHL despite this glaring hole while also considering how unlikely it is that they'd earn five out of six points in their last three games seems appropriate. This is especially true given how strong the top of the division is in the East.
---
---