Many St. Louis Blues fans entered the 2020-21 season hoping for more from defenseman Justin Faulk. The lifelong Carolina Hurricane arrived in a trade shortly before the 2019-20 season, but struggled to perform throughout that campaign. Finishing with just five goals (tying a career low), 16 points, and a minus-3 rating, the former three-time all-star did not look like himself, especially in the first half of the season.
But after Alex Pietrangelo's departure to the Vegas Golden Knights in free agency, Faulk got to step into a more permanent role with his team. He's playing some on the power play and extended time on the penalty kill and has found a consistent partnership on the second pairing with Marco Scandella. Early in the season, that has led to some extraordinary results for the 28-year-old from St. Paul, Minnesota, and that is causing many Blues fans to reconsider how integral he is to the team's future.
Faulk Popping Eyeballs
The Blues' Tuesday game against the Arizona Coyotes was just the most recent exhibition of Faulk's hot streak. He played 23:40 in the game, second only to Torey Krug, and registered a goal that made headlines around the league. Early in the second period, Faulk took the puck at the point, dangled around two Coyotes' defensemen, and lifted the puck carefully over goaltender Darcy Kuemper's stick in a highlight that quickly went viral on social media.
It was the most dazzling goal of the season for sure, but just a taste of everything that is going right for Faulk so far. He has three goals and an assist and is averaging 23:53 per game, up over three minutes since the 2019-20 season. He is also plus-11, putting him fourth in the league, immediately above teammate Jaden Schwartz. That number is especially noteworthy, as Faulk has struggled with plus-minus through his career, totalling minus-100 in his eight years with the Hurricanes.
Faulk looks like a different player than the one Blues fans saw last season, a player whose role was constantly shifting, including frequent assignments on his off-hand side with alternating linemates. Blues general manager Doug Armstrong explained why he thinks Faulk has turned his play around so quickly: "I'm not surprised the way he's playing right now. That was the player that played a number of years in Carolina… I think this year, obviously with Alex [Pietrangelo] leaving, it's created an opening and he's taken full advantage of it. So I'm very happy for him, but I'm not surprised that this is the player we're getting."
Faulk's Long-Term Future
The immediate turnaround certainly justifies Armstrong's decision to acquire Faulk, but some Blues fans are still concerned about the long-term contract extension he signed immediately after the trade. He currently has seven years remaining on his contract with a $6.5 million average annual value (AAV). In a flat-cap world, that contract would have been a disaster had Faulk continued to play like he did in 2019-20.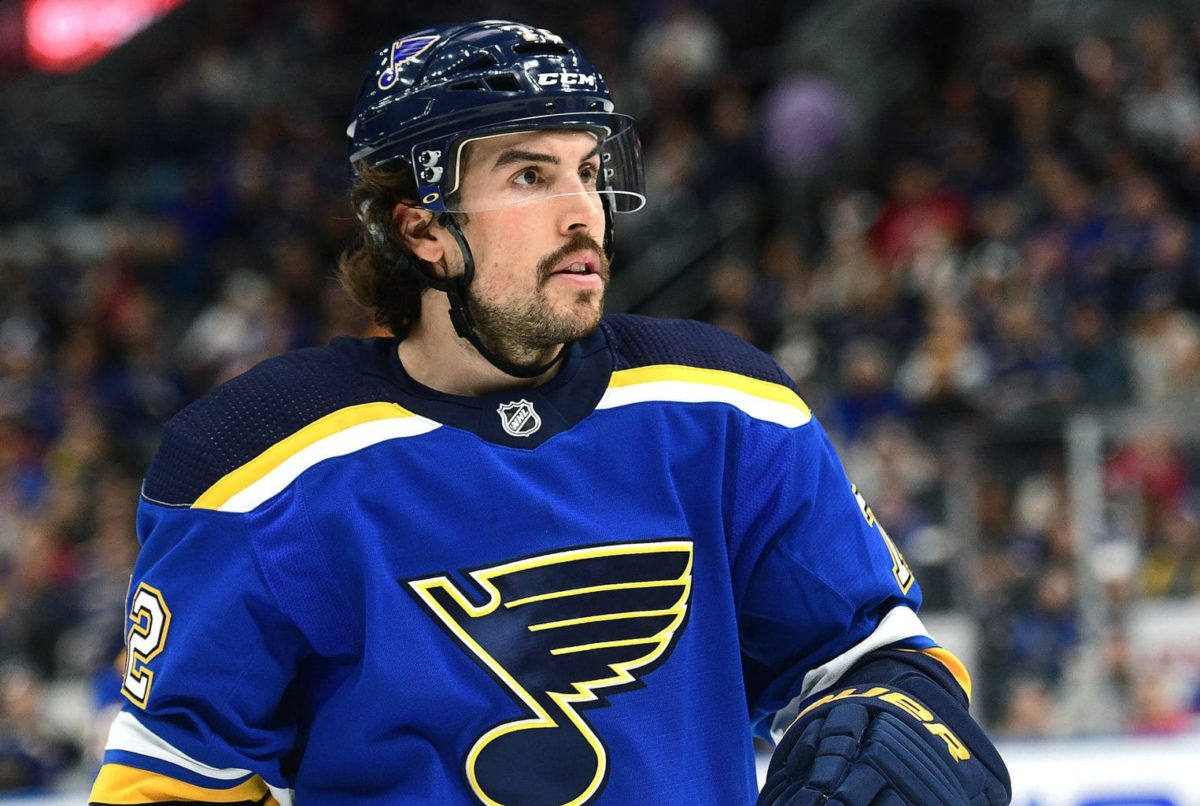 Of course, no one can judge the future of a seven-year contract based on a 10-game hot streak, but Blues fans are certainly resting easier than they were before. Some hoped that the Blues might expose Faulk in the upcoming expansion draft. And Seattle Kraken general manager Ron Francis, who shares a lot of history with Faulk in the Hurricanes' organization, certainly might be more prone to a reunion than other general managers.
But the way Faulk is playing right now, that discussion is no longer a concern. If he continues to perform at this level, the Blues will happily protect him in the expansion draft, and his $6.5 million cap hit will seem at least fair, and may even look like a steal eventually.
Solidity on the Blueline
There is a lot still to diagnose about the 2020-21 Blues, including what seems to be ailing young center Robert Thomas and what free agent acquisition Mike Hoffman's role is. But one of the big questions entering the season was whether Faulk could return to the form that made him a multiple-time all-star and a mainstay in the Carolina lineup. In 10 games so far, he has answered that question with a resounding yes. And that leaves many in St. Louis much more confident about their blueline after Pietrangelo's departure.
---
---