One of the main storylines the Ottawa Senators and their fans were going to be following this season was where and when does Colin White get his opportunity? The 24-year-old Boston, Massachusetts native is currently in the second year of his six-year contract worth $28.5 million he signed back in August of 2019, and now we're all wondering if he will play out the rest of his contract in Ottawa?
When the Senators drafted White with the 21st overall pick in 2015, the expectations were high. They were looking to eventually implement White as one of the top two centres and help them establish years of stability. After looking like he was trending in the right direction during the 2018-19 season, where he logged 14 goals and 27 assists for 41 points, the last few seasons in Ottawa make the 2018 version of the forward seem like a thing of the past.
Rough Start
Last season, before the coronavirus pandemic shut down the NHL, the Senators had fully begun a rebuild. They were just coming off of years where they saw some of their biggest stars like Mark Stone, Erik Karlsson and Matt Duchene get traded to plan for the future. Before any of those big offloads happened, the Senators were hopeful that White was going to be a core piece and fill one of those big roles.
When he got his opportunity, he was carving out his role as the top-six, two-way centre the team envisioned, and he had a lot of success. However, last season he played just 61 of the 71 games where he recorded 23 points and has now been a healthy scratch several times to begin the 2020-21 campaign.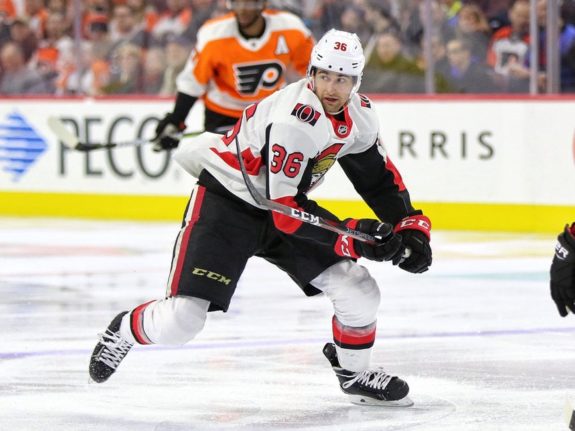 When training camp opened this season, White had been all over the place. Sometimes head coach D.J. Smith would have him skating with the first line, and then he'd be skating with the reserves or "fifth line." Why White was the subject to this early season movement is still up in the air, but Smith originally said he was outplayed by the veterans like Derek Stepan and Artem Anisimov, so he instantly started off poorly.
Since then, White has played in seven of the 11 games. This is his opportunity to prove to Smith he deserves to stay in the lineup. In those seven games, he's recorded three points and is averaging about 14 minutes in ice time. It's not a whole lot, but unfortunately, he has to make do with what he's been given. Having $4.75 million sitting in the press box is most certainly not an ideal situation for Ottawa or White, so he's got to capitalize when he can and not get too down on himself.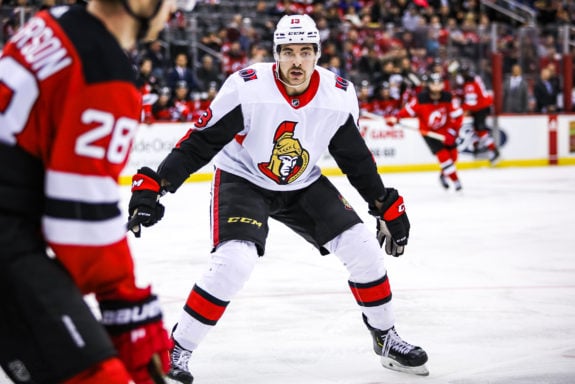 Another Senator, Nick Paul, had gone through something similar before what finally looks like a breakout season for him. Before Paul had established himself as a regular, he had also been in and out of the lineup, looking for an opportunity full-time. When asked about the situation with White this season, Paul was quick to add there's nothing he can do to help.
"We're good friends. We used to hang out away from the rink before COVID," Paul said. "Colin has a good head on his shoulders. He's a great guy and he knows exactly what he has to do. He has a positive attitude. There's not much for me to say to him because when he comes back, he knows exactly what he has to do," (from 'WARREN'S PIECE: Murray not blinded by the numbers, Coburn and Paquette return, Stuetzle wears a minus four' – Ottawa Sun – 1/27/21). The cap hit White carries is why he is such a polarizing topic in Ottawa, but how exactly can he change that narrative?
Seize the Opportunities
We've all heard the saying "Carpe Diem" before, which means "seize the day." That's really all White has to do. He can't control what Smith wants to do with the lines every game, but he can control how he plays and how much effort he puts into his game. Having more opportunities to play with other top Sens' players would be ideal for White to get going, and it's starting to trend in that direction. Over the last few games against the Edmonton Oilers, Vancouver Canucks and Montreal Canadiens, he has been getting close to top-six minutes and playing with guys like Paul, Evgenii Dadonov and Drake Batherson.
The centre ice position is becoming crowded in Ottawa, and this is what White has to be mindful of. He can play the wing, but that's not where the Sens would like to play him, especially with a $4.75 million cap hit. Top prospect Tim Stützle is currently on the wing, but they have made it clear, he will be playing centre in the future. Stepan is a good NHL veteran, but he won't be here for long seeing as he only has this year remaining on his deal, and the rumours are flying they're already looking to trade him before the season ends.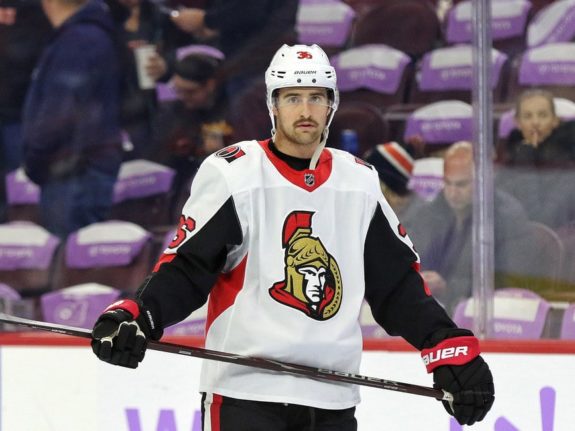 Other than those two, there's Anisimov, Chris Tierney, Josh Norris, Cedric Paquette, Filip Chlapik, Logan Brown and Shane Pinto, who's lurking in the background from North Dakota. If we had to predict the future as it's currently trending, White might get left out when it's all said and done. Stützle, Norris, and Pinto will most likely be the centres Ottawa will retain as the years go on. If he wants to try and change that and does get opportunities more often, then he has to produce. Smith has said that in order for him to remain in the lineup, other than scoring, he has to play hard, drive the net, create plays and play with confidence away from the puck.
What the Future Holds
It's tough to see where exactly White and his time in Ottawa is trending, but I don't believe there's any sense of immediate panic. The only thing he can do is capitalize when given the opportunity. The contract is something that will be looming over him until he has another breakthrough, similar to 2018, but there's nothing you can do about that now.
What is intriguing though, is if the Sens will make White available in the Seattle Kraken expansion draft. If White continues to underperform while they still give him many opportunities, you'd have to think they're thinking about this a lot. Seattle will most certainly be looking for players available that have upside to them and with big dollars to help them get to the cap floor. To be honest, White is the perfect player for them. He will still be young, and a change of scenery in a completely different market could be beneficial. It's becoming clearer that the Sens' original plans and visions for White have started to change, but only time will tell if they want to stick to it or abandon it all at once.
---
---