It's been a busy few days for the Ottawa Senators. After they dropped their ninth game in a row and second straight to the Edmonton Oilers, the roster was inevitably going to see some significant changes. One change came as early as Wednesday, but rumours suggest that more could be coming, as some players are being shopped after starting the season with very poor play.
The Senators will have no choice but to rely on their young players, many of whom have been waiting in the minors for their chance. While general manager Pierre Dorion likely wanted to ease in many of his top prospects, he'll have to fast-track his plan and see what the kids can do now.
Here are some more stories from the first few days in February.
Item One: Stützle Gets His Third Goal
There were several positive takeaways from the Senators' 4-2 loss to the Oilers. The team took only two minor penalties, which is a steep improvement from their previous match when they took five and allowed four power-play goals. Evgenii Dadonov also had one of his best games with Ottawa despite not scoring a goal, and rookie defenseman Artyom Zub looked strong in his second NHL game.
The most exciting takeaaway might be that Tim Stützle netted his third goal of the season and his second in two games. That feat puts him among esteemed Senators company. Only Brady Tkachuk, Mika Zibanejad and Martin Havlat scored a goal in back-to-back games as a teenager. It also puts him on pace to score 23 goals this season, or 35 goals in a full season. That would make him just the second-highest single-season German goal-scorer in NHL history; Leon Draistail scored 50 goals in 2018-19 and 43 in 2019-20. It would also make him the highest-scoring German rookie ever, beating Jochen Hecht's 34 points in 1999-2000.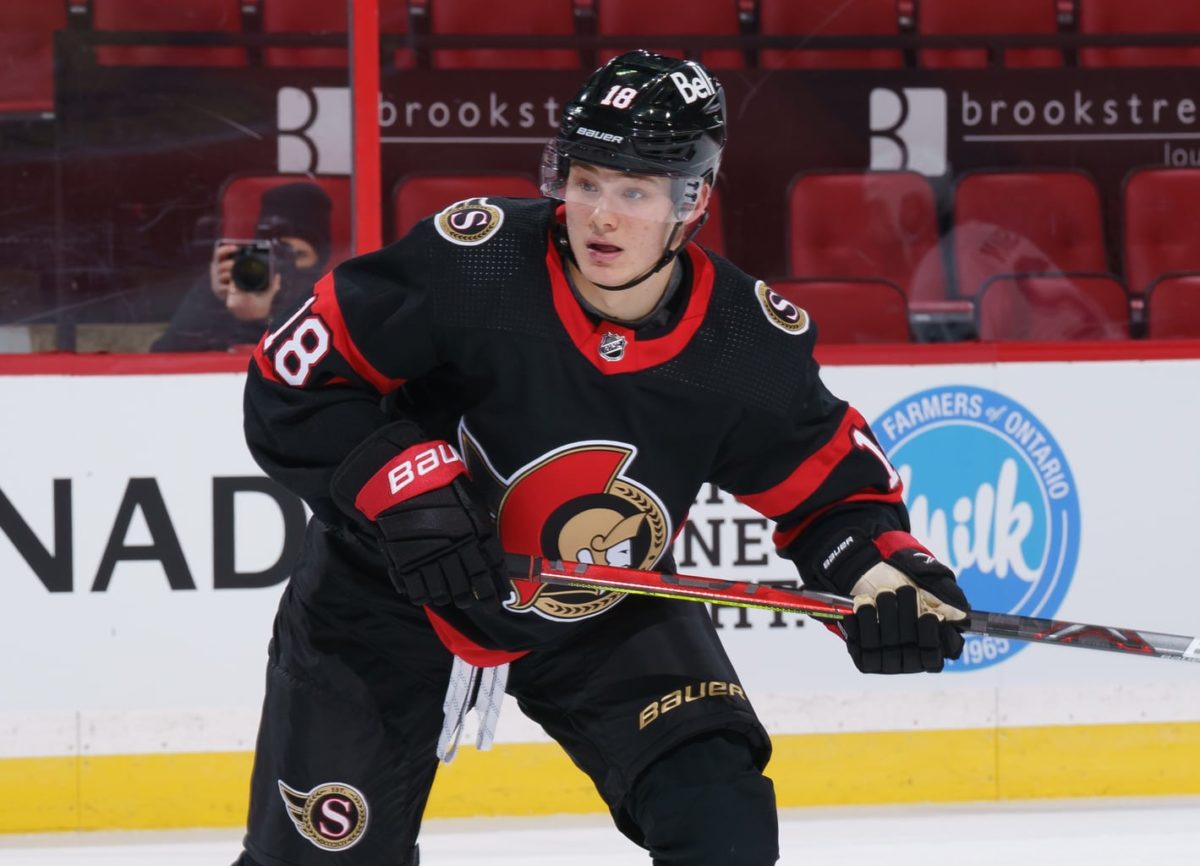 Better yet, Stützle is heating up. He's still on the second line, but Chris Tierney has replaced Derek Stepan at center, and the pair of youngsters have hit it off. Stützle's second goal was a highlight-reel play, as he caught a pass at the blue line, burst down the left side past the defender, and sniped the puck to the top right corner. Head coach D.J. Smith took note of his increased confidence and has rewarded him with more ice time and offensive zone starts. His shots have likewise increased. In the past two games, he's managed two shots per contest, all high-scoring chances.
There have also been rumours that Smith may try Stützle at center, his natural position. However, teenagers often struggle at that position, which is incredibly demanding at the NHL level, so the plan was always to ease him into the center role. But the coaching staff now seems more comfortable at trying him in the middle – at least for a couple of games.
Item Two: Belleville Senators Delay Season Start
On Feb 1, the Belleville Senators announced that, despite the AHL opening its season on Feb 5, they, along with the four other Canadian teams, will delay their season until an unspecified date. This follows in the footsteps of the Ontario Hockey League, which also had trouble starting their season due to the rising coronavirus cases in the province.
Related: Ottawa Senators Should Name Brady Tkachuk Captain
The delay is a blow to prospects like Logan Brown, Alex Formenton, Lassi Thomson, or Filip Gustavsson, who will have to wait even longer to play competitively in 2020-21, and which may make fans nervous about their long-term development. At least one of them would likely have been called up at this point in the Senators' season. But with a roster packed with one-way contracts, there is little wiggle room for the team to bring up anyone without risking losing a player on waivers. It's an incredibly difficult situation, especially for the struggling Senators, but health and safety always come first. Until they are comfortable starting their season, we'll just have to wait.
Item Three: Brannstrom In, Coburn Out
It's not all bad news on the prospect front, though. On Wednesday afternoon, the Senators announced that they have called up Erik Brannstrom. This was just hours after they'd called him up from Belleville to put him on the taxi squad. To make room, Jonathan Aspirot was sent to Belleville from the taxi squad, and Brayden Coburn was placed on waivers to also send him to the AHL.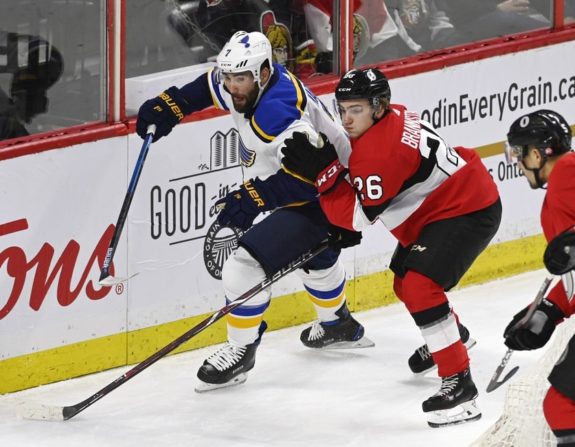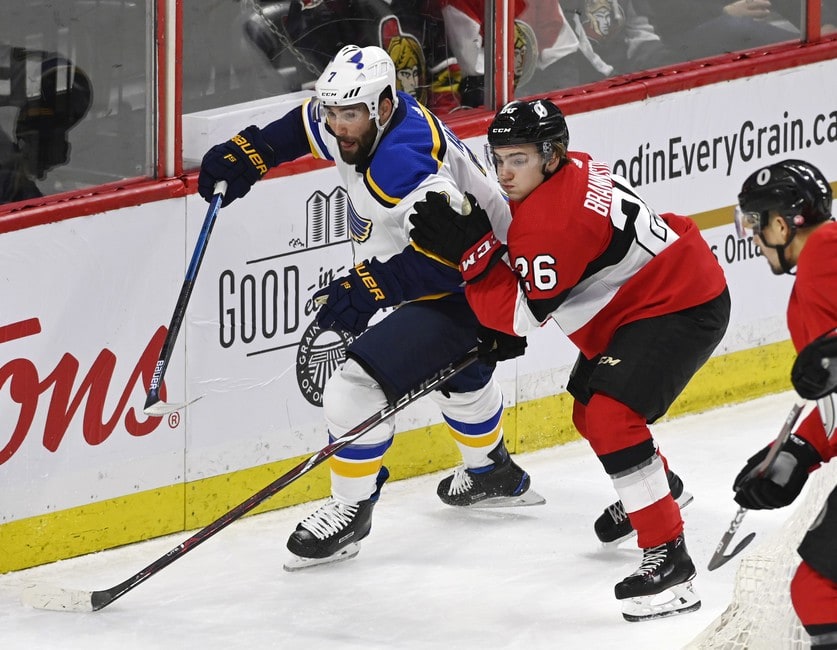 After another loss, the addition of Brannstrom should be a welcome change. He is an elite puck-mover and a talented offensive defenseman who is also an incredibly fast skater, all of which the Senators lack in their bottom-six. Last season in the AHL, he had 20 assists and 23 points in 27 games. He also played 31 games in the NHL, but only managed four assists.
However, his low production can partially be attributed to Smith who, reportedly, is not a fan of Brannstrom. He was one of the least utilized defensemen on the team last season, averaging 14:51 minutes a night. But even in a reduced role, he was one of the better offensive drivers on the Senators in 2019-20, recording a 49.1% Fenwick possession metric.
The addition comes at the cost of Coburn, but that too should be seen as a welcome change. The big defender was one of the team's worst this season in possession and plus/minus ratings, and though he was not brought in to be an offensive catalyst, his defensive game wasn't all that stellar, either, and he has the fourth-lowest expected plus/minus on the team this season. While playing on a weak roster hasn't helped, someone had to draw the short straw, and after a rough game against the Oilers, he was the easy choice.
Item Four: Stepan May Already Be On the Way Out
After Coburn was waived on Wednesday, Sportsnet panellists Nick Kypreos and Doug MacLean reported that the Senators are trying to trade Derek Stepan just weeks after they acquired him for a second-round pick from the Arizona Coyotes. The trade took place just days before the season started and was largely fueled by the Coyotes' cap issues – the veteran center has a $6.5 million cap hit – and the Senators saw an opportunity to add some experience to their second line and a mentor for Stützle. He also only cost Ottawa a fraction of his cap hit because his bonus was already paid by the Coyotes.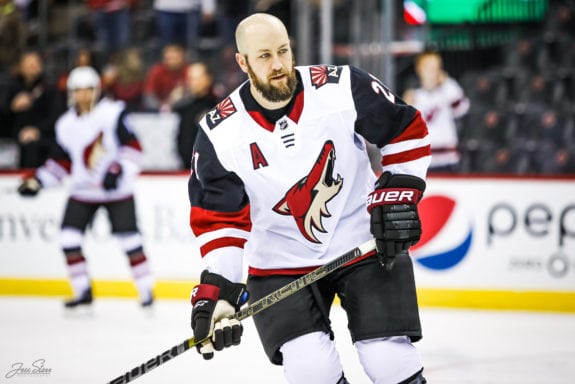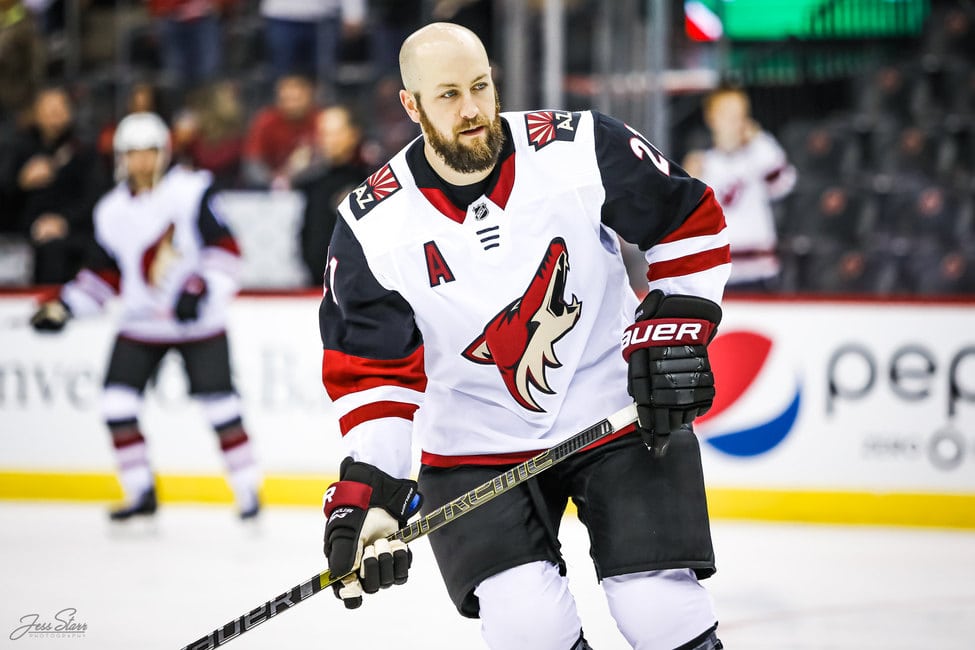 Adding him has not gone according to plan, however, as Stepan has struggled more than any of the other new additions. After scoring a goal in their first game, he's added only two assists. He isn't far from his usual ability at five-on-five, but he's already been relegated to the fourth line. One has to wonder if this will be a mutual parting of ways; according to MacLean, Smith doesn't like Stepan, and with family still in Arizona, it seems to make sense that he no longer wants to remain in Ottawa.
If that's the case, this will become one of Dorion's worst examples of asset management. Fans were critical of the trade, which cost the organization a second-round pick to acquire the declining veteran, and they almost certainly won't get that back in a trade now. However, Stepan is just one of several moves that have failed to pan out this season, and Dorion is already facing pressure after using a second-round pick and a prospect to acquire goaltender Matt Murray, and giving the Tampa Bay Lightning cap relief after taking on Coburn and Cedric Paquette. While Dorion has a solid draft history, his trades and signings have not worked out, which may place him on the hot seat before long.
Item Five: Pinto Named NCHC Player of the Month
Speaking of Dorion's draft record, one of his astute picks made the news this week. University of North Dakota phenom Shane Pinto was named the National Collegiate Hockey Conference's Player of the Month for January. In eight games, the 2019 second-round pick had four back-to-back multi-point nights, including two game-winning goals. He also scored in each of the four final games of the month, increasing his 2020-21 point total to 23, ranked first in the NCHC and fourth in the NCAA. The performance helped North Dakota post a 6-2-0 record and retain its hold on first in the conference.
Pinto is now eligible to receive the National Hockey Association's Player of the Month award, which will be announced on Feb 4. He was also named a finalist for the Hobey Baker Award along with 60+ other college stars, including Cole Caufield, Matthew Boldy, Cam York, Spencer Knight, and fellow Senators prospect Jakov Novak. The award is the most prestigious in college hockey and is given to a player who exhibits skills in all areas of the game, displays a strong character and integrity on and off the ice, and shows scholastic achievement and sportsmanship. Past winners have included Scott Perunovich, Cale Makar, and Jack Eichel.
What's Next for the Senators?
The Senators have a difficult schedule ahead. First, they travel from Edmonton to Montreal on Thursday to face the Canadiens on the road, then return home to face them again on home ice. The Canadiens are the top team in the North Division with seven wins in 10 games, and Tyler Toffoli leads the team with nine goals and 13 points. After facing Montreal, the Senators will host the Oilers again in another two-game series.
With Brannstrom joining the lineup for their next game, all eyes will be on how he fares. He was easily the biggest piece brought into Ottawa from the Vegas Golden Knights for Mark Stone, who now looks like one of the best players in the league. If Brannstrom struggles, it will likely be one more strike against the general manager and his poor trade record.
---
---