When the Ottawa Senators opened their 2020-21 NHL season with a win at home over the Toronto Maple Leafs, there was as much talk about who was not going to be playing as there was about who would be in the lineup.
Tim Stuetzle was making his NHL debut on his 19th birthday. Josh Norris had emerged in training to fill the number one centre slot. Christian Wolanin was ready to jump to the next level. Drake Batherson was looking like the real deal. Matt Murray was between the pipes for his first game as a Senator.
But overshadowing the opening night lineup was one glaring omission.
At times during training camp, Colin White was the number one centre. At other times, he was skating on the fifth line. He was a scratch for Friday night's opener but was played on Saturday as Artem Anisimov was a healthy scratch.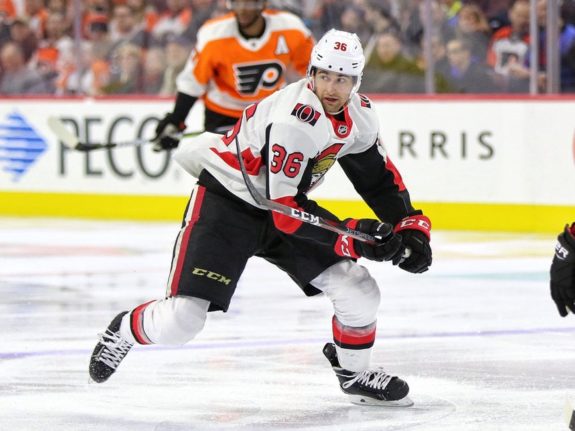 Ottawa coach DJ Smith has said all along that because of the compressed schedule, players would be moving in and out of the line-up. He has a 23-man roster plus a taxi squad of six, and only 20 players dress for a game. He has to get ice time for as many players as possible and keep them engaged.
"We're just moving guys around to see how they play," Smith said of White on a media Zoom call a week before the opener, when White spent that day's practice as the top line centre. "Whitey has been very good in camp and he deserves a chance."
White Hot Streak
Before the 2019-20 season was shut down last March, White was riding a hot streak with seven points in six games. The Senators were hoping he could pick up where he left off.
"He got to the net," Smith said. "If you want to get points in the NHL, you've got to score some ugly ones, and you've got to get some ugly assists. You've got to find a way to get to the net and get on the inside. He's brave, he's going to go to the night and get slashed and hacked, and that's why he got some points."
Smith added that White would continue to have success for the Senators if he continued to play that style of game.
"He got some points on the power play but he also went to the ugly areas. He came back with confidence. He's bigger, he's stronger. If you go to the net every night you're not going to go through long droughts."
Depth at Centre
Compounding the difficulty of the situation for White and the Senators is the number of new faces on the roster, the limited training camp, and no exhibition games. Centre Derek Stepan, for example, was late coming to training camp because as he was awaiting the birth of his third child. Centre Chris Tierney was also late reporting to camp. Another centre, Anisimov, reported to training camp 10 pounds lighter and played well.
On opening night, White found himself as the odd man out, despite coming off a good camp.
"I came in, I did what they asked me," White said in a media Zoom call before the opener. "I thought I had a pretty good camp. Lines change every day. For me, it's just day in, day out, come to the rink and have a good attitude and be a pro."
The main reason that White's scratch was an issue had everything to do with his contract. He's entering the second season of a six-year, $28 million contract. That's more than $4 million in salary cap sitting in the press box.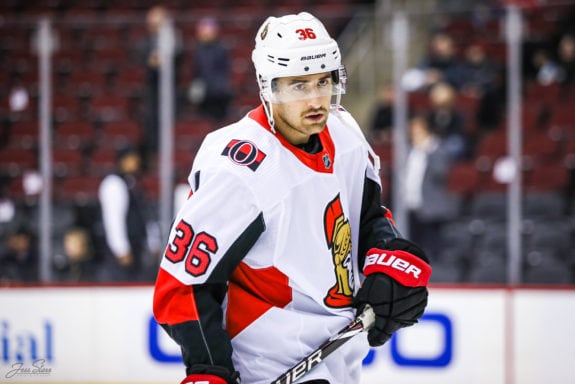 White knows that it is part of the game and that he will get a chance. Smith was also quick to point out that White would be a big part of a lot of games as the season progressed.
"You know, it happens," White said. "Whether I'm in the line-up or not, it's not going to change how I play. It's fun to be here and nothing on the ice is really going to change. I'm going to work hard and have fun doing it."
Assist in Loss
White centered the Senators' fourth line against Toronto, as he played with veterans Cedric Paquette and Austin Watson. He also got some time on the power play. He earned an assist in the 3-2 loss and had a plus-one rating and a shot on goal in 11:24 of ice time.
At practice on Monday, White was back taking reps on the fifth line, meaning it was doubtful that he would be in the line-up for Tuesday in Winnipeg. But things can change in 24 hours, and there is another game in Winnipeg on Thursday.
The cliché is that a season is a marathon, not a sprint. But this is the 2020-21 season. With so many games in such a short window, it's both.
White will have some great games, and he will be scratched on some nights. But when he is in the line-up, expect him to play hard and go to the net.
---
---