If you look at the bios of the veteran players the Ottawa Senators have added to their roster this year, you might think their director of scouting is the Ghost of World Juniors' past.
Evgenii Dadonov had seven points in seven games for Russia at the 2009 World Junior Championships (WJC) in Ottawa.
Erik Gudbranson was one of the most dominant defencemen of the 2011 WJC for Canada. He had five points in six games and was praised for his two-way play.
Alex Galchenyuk was a star at the 2013 WJC as he had eight points in seven games while playing for the American team.
But none of these stars shone as brightly as newly acquired Senators' centre Derek Stepan did at the 2010 WJC in the Saskatchewan cities of Saskatoon and Regina. In seven games, Stepan had four goals and 10 assists to lead the tournament in scoring. He was captain of the United States team that won the gold medal by beating Canada in overtime in Saskatoon.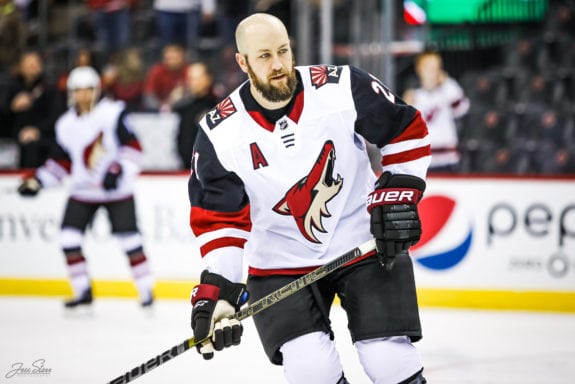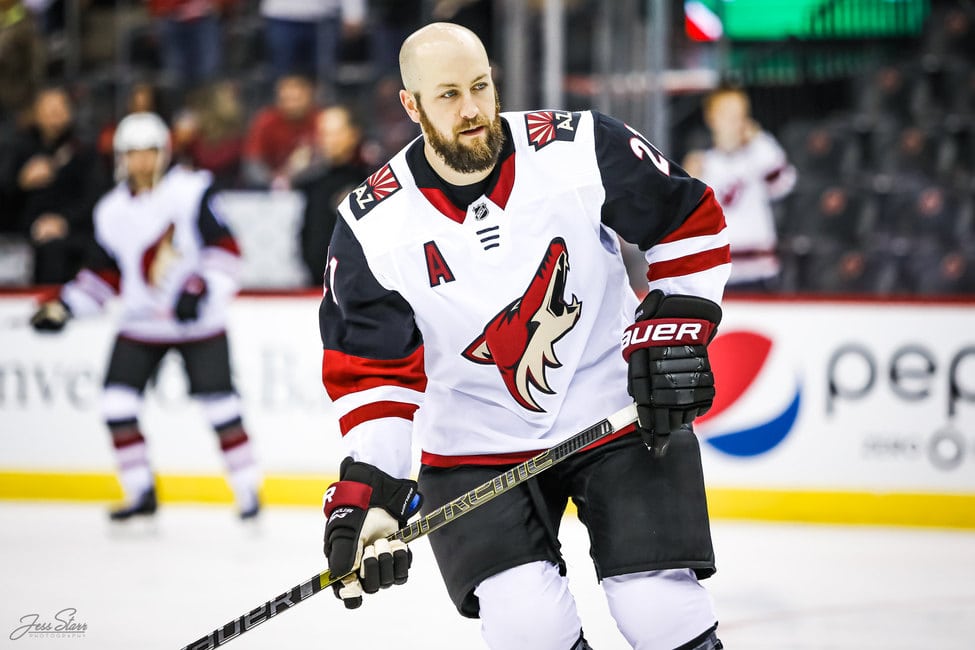 His performance in Saskatchewan turned him into a blue chip prospect.
"It was a big moment in my career," Stepan said. "I was at Wisconsin and I was drafted by the Rangers but I was kind of a prospect. I wasn't really talked about as coming out of college any time soon."
Like Father, Like Son
Stepan grew up in Hastings, MN, and played Bantam hockey for the Hastings Raiders before attending the high school hockey powerhouse at Shattuck St. Mary's. As a junior at Shattuck St. Mary's, he scored 38 goals and had 32 assists for 70 points in 63 games. In his senior year, Stepan was dominant. In 60 games, he scored 44 goals and added 67 assists for 111 points.
His graduation present was given to him at Canadian Tire Centre in Ottawa. At the 2008 NHL Draft, the New York Rangers selected Stepan in the second round, 51st overall. What made the day particularly special is that Stepan's father, Brad, was drafted by the Rangers in 1985.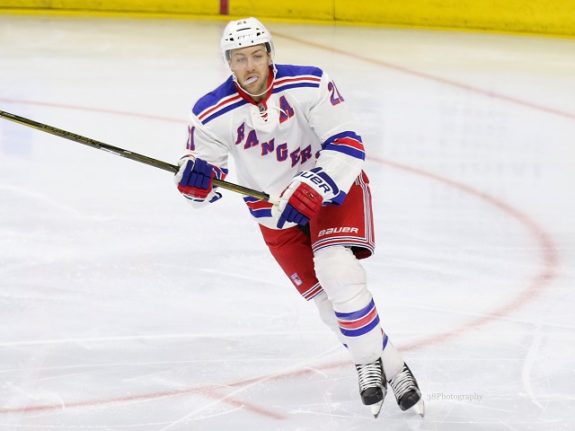 Stepan went to the University of Wisconsin to play for the Badgers, where he continued to put up impressive offensive numbers. As a freshman, he had nine goals and 24 assists for 33 points in 40 games. As a sophomore, he picked up the pace with 12 goals and 42 assists for 54 points in 42 games.
Captain America
His play at Wisconsin earned him a spot on the U.S. team at the 2010 WJC. Before the tournament started, he was named the team's captain.
Stepan responded by playing the best hockey of his life at the WJC. The United States went through the round robin with three wins and a 5-4 shootout loss to Canada. He set up the goal that put the Americans up 4-2 in the third period, but the Canadians came back with a goal by Jordan Eberle with 9:57 left to play. With the U.S. ahead 4-3, Eberle took a penalty with 5:04 left the third period. Eleven seconds later, Alex Pietrangelo scored a shorthanded goal for Canada to tie the game, and eventually force overtime and then a shootout.
In the playoff round, the U.S. beat Finland 6-2 with Stepan picking up a pair of assists. Next up was Sweden, who had torn through their round robin pool with a 4-0 record, 28 goals for, and only six goals against. Stepan picked up an assist in a 5-2 win.
The win set up a rematch with the Canadian team for the gold medal. Stepan scored in the third period to put the U.S. ahead 5-3. However, history repeated itself, and Team Canada clawed back from a two-goal deficit to force overtime. Eberle scored both Canadian goals to tie the game at 5-5 and force overtime.
No shootout was needed this time. John Carlson scored at 4:21 of overtime to give the United States its second ever WJC gold medal. He was on a two-on-one with Stepan, and fired a wrist shot past Canadian goalie Martin Jones. Stepan was named to the tournament's all-star team. Despite leading the tournament with 14 points, tying for the lead in plus-minus with Pietrangelo with a plus-nine, and winning the gold medal, Eberle would be named the tournament MVP.
Not being named MVP did not matter to Stepan, but what did matter was how his career path would change because of his performance at the tournament. He went back and finished the season at Wisconsin. Before the tournament, Stepan had no idea that his sophomore season would be his last with the Badgers. But the WJC changed that.
"I played in the World Juniors and had a great tournament, and at the end of the year, that's when New York (signed me)," Stepan recalled. "They were actually making a transition to a younger group. I happened to be a prospect who had a good tournament and kind of picked up steam from there. So it was definitely a big moment for me."
Winning gold at the WJC has been a special memory for Stepan, and as a hockey fan, he still follows the tournament each year.
"I always watch the tournament," Stepan said enthusiastically. "It's such a fun tournament to a, be a part of, and b, watch the fans. You have so much talent and it's such a great tournament. (The teams) have to come together so quick, and to see teams be able to do it and build bonds together, it's so much fun."
Stressful Time for Trade
Stepan is busy trying to watch the tournament and, in particular, his soon-to-be Senators teammate Tim Stuetzle of Germany. He is somewhat pre-occupied, however. His wife, Stephanie, is expecting the couple's third child Jan. 3. Stepan will be staying in Arizona until after the birth of their child, and then heading north to Ottawa.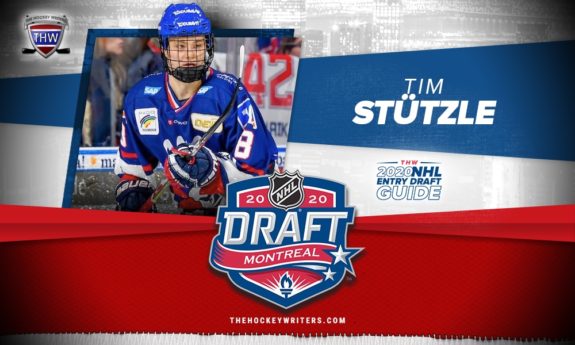 "We're just kind of in wait mode to see when the baby comes, and when the baby gets here, I'll do my best to get up there as fast as possible," he said. "The baby is due in early January and obviously you can't predict it. We hope that the baby will come at a good time and be healthy, but as of right now, we're just sitting and waiting."
There had been rumours circulating in Arizona that Stepan wanted to leave the Coyotes. Stepan, entering the final year of his contract, said that was not the case. Having a wife that is expecting in less than two weeks and the COVID-19 pandemic have made the situation very difficult.
"We were very happy here," he said. "I had a great three years here in Arizona. I felt like I put in some hard work. The big thing for this young group is that we got better each year. Maybe there's an asterisk next to it but we were able to get into the playoffs. I've got a lot of very good memories, and good friendships here. But it's a chapter in my life, and we move on. That's the thing that some people forget. This business has its ugly moments. To move the way I did this time around, this one really opened my eyes to it."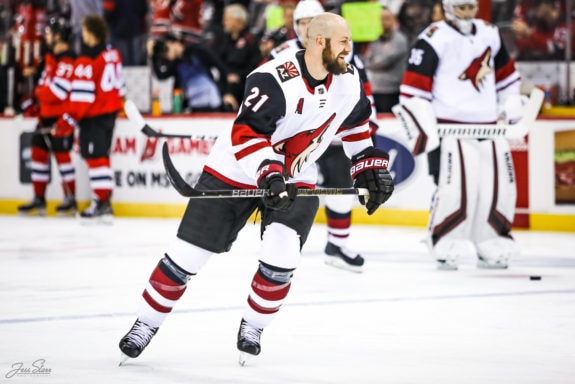 As much as Stepan is excited about joining a young Senators team, the timing of the trade has brought stress to his family life.
"With my wife pregnant, it's been a bit of an emotional roller coaster," he said. "We're getting there. We're starting to see the light at the end of the tunnel. I thought my first trade was a whirlwind but this one kind of lapped it a couple times."
Switch to No. 15
When Stepan does arrive in Ottawa, he will be wearing No. 15, which he wore playing Bantam hockey in Hastings. In the NHL, he had always worn No. 21, but that number belongs to prospect Logan Brown. Even if Brown is sent back to the team's AHL affiliate in Belleville, Stepan said he is happy with No. 15.
"He's a young kid and he wore it in junior and I've got zero issues letting him hang onto that thing," Stepan said. "I'm not overly concerned about it. I'm here to help kids and I'm not going to ruffle feathers by taking this kid's number. I'm here to help him along, not to slow things down and take his number from him. So I'll move over, and he'll look better in 21."
The number on his back is likely the furthest thing from Stepan's mind right now. He and his wife are focused on the addition to their family, and then a cross-border move has to be planned. But while they are waiting, you can bet that he will have one eye on what's happening at this year's WJC.
---
---