2014 hasn't exactly been the year the Bruins would have liked it to be. After winning the Presidents' Trophy for the best record in the NHL this past season, they dropped game seven of the Eastern Conference Semifinals to the rival Canadiens in their own building. In the offseason, they weren't able to re-sign Jarome Iginla and their lack of money even caused Reilly Smith and Torey Krug to hold out during the preseason. So far in the 2014-15 season, the Bruins have been lost. Injuries haven't helped, but it appears to be the right time for a change. What do the Bruins need to do to salvage this season and set themselves up for future success?
Figure out the true "core"
The Bruins have gotten into a habit of falling in love with their players. There's no doubt this group of players has brought the team success over the past few years, but could they have been more successful with a different strategy? Peter Chiarelli, Cam Neely, and Claude Julien probably wouldn't like to hear it, but not every third and fourth line player has to be a franchise guy. Even top line players should be expendable, but long-term contracts are handed out to seemingly everyone who comes up through the system.
The NHL salary cap is probably the hardest to work around compared to the other three major sports. The front office needs to make difficult decisions from time to time, but the Bruins management group seems to try and take the easy way out most of the time. They have parted ways with two important players in Tyler Seguin and Johnny Boychuk over the past two offseasons, each for a different reason. Seguin was thought to be too immature and didn't play the Bruins brand of hockey. Meanwhile, he is on pace for almost 60 goals and 100 points. Boychuk was moved to free up cap space, so what are the Bruins planning on doing with that extra money?
Every Bruins fan would be surprised if the team finishes out the season with this same crop of players. Lots of important names have been thrown out there in rumors. Milan Lucic, David Krejci, Loui Eriksson, Dougie Hamilton, and even Tuukka Rask have all been mentioned, but who are the Bruins going to part ways with?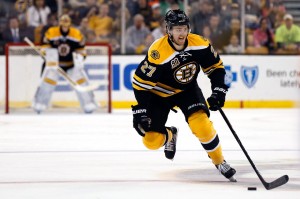 In my mind, there are four players I wouldn't trade unless the returning offer is absurd. Patrice Bergeron, Krejci, Hamilton, and Rask. All four are in their prime or have not yet reached it. Rask may be overpaid, but what if Malcolm Subban is a bust? The two centers both fit the current system perfectly and would be tough to replace on the ice and in the locker room. Hamilton has continued to grow on both ends of the ice and is the obvious choice for Zdeno Chara's replacement.
You may have noticed that I left Chara off my list. The captain's game has gone down hill and we have all noticed. His long reach can only account for so much and his deteriorating speed is allowing him to get beat by quick forwards. In an attempt to combat this issue, he has been forced to take more than his fair share of stick infractions. With three full seasons on his contract after this one, one can't help but imagine what Chara will look like in 2018 if he continues down this path.
Lucic is a player that could have plenty of value to a trade partner, but isn't worth the $6 million the Bruins are paying him. A few years ago, Lucic brought toughness to the ice more often than not and his tenacity was a huge part of the "Big Bad Bruins" of modern day. With Krejci's absence this year, it has become glaringly apparent that without one of the best passers in the game on his side, Lucic is a 3rd line caliber player. He rarely fights anymore and can be unnoticed on the ice for weeks at a time if he isn't scoring. Among other players with around a $6 million cap hit, Travis Zajac and Jordan Staal are probably the only two who I would prefer Lucic over. Once Lucic's contract is done after next season, he will want a long-term deal and a raise just as many of his teammates have received. It would be smart to deal the 26-year-old now to a team that has an excess of skill and lack of toughness.
The rest of the players should all be on the table. Granted, several of them have no movement or limited no movement clauses, but it's time for this team to go in a new direction. See ya, Chris Kelly! No more untouchable third and fourth liners. Eriksson has looked better over these past two weeks, but it doesn't make sense to put a player like him down on the third line for that type of money. Coach Julien, who recently had his contract extended, would be prying to Kelly's legs as he leaves the locker room, but the NHL is changing and the Bruins must do the same.
Harder, better, faster, stronger….Which one?
After the Habs sent the Bruins home in game seven, it was clear that the Bruins style of play wasn't working. The two-way style of play that worked so well in the regular season didn't work in the playoffs, but why?
When the Bruins won the Stanley Cup, Tim Thomas was a brick wall and the Bruins were able to win crucial games 1-0, 2-1, etc. Shutting down the opponent appeared easy and the offense didn't need to be on point every night. The Bruins were also able to bully the Canucks and the system paid off in the B's favor. The game is different now. The Canadiens roster is full of quick, skilled players that can create odd-man rushes and beat slower, tougher teams like the Bruins.
It looked like the Bruins were getting ready to change over to that type of game when they let Shawn Thornton walk this offseason, but lo and behold, there was Bobby Robins on opening night filling Thornton's spot. Young guys like Seth Griffith and Craig Cunningham have shown glimpses of speed, but they don't have high ceilings and won't be able to beat solid defensive groups in the playoffs.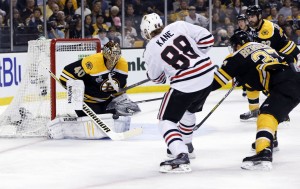 Players like Lucic are becoming more of a liability than a strength. A first line consisting of Krejci, Lucic, and player X against Jonathan Toews, Patrick Kane, and player X results in a Stanley Cup victory for the Blackhawks.
The Bruins don't have the necessary skill and speed to match up with other top teams in the league. They traded away one of the most promising young players in the game, and while his statistics are inflated in Dallas, Seguin could have easily been a 40 goal scorer if the Bruins let him. Which gets me to my next point…
Scoring is good, Claude
It might surprise some, but the Bruins have been in the top five in goal scoring in three of the past four seasons. They haven't had the 40 goal or 100 point players, but they have managed to get by with their depth. They had six 20 goal scorers in 2011-12 and almost matched that last year. This season, they have only three players on pace to hit that mark.
Every Stanley Cup winning team in recent history, at least the past thirty years, has had a player who scored, had scored, or would score 40 goals in the years surrounding the cup. Essentially, every team has had a high-end scorer who could finish, which is especially necessary in the playoffs. The Bruins were the only true exception to that trend, with Mark Recchi the only player on their roster who had scored 40 goals and that just happened to be 17 years beforehand.
This year, Simon Gagne is the Bruins "high-end scorer". Well, we all know Gagne is past that point in his career, so the team needs someone to fit that role. And for that to happen, Julien needs to bite his tongue and allow a defensive lapse here and there if it means offensive chances for a player who can score. Rask should be able to hold his own for the most part, and Krejci and Bergeron should be able to pick up any slack. Chicago was able to beat us with Kane and company while we were forced to rely on our depth because Claude rolls four lines. With just a few minutes left in game seven against the Canadiens last year, the merlot line was out there just as they always have been.
Instead of relying on a Daniel Paille snipe to tie a crucial game, the Bruins need to acquire a skilled player or two and let them play their own game. Seguin shouldn't have needed to get dirty and scrum along the boards every shift, that's just not the player he was meant to be. The Kings acquired Marian Gaborik at the trade deadline to help their offense and he went on to score 14 goals in 26 playoff games. Darryl Sutter didn't ask him to lead the team in hits and blocked shots, he let him score and the trade worked out perfectly.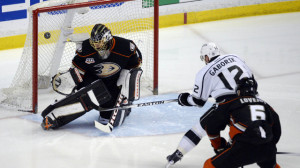 The 2010-11 Stanley Cup champion Bruins team can't stay intact forever. With the Bruins having one of their worst regular seasons in recent history, the new year is a perfect time for change. It's time for the Bruins to take a long, hard look at their team and realize that they can't win a Stanley Cup unless they change for the better. 2014 didn't work out in any manner for the Bruins and 2015 doesn't look bright if nothing changes. Julien needs to earn that extension he just received because in Boston, we expect nothing but the best.
Has contributed to isportsweb, the Yawkey Way Report, and Fansided's Chowder and Champions. Host of the weekly radio show Top Shelf Sports on Bryant University's WJMF radio.