The race for the final playoff spot in the Eastern conference has all of a sudden become very interesting.  It was recently thought that all 8 Eastern teams have been decided.  One of them would have to fall off for it to be a race again.
Enter the Boston Bruins.  After their most recent loss, a 5-1 decision to the St. Louis Blues, they currently find themselves only one point ahead of the Florida Panthers.  Florida also has a game in hand on the Bruins.  Consider the fact that these teams play each other 3 more times, and you see why this is a race.
But, Boston and Florida are not alone in this race.  There is a 3rd team that thanks to their recent performance, is making a late charge to challenge for that last playoff spot.  That team?  The Columbus Blue Jackets.
Remember them?  This was the team that has had to endure a seemingly endless amount of injuries.  As a result, they fell way back in the standings.  Many started to think about next season, especially when Sergei Bobrovsky got injured in Winnipeg.
Thanks in large part to the recent slide of the Boston Bruins, the Blue Jackets are right back in the thick of the playoff race.  The Jackets currently sit 10 points back, but do have 2 games in hand.  To be potentially 6 points back with around 25 games left, is very much doable.
#CBJ now 10 points behind eighth-place Boston, with three clubs in between them and one game in hand. #didijusttweetthat?

— Aaron Portzline (@Aportzline) February 20, 2015
How did we get here?  How did the Blue Jackets find themselves back in the race like this?  We will look at what has happened recently to give the Blue Jackets new life.  It all started when someone was finally able to return to the lineup.
Brandon Dubinsky's Impact
I wrote earlier in the season that the key to the Blue Jackets turning this season around was the return of Brandon Dubinsky.  On December 9th, he made his season debut, and it didn't take long for him to make an impact.  He got an assist on the 1st goal of that game.  More importantly, an important locker room presence was back.
All told, Dubinsky has been back for 30 games now.  The Blue Jackets are 17-12-1 in those 30 games.  His most recent performance was surely memorable.  He fought Sidney Crosby, and then delivered the ultimate blow, by scoring shorthanded to beat the Pittsburgh Penguins 2-1.  His presence in the lineup makes the whole team better.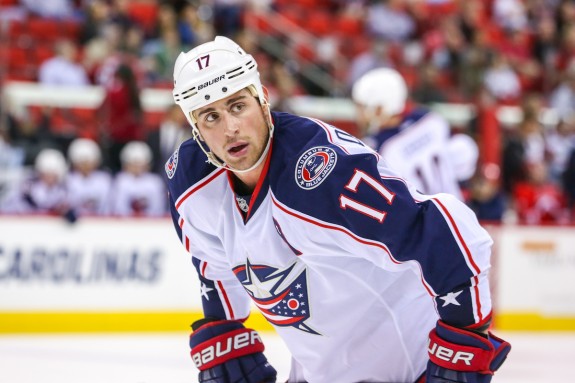 Curtis McElhinney's Stellar Play
When Sergei Bobrovsky was prone on the ice in Winnipeg, many had given up on the season.  They had remembered the last time Curtis McElhinney was in net.  He badly struggled.  Hope seemed to be lost.
This time around, the result has been much better.  In his last 6 games, McElhinney is 5-1, which include wins against the Blues and Penguins.  In those 6 games, he has allowed 12 goals.  He has regained the form of last season, when his play midseason help set the Blue Jackets up for their late playoff run.  Given the fact that Bobrovsky is skating and will return soon, the Blue Jackets are ready to make another late season run.
Curtis McElhinney: now 9-3-0 in his last 12 games. #CBJ

— Rob Mixer (@RobMixer) February 20, 2015
Handicapping the Playoff Race
In reviewing the remaining schedules of Boston, Florida, and Columbus, it sets up for a wild March and April.  Lets take a look at what each team has left on their schedule.
Columbus: 26 games remaining, 13 home, 13 away, 15 games vs. current playoff teams.
Boston: 24 games remaining, 11 home, 13 away, 13 games vs. current playoff teams, and 3 games vs. Florida.
Florida: 25 games remaining, 15 home, 10 away, 16 games vs. current playoff teams, including 3 games vs. Boston.
Florida does have a majority of their games left at home, but also have a majority of their games against the top teams in the league.  This includes 2 different stretches, one where Florida plays Pittsburgh, and then twice against Chicago.  The other is a 7 game stretch in March, where the Panthers have to play the Rangers, Red Wings, Bruins, Lightning once each, and the Canadiens twice.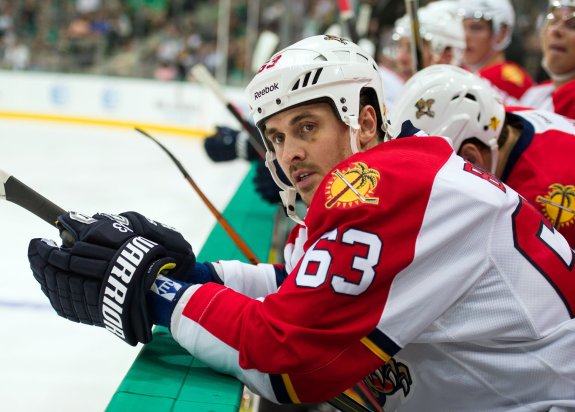 Columbus has a tough stretch in late March in which they play 3 games in one week against Anaheim, Chicago, and St. Louis.  Boston's toughest stretch is also in late March, where they play 3 games in one week against Tampa Bay, Anaheim, and the New York Rangers.  Given that all 3 teams have similar challenges, this race is anyone's for the taking.
It must also be pointed out that the Philadelphia Flyers are in this race too, currently 6 points back of Boston.  They're in the race, but given their recent performance, which includes a loss to Buffalo, they're trending in the wrong direction.  If they turn things around, they can make it a 4 team race.
A reporter recently told Blue Jackets Head Coach Todd Richards "the playoffs are most likely not going to happen.", to which Richards responded, "First off, we don't have the attitude of that."  The Blue Jackets believe that they can make this happen.
Todd Richards was told by a reporter that "playoffs are most likely not going to happen": "First off, we don't have the attitude of that."

— Rob Mixer (@RobMixer) February 20, 2015
Do not count the Columbus Blue Jackets out of this race.  They have beaten several top teams this season, including the Penguins, Blues, Blackhawks, Red Wings, Bruins, Capitals, and Lightning.  Sergei Bobrovsky is also 31-10-5 the last 2 seasons in March and April as well.  All the ingredients are there for Columbus to pull a late season miracle.  They just need to keep winning.  Chances are, they will.