Brandon Dubinsky's Impact
This summer for the Columbus Blue Jackets started out about as good as one can hope for.  They played a great playoff series against the Pittsburgh Penguins.  Optimism surrounding the team was at an all time high.  After having a great regular season and playoffs, Brandon Dubinsky signed a 6-year contract extension to stay in Columbus.  Finally, fans had something to look forward to come October.
Well, here we are in November.  The Blue Jackets currently sit in 29th place overall, mired in a 9 game losing streak.  Within that losing streak, they have only managed a single point.  At 4-10-1, they are currently 4 points back of Carolina for 7th in the Metro, and they have a game in hand, plus 2 head to head wins.  Nobody in Columbus saw this start coming prior to the season, and how could they have?  The Blue Jackets have dealt with a huge rash of injuries to start the season.  The amount of cap missing from the lineup is currently tops in the league.  The question we need to ask is, is this start all because of the injuries, or is there more to it than that?
I did have a chance to review the game tape of every game during this 9 game losing streak.  I focused on both who was on the ice, and who wasn't on the ice.  The more I watched the tape, the more prevalent a certain trend became.  There is one player that the Blue Jackets are desperately missing right now.  In fact, once this player returns, their season will start to turn around.  Of course having everyone back is key.  But given what all he brings to the table, Brandon Dubinsky cannot get back soon enough.  We will highlight 3 things the Blue Jackets miss with him out of the lineup.
https://www.youtube.com/watch?v=19o9Vc-8Jrg
Dubinsky's Passion Is Missed
If you have watched any of the last 9 games, you'll see long stretches of inconsistent play and at times, little energy being displayed.  Brandon Dubinsky is a spark plug.  When the team announced that he would be sidelined for multiple weeks, that was a huge blow.  Now we see why.  Dubinsky is the type of player who will give your team a shot of energy when it is needed most.  Tell me, who on the current roster (excluding injuries) can do this?  As seen in the above video, Dubinsky took the puck from his own zone, and turned it into a 4 on 3 shorthanded goal.  It was a game changer.  That's the kind of energy that propelled the Blue Jackets all last season.
Dubinsky's Defense Is Missed
Flash back to the Penguins series last season.  Brandon Dubinsky became Sidney Crosby's shadow all series long.  He held Crosby to 1 goal.  He shut him down.  Not only do you take energy and passion out of the lineup, you take out someone who has proven he can shut down the world's best player, when all the pressure is on to do so.  Again, who in the current lineup can effectively shutdown the opposition's best player night in and night out?  Games became much more winnable with him in the line up.
Dubinsky Can Score Too
Wait, there is more.  Brandon Dubinsky can also score.  Not only can he score, he can score when games and seasons are on the line.  In the above video, this is the goal Dubinsky score with :22 left in the 3rd period of Game 4 of last season's Penguins series.  Yes, Marc-Andre Fleury misplayed the puck.  But, part of being a goal scorer is being in the right position to score.  That is what Dubinsky did here.  The puck found his stick.  He then proceeded to score even though it appeared hope was lost.  His example is sorely missed right now.  The fact that he can do so many things is why he is the Blue Jacket that is most missed.
With all due respect to all those that are currently missing from the Blue Jackets, Dubinsky is the most important.  Many will say that Sergei Bobrovsky is the most important.  Yes, he is important for sure, but given what has happened in this 9 game losing streak, the problem has been goal scoring and energy.  18 goals in 9 games is just not good enough.  Being outplayed for long stretches is just not good enough.  Curtis McElhinney was good last year while Bobrovsky was injured.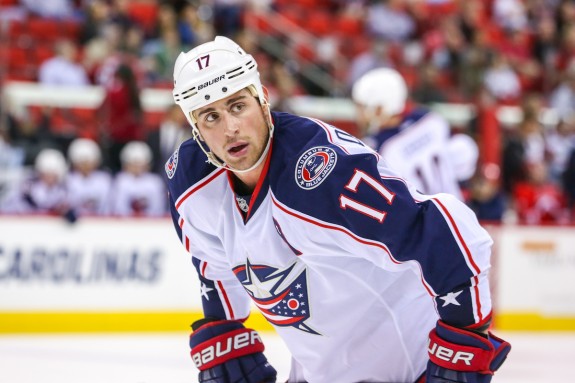 The Blue Jackets are slowly starting to get healthy.  Dubinsky has been skating on his own getting ready to come back to the lineup.  Assuming no setbacks, he is about a week or two away from returning.  Once he does return, he will bring scoring, defense, and energy that has been lacking all season.  Finally, Blue Jackets fans will have some reason for optimism.  It can only go up from here.