When Zdeno Chara went down with a knee injury and miss 4-6 weeks, everybody,  Bruins fans and pundits alike, thought it would severely hurt the Bruins. After all, the Bruins just traded Johnny Boychuk to the New York Islanders and the Bruins, once deep on the blue line, were short on defensemen.
Inexplicably, the Boston Bruins are thriving without their captain, to the surprise of many. In fact, the Bruins have a better record without Chara (5-1), than with him (4-5). The injury to Chara is the best thing that could happen to the Bruins… for the long term. Here's why…
Dougie Hamilton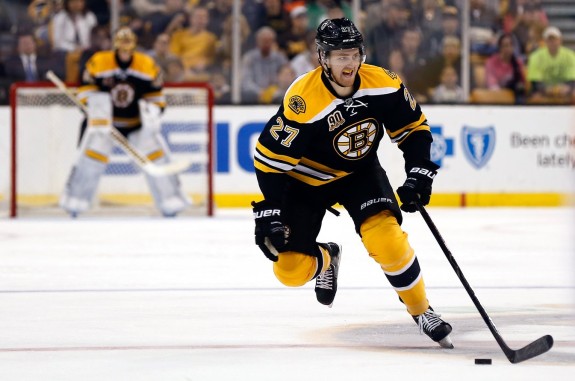 The young defenseman was expected to step up his game even further this season and even more so after Chara's injury. Since the injury to Chara, Hamilton has been played up to three more shifts per game than before Chara's injury. Three shifts might not seem that much, but for someone as young as Hamilton, it is everything. It's  giving him that much more playing time and the potential to take over as the top defenseman when Chara decides to hang up the skates.
Hamilton has also increased his scoring output since Chara's absence. Before Chara went down with his knee injury, Hamilton recorded a paltry two points in nine games, but since then Hamilton has recorded eight points (two goals, six assists) in the six games without Chara. Not only has he been doing better offensively, but defensively as well. Hamilton is a huge reason why the Bruins have kept their goals against average below two since Chara's injury and Hamilton is a plus-5 during those games.
Hamilton is feeling more confident on the ice with every shift and that is huge going down the road for the Boston Bruins. The defense will be that much better when Chara does return later this season and Hamilton will be a defensive leader for years to come.
Showing the Bruins a Post-Chara Future
Let's face it, Zdeno Chara is not getting any younger. He's 37 and suffered a serious knee injury. There's not a whole lot of time left for Chara on the ice and the Bruins need to start planning for a post-Chara world.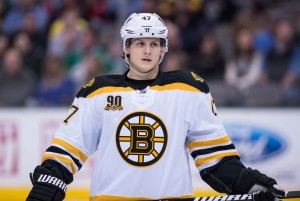 With Chara's injury, it's showing the Bruins what they can do once Chara retires. Younger defensemen, like the previously mentioned Hamilton, Torey Krug, and Kevan Miller, are getting valuable playing time. Although, Krug is battling an injury of his own, he is expected back soon and he is a huge part of the Bruins defense going down the road.
Everybody on the ice has been stepping up and becoming a more mature player on the ice and that is great news for the Bruins. Sometimes you don't know what you have until your star player goes down with a serious injury and the Bruins are seeing that they have some great defensemen.
Tuukka Rask
Losing Chara could have been a huge blow to the Bruins netminder, but so far, his defense has been backing him up. With a relatively young defensive squad without Chara to help them, Rask was facing trying to clean up the defense's mistakes. Seeing as how they made quite a few in the playoffs last season against Montreal and early on this season.
The defense has been stout and not making Rask overwork and possibly burn himself out down the road this season. In the game against the Edmonton Oilers, even though they allowed the Oilers an early third period goal, the defense did not allow the Oilers to record a single shot in the final eleven minutes of the game. That allowed the Bruins to rally against Edmonton and record four straight goals and get a much needed win.
They are making Rask's job a whole lot easier and keeps Rask fresher for a long and daunting regular season and playoff season.
Zdeno Chara is still a huge part, if not biggest part, of the Bruins as a whole and a quick return would be much needed, but the Bruins are doing just fine without him.
Mark Wallace Graham has been a writer for TheHockeyWriters.com since March 2013. Growing up in New England, Boston Bruins hockey was in my blood. Follow me on Twitter, @MarkWGraham