The opponent features two of, if not THE best players in the world, a Norris trophy candidate, and a benched goalie that was selected first overall in the NHL Draft. They added a few high-profile pieces prior to the trade deadline, and boasted the league's top offense in 2013. But despite all that, Boston has a 3-0 lead in the 2013 Eastern Conference Final, demonstrating that maybe, just maybe, this Bruins TEAM is just straight up better than the Pittsburgh Penguins.
What a concept.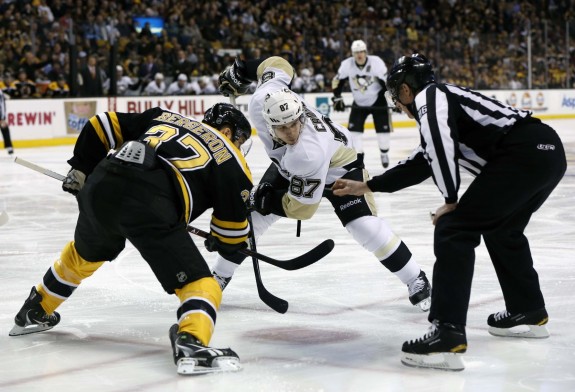 For me, this Boston / Pittsburgh match up is reminiscent of the 2004 NBA Finals. Those Lakers featured Shaq and Kobe (Malkin and Crosby), as well as aged stars in Gary Payton and Karl Malone looking to add a ring to their resume (hello Iginla and Morrow). Despite being serious underdogs, the Pistons pulled off the 4-1 series victory and were lauded for their team-first, blue-collar mentality.
In many ways, this Conference Final mirrors that series, and the Bruins are now on the verge of knocking off the Penguins in similar fashion.
What the Bruins have managed to achieve as an organization is to build this mix of continuity and depth that breeds success, even if they do no boast the most star-studded lineup in the league. After the Bruins won the Cup in 2011, a concerted effort was made by management to keep the core of that team together, and the lineup that is currently looking to return to that pinnacle remains largely the same, with a few exceptions: Rask is in for Thomas, Jagr is in for Recchi, Horton is in for Ryder, and Krug is in for Kaberle.
Said GM Peter Chiarelli of the challenges that came along with trying to keep that core together, and the decision to take that route in the first place:
Two years ago you did what we did, and you see how these guys work and how they will go to the wall for you. The initial premise isn't difficult. It's like, 'Wow, we've won.' Historically, it's been a difficult exercise for teams that have won and then have tried to keep the core together, and then you make some mistakes. . . . It's easy to say, let's just keep everybody and see if we can do it under the cap and all that, but that's not always the right thing. It's a challenge.

Those are decisions that we make, that I make, that you get to know the players. There's a fine line between loyalty to these players and making the right decisions, and that's what I have to do as a manager.

(Boston Herald, May 27, 2013)
Some have questioned these decisions along the way, citing that familiarity may lead to a certain amount of malaise, or that fresh perspectives can breed new determinations. While those arguments seemed more than plausible through much of the shortened regular season and during the first round series with the Leafs, this Bruins team definitely appear to have its united swagger back, a group looking to prove that they can repeat what was accomplished just two years ago.
Of course, it helps to have exceptional talent at the core pillars, and the Bruins do possess that in one of the league's best defencemen (Zdeno Chara), best all-around forwards (Patrice Bergeron), and what we now know to be one of the league's best goalies in Tuukka Rask.  But the Bruins have also been able to surround this trio with a scintillating first line, solid role players, and a mix of veterans and youth that continue to drive the bus forward.
Quite simply, Chiarelli & Co have managed create and maintain a roster that is cohesive and effective when it matters most, a lineup that typifies a true team mentality.
Case in point: not only did Claude Julien demonstrate how valuable each player in the lineup is by starting his 4th line in Game 3, but the effort and determination of Gregory Campbell would later become a significant rallying point for both the team and its fans:
Here's what Julien had to say about Campbell and the injury, via Joe McDonald of ESPN:
For what he went through, he showed a lot of guts to stay out there and to still try and play. Obviously it was a pretty serious injury, so that's just the kind of player he is, and it doesn't surprise me, it doesn't surprise his teammates, but certainly it shows the character of that player, and that's why we appreciate having him on our team.
In reality, Campbell's injury is relatively insignificant in relation to what sort of impact would be felt if others were forced out of the lineup, especially considering his Corsi rating throughout the playoffs. Nevertheless, each member of the lineup plays an integral part in the process and keeps the machine running; and not only that, but Campbell's coaches and teammates recognize his value, giving added depth to his loss. Having said that, and because of the Bruins' organizational depth, there are any number of viable options that can be inserted into the lineup in his stead, helping the Bruins to finish off what they have started here in the Conference Final.
Even with the series at 3-0, this Bruins team knows that it's not over, and it would behoove them to finish off the Penguins in Game 4 on Friday night. What they do know for certain is that Pittsburgh threw everything they had at them on Wednesday, and they were still able to come out with the W, minus one fibula but with the knowledge that #doitforsoupy is now officially a thing.
Follow Ian on Twitter for more hockey updates and commentary.