As we approach the middle of August, the start to the 2022-23 NHL season creeps closer and closer. Like most of the teams in the league, the Boston Bruins have some storylines hanging over them ahead of training camp which will begin in late September at Warrior Ice Arena under first-year head coach Jim Montgomery. 
The 2022 offseason has been a quiet one for the Black and Gold, with the only notable moves being Patrice Bergeron and David Krejci re-signing and general manager (GM) Don Sweeney trading Erik Haula to the New Jersey Devils for Pavel Zacha. A restricted free agent (RFA), Zacha agreed to a one-year contract on Aug. 8 for $3.5 million. With two months still remaining before the season opener on Oct. 12 against the Washington Capitals on the road, here are three storylines to keep an eye on heading into the 2022-23 season.
Pastrnak's Contract Extension
With Bergeron and Krejci under contract for this season, now the biggest story facing the Bruins is David Pastrnak and his contract extension. Pastrnak enters this season on the final year of his contract that carries a very team-friendly cap hit of $6.67 million. He is going to get a significant bump in his next deal, whether it's in Boston or somewhere else if general manager (GM) Don Sweeney lets him hit free agency next summer. There have been preliminary talks between Sweeney and Pastrnak's agent JP Barry.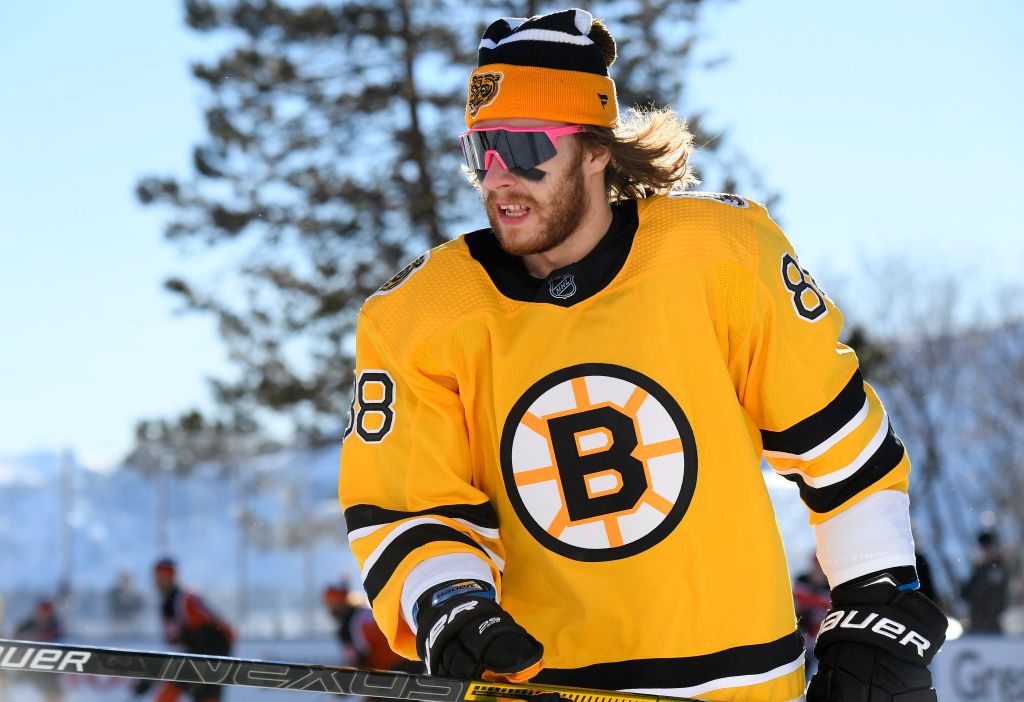 "Ongoing would probably be the best way to describe it. We've been in regular communication," said Sweeney. "Obviously, David's still over in Europe and likelihood is he'll come back and we'll talk between now and then. When he gets back, we'll maybe have a better idea of a deal timeline.
"But I don't have one today. And you guys know me well enough, I'm not going to comment publicly on ongoing negotiations, but we've been in regular contact with [agent JP Barry]."
Related: Boston Bruins: Predicting David Pastrnak's Next Contract
Getting Pastrnak locked up long-term should be Sweeney's top priority heading into the 2022-23 season. Last season, the Bruins avoided an issue with a defenseman, Charlie McAvoy, by signing him to a contract extension ahead of the season opener to lock him up as the leader of the Boston defense for the foreseeable future. Sweeney needs to do the same with Pastrnak as gifted goalscorers like him don't always come around. The longer it takes to get an extension to get, the more and more it's going to be a distraction during the season.
How Do the Bruins Get Under the Salary Cap?
As they currently stand, the Bruins are over the cap limit for the upcoming season after signing Bergeron, Krejci, and Zacha. They have to get $82.5 million prior to the beginning of the season to be compliant, but it's clear that subtracting money is not going to be easy.
"I hope we've done significant math to be able to put the pieces together. We have some challenges, as do several teams, and how we do that through trade or be it through waivers, that really all teams are going to have to face. We don't have an issue certainly through November. We don't have an issue because of [Long-Term Injured Reserve] and the likelihood that will be an LTI with the injuries we have, the amount of injuries we have. But coming out of it is the math challenge.
"And yeah, we'll have to unwind a little bit. But we have some mechanisms to be able to do that. We know what the leverage will be and you just don't know what's going to happen between now and then anyways. So, we're prepared to go in a couple different directions to explore what we have to, but we have mechanisms in place to be able to accomplish the goal."
There are many different routes the Bruins can take to get to $82.5 million, but some decisions are going to be tougher than others. Making a trade is not going to be easy this time of year, especially with the Bruins missing Brad Marchand, McAvoy, and Matt Grzelcyk to begin the season.
Where Does Lysell End Up?
Top prospect Fabian Lysell is playing for Team Sweden in the rescheduled 2022 World Junior Championships in Edmonton. In two games so far, the Bruins' 21st overall pick in the 2021 Entry Draft has one goal and two assists in Sweden's two victories.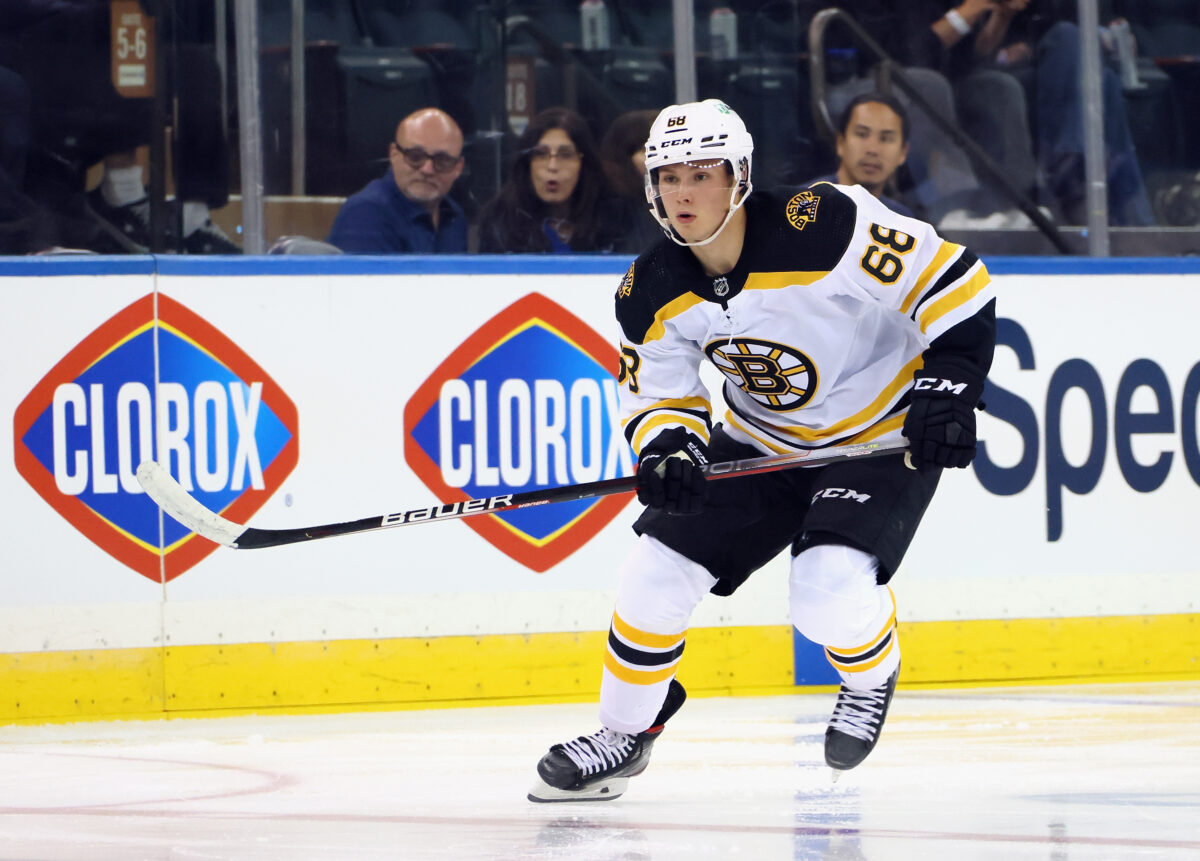 Lysell is coming off an impressive season with the Vancouver Giants in the Western Hockey League (WHL) where he had 20 goals and 44 assists in the regular season, before collecting four goals and 17 assists in 12 playoff games. His development is getting better and better and the talented 19-year-old is showcasing his talents on the big stage of the WJC. After this tournament, he will participate in the Prospects Challenge in Buffalo with fellow Bruins prospects in September ahead of training camp. Looking to crack the Bruins roster as a bottom-six forward this season, the next month-plus is worth keeping an eye on Lysell and whether he can impress Montgomery enough to make the roster.
Related: 4 Bruins Prospects Who Must Have an Impact in 3 Years
As the dog days of August continue, with each passing day, the 2022-23 NHL season inches closer. The Bruins are entering the season with some question marks, as well as some big decisions for not only this upcoming season, but beyond. Sooner or later, some of these storylines are going to give us answers for not only the present, but also the future.
---
---
---
Latest News & Highlight
---