The Boston Bruins could get an infusion of talent into their lineup this season if Fabian Lysell impresses coming out of training camp. The 19-year-old winger was one of the most gifted forwards in the 2021 NHL Entry Draft and slid to the Bruins who owned the 21st overall selection; without second-guessing it, the Bruins pounced on the opportunity and took a player who could add a different element to the team.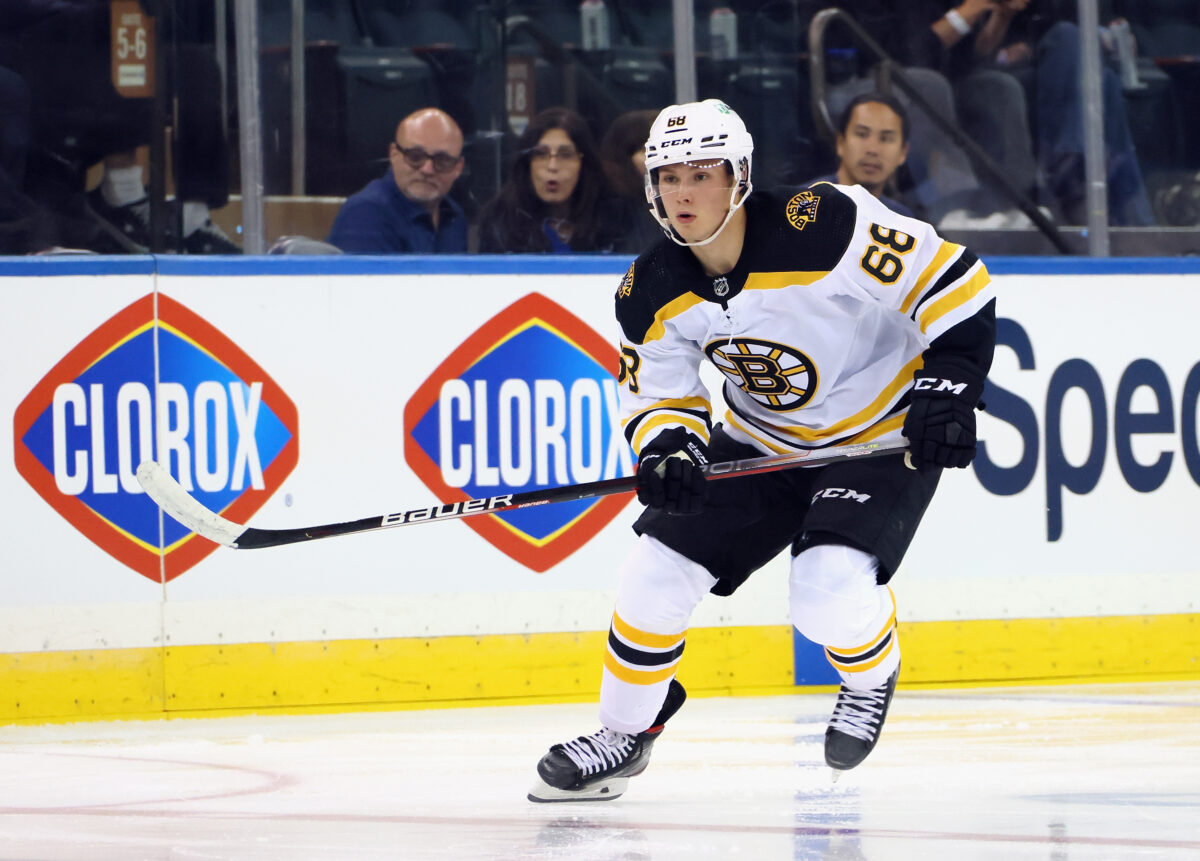 In his first season in the WHL after being drafted, Lysell would impress and score 22 goals and 62 points in 53 regular season games, followed by four goals and 21 points in 12 postseason games with the Vancouver Giants. He's also been impressing thus far in the 2022 World Junior Championships, scoring one goal and three points in two games for Sweden, including a must-see goal that could excite Bruins fans for what's to come.
There's a lot to like about Lysell's game and he's exactly the type of dynamic offensive player the team needs in their lineup in both the short- and long-term. His strong skating ability, offensive instincts, goal-scoring prowess and ability to play at five-on-five and on the power play make him a very enticing option. Should he prove to be responsible enough in the defensive zone, he should be considered for a role early on, and if he impresses in training camp, he could find himself in a regular NHL role to start the season somewhere in the top nine.
Bruins 2022-23 Lineup Decisions Won't Be Easy
It's hard to tell where Lysell would fit in at the start of the season, as the likely top-nine could look something like this barring any unforeseen trades:
Brad Marchand – Patrice Bergeron – Jake DeBrusk/David Pastrnak
Taylor Hall – David Krejci – David Pastrnak/Jake DeBrusk
Pavel Zacha – Charlie Coyle – Craig Smith
Ideally, the Bruins can keep DeBrusk on the top line alongside Bergeron and Marchand to maximize his minutes and output as they did to close out the 2021-22 season; this would also facilitate a line of Hall, Krejci and Pastrnak, all of whom have shown great chemistry together in the past. The team could opt to reunite Pastrnak with Bergeron and Marchand, however, which would then reunite DeBrusk with Krejci; this is less ideal, but also a possibility nonetheless.
While Lysell could benefit from playing in either right-wing spot in the top-six, the team would be hard-pressed to move DeBrusk down the lineup and waste his abilities on the third line again after he elevated his value so much last season in what was a resurgent season for the 25-year-old.
Because of this, the next best thing for Lysell would be to play him on the third line alongside Zacha and Coyle, though that would displace Smith who would also be wasted in a fourth-line capacity. If Lysell shows that he's too talented to play in the AHL, though, the Bruins may be forced to make a trade to accommodate his spot in the lineup. The return would need to be worth the risk of trading away a veteran top-nine forward, but it could be the team's best bet.
This is assuming that Lysell is ready to play in the NHL right out of training camp. Should he need more time to adjust, however, he could still benefit greatly from playing hockey in the AHL with the Providence Bruins and making the most of the coaching and training staff's expertise at the next level.
Bruins Need to Make Calculated Decisions With Lysell, Other Prospects
The team certainly doesn't want to rush Lysell, but in a must-win season that will likely be the end of an era in Boston, the team can ill-afford to pass on the potential he can bring to the lineup, even as a rookie. The situation also doesn't have to be cut-and-dry and he could find himself playing in the NHL to start the season and move back to the AHL should he falter, or vice-versa if he shows a need for more development in the AHL before making the jump to the NHL mid-season. There are many options and general manager Don Sweeney is taking them all into consideration.
"There's always a chance that a younger player can make the team. I referenced David Pastrnak a number of years ago and [that he] spent some time in Providence and came back from the World Juniors and went in and played and played well. It was hard to keep him off [the NHL roster], whether or not he's physically ready to play at that level, and maybe Fabian will be the exact same way," said Sweeney of the young players in the system looking to make the NHL this season. "So if Fabian comes in and stands out to the point, we feel he's ready, then that's fine. But we don't need to rush things with any of our young players. Put them in an opportunity, allow them to see if they can succeed."
Related: 3 Bruins Prospects to Watch at Rescheduled 2022 WJC
Sweeney would also reference Jack Studnicka, Oskar Steen and Jakub Lauko as players who could earn an NHL opportunity this season. Needless to say, there will be opportunities available for players to make the jump this season and Lysell has as good a chance as anybody to grab the proverbial brass ring and make the roster.
---
Latest News & Highlight
---