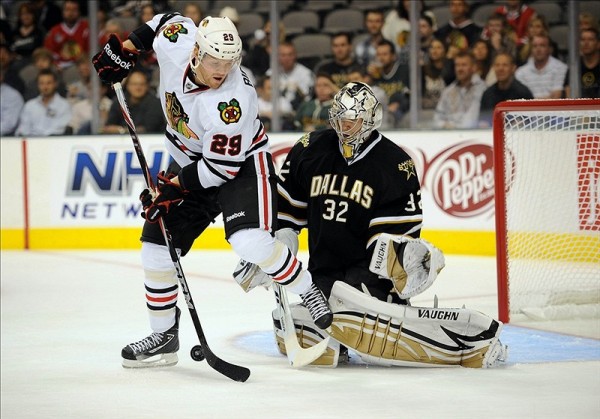 The past two seasons as a whole have been incredibly frustrating for fans of the Chicago Blackhawks, just based off of their inconsistencies during the regular season and back-to-back failures to get out of the first round in the postseason.
More specifically, there have been a couple of players that have been among the most frustrating to watch, for a variety of factors. For some, it's because they have another level that they can seemingly play to, but just haven't been able to put it together on a regular basis. For others, it's a failure to fill the role that they are on this roster to fill.
Bryan Bickell fits both of those descriptions.
With the departure of Dustin Byfuglien, Bickell was expected to be the type of guy that could step into that role. With a lack of size on the roster, the Hawks needed someone who could play physical, and use his size down around the net and help the offensive game.
In his two full seasons with the club, Bickell has been unable to do that. He's been inconsistent, both with his numbers and with his actual play on the ice. He's earned his way to the press box as a healthy scratch on more than one occasion in the past couple of years.
Bickell has a tendency to not only disappear in the box score for long stretches, but can be invisible over the course of a game. He's reluctant to use his size, which is obviously his biggest asset. Instead of using his 6'4″ frame effectively, he's comfortable shooting wristers from 30 feet away.
The one positive that helps us to maintain hope for Bickell is his performance in the playoffs the past couple of seasons. He brings the intensity to the ice in the postseason, doing it against the Vancouver Canucks in 2010-2011 and the Phoenix Coyotes this past postseason.
What we've seen from Bickell indicates that he knows exactly how to play his role. He knows how to lay the lumber. He had 22 hits in the five games he played against Vancouver (two missed because of injury) and 32 in six against the Coyotes. He also added a couple of goals in each.
It's that type of play that leads many to believe that Bryan Bickell can be a very effective player for the Hawks, if he plays his game like Bryan Bickell and not like Patrick Kane. Heading into the new season, whether that's in a couple of weeks or a year from now, it's going to be time for Bickell to put up or shut up.
The Hawks have Jimmy Hayes now in the fold and waiting for a chance to crack the regular lineup. He has the size and better hands than Bickell. By all accounts, he could probably fill Bickell's role better than Bickell does. But that doesn't mean that there is only room for one of them in the lineup. It just means that Bickell will feel added pressure in order to maintain playing time.
Bryan Bickell will be an intriguing player to watch for the Hawks in the upcoming season. His contract is up after the year, and with Hayes waiting in the wings, Bickell is going to have to step his game up in a big way, and show some consistency, if he wants to be part of this team's plans beyond this year.