For a 21 year-old that was chosen 8th overall in an NHL Entry Draft, things surely can't be going exactly as expected for Texas Stars forward Scott Glennie.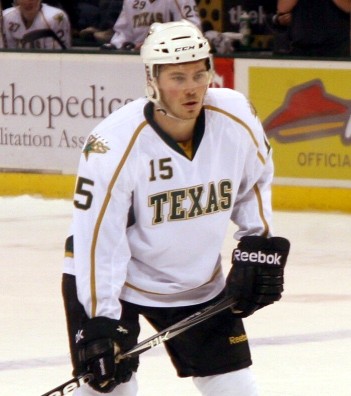 The hockey career of Glennie, who was picked by the Dallas Stars 8th overall in the 2009 draft, has been anything but consistent thus far, swinging drastically back and forth between periods of plausible hope and disappointing frustration.
At it's current point, the state of affairs for Glennie can surely be characterized as the latter moreso than the former.
Despite possessing undeniable speed, mobility and puck control skills, attributes that made Dallas like him enough to draft him so high, production has been elusive to Glennie so far in 2012-2013. He only has two goals and one assist in 13 games for Texas, with one of those goals being an empty-netter.
Other than a few unremarkable stints on Texas' top line with Cody Eakin and Reilly Smith, the majority of Glennie's ice time as come on the team's fourth line, a place not ideal for Glennie's pedigree and playing style, but nevertheless a place that he's been unable to showcase himself as deserving promotion from.
The frustrating start to the season is only exacerbated by, as pointed out a couple paragraphs ago, the periods of Glennie's career where there is much hope.
The young forward had a statistically outstanding junior career with the Brandon Wheat Kings of the WHL, scoring a total of 308 points spread out across 252 games from 2007-2011. But for a player drafted 8th overall, many were left feeling that Glennie was still playing a step below where he should have been, with the ultimate indicator of this being his absence from Team Canada's roster at the 2011 World Juniors. Not only did Glennie not make the cut after being cut as an 18 year-old in 2010, he wasn't even invited to attend the tryout camp at 19, the oldest eligible age for the tournament.
Last season was the young forward's first in the AHL, and despite a few hiccups such as a slow start, Glennie looked pretty good. He finished the year with 37 points in 70 games, and developed an improved sense of understanding and awareness towards the defensive side of the game. Glennie's most notable highlight of the year, however, was the night he made his NHL debut, playing in Dallas' last game of the season against the St. Louis Blues. It was a very clear sign that Stars management was happy with the work that Glennie had put in, and that the team still had high hopes for his future.
But after 23 games into the 2012-2013 season, with only 10 of which featuring Glennie, it's hard to not wonder what the current state of those old sentiments is now.
The potential reasons for Glennie's struggles in 2012 are both one of the best kept and worst kept secrets of the team. Injuries are certainly a part, as he's been battling troubles with one of his hands all season, but the severity and impact of the injury is not explicitly known. Personal issues are another part, as Texas head coach Willie Desjardins has healthy scratched Glennie for a number of games, including the first seven consecutive ones of the season, and has hinted at potential work ethic and conditioning issues as likely factors why, though again, the extent and severity of this part has rightfully not been leaked to the hockey media.
Though 21 years of age is still incredibly young in hockey years, giving him a lot of remaining time to turn his current misfortunes around and still possibly develop into the acclaimed offensive forward that he was touted as becoming, opportunities to do so are only going to become more and more scarce as Dallas continues to draft and develop a deep stable of forward prospects. Eakin, Smith, Alex Chiasson, Matt Fraser and Colton Sceviour are all showing a lot of promise on the Texas Stars, and excellent juniors like Brett Ritchie, Matej Stransky and Radek Faksa are already knocking on the door. If a few or many of those players can show themselves to be NHL ready, things are only going to get harder on Glennie.
Despite the recent struggles, and up-and-down career goes both ways, so for a player with so much natural talent there is still plenty of room left for hope and optimism. Though he may be in a down part right now, Glennie has shown himself capable of surging right back to those admirable up parts. However, only the future holds the answer as to which part becomes the dominant trend of what is already a very interesting hockey career to follow.