Winnipeg Jets first line centre Bryan Little has been nothing but consistent since he became a full-time National Hockey League player in the 2008-2009 season for the then Atlanta Thrashers.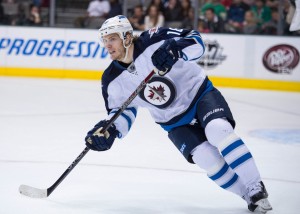 Drafted twelfth overall in the 2006 NHL Entry draft, Little began his professional career in a birth-by-fire scenario as he joined former American Hockey League Thrasher affiliate, the Chicago Wolves late in the second round of the 2007 Calder Cup playoffs, appearing in the decisive sixth game of round two and then game one of the Western Conference finals.
In his first full pro season, Little  split time between Atlanta and the American Hockey League's Chicago Wolves during the 2007-2008 season playing 48 games with Atlanta and 34 with Chicago. With the Thrashers, Little earned a total of 16 points, which included 10 assists.
As the Edmonton, Alberta native's career has continued, the Jets top centre has been a model of consistency earning 40 plus points in all but one* (note: this does not include the lockout-shortened 48 game 2012-2013 regular season) of his full NHL seasons with the Jets' franchise. From the 2007-2008 campaign through the abbreviated 2012-2013 season, Little amassed 99 goals, 128 assists for a total of 227 points– with these numbers Little averaged just over a half a point per game or a point every other game.
Stats say: YES
This season, Little is even more so leading the charge offensively. Heading into tonight's contest against the Tampa Bay Lightning, he leads the Jets with 27 points and is the only member of Winnipeg to tally double digits in the goal column through the first 30 games of the current campaign. With 12 goals in the first two plus months of the 2013-2014 season, Little is on pace to score 32 goals this season, which would be a new career high for the seventh year veteran.
His point per game average is immensely higher than his career average of .56 points per contest, sitting at .9 or nine points every ten games. If Little maintains this record pace that he's on, he will finish with 73-74 points at season's end, easily surpassing  his career-best of 51 points, which he set during the 2008-2009 regular season. Based on previous full NHL seasons (2011-2012, 2010-2011), where the top 20 point getters all had 73 points or more, Little's record scoring pace sets him up for a likely finish in the top 20 in the scoring race . In the entire league scheme of things, Little is currently tied for 15th amongst league leaders, 14 points off of the league lead.
Whether Little maintains his record pace remains to be seen, but one thing is for certain, his offensive impact is greater than it ever has been thus far in his career, and if Winnipeg wants to make a serious playoff push, Little will be at the forefront leading the nightly charge.
I've been a sports fan since before I can remember and although different from many of my southern peers, hockey has always been first (at least since 1999).
I am a junior at the University of Georgia majoring in digital and broadcast journalism and political science. In addition to The Hockey Writers and Sunbelt Hockey Journal, I have written for UGA's student newspaper, The Red and Black and wrote for my high school paper, Grayson High School's the Green & Gold. I was also a stringer for the Macon Telegraph during the 2012 college football season. I am now a student assistant with Georgia Sports Communications. Outside of school and writing, I play on Georgia's club hockey team, the UGA Ice Dogs in Division III of the American Collegiate Hockey Association.