Yes, the NHL Draft brings out the media in droves. Press from all 30 teams are on hand, national and international publications, news teams from other countries asking questions — and getting answers — in foreign tongues.
Without a doubt, the collection of players, coaches, scouts and general managers creates a media circus, as the best in the biz gather in search of "The Next One."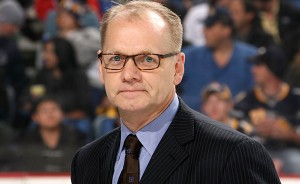 Buffalo was already showing signs of a total meltdown that offseason. Darcy Regier was hanging on by a thread in his 16th season as GM after firing long-time head coach and fan-favorite Lindy Ruff, then trading team captain Jason Pominville to the Minnesota Wild at the deadline. The Sabres failed to qualify for the postseason for the second year in a row and the team's President's Trophy in 2006-07 seemed like a distant memory.
For Regier, it would be the beginning of the end. But before exiting stage left, Buffalo's winningest and longest-serving GM in team history left his fingerprints on the team with a pair of first-round draft picks in 2012 and 2013.
One year after the Sabres selected Russian Mikhail Grigorenko (12th) and Latvian Zemgus Girgensons (14th) in the first round, Buffalo was blessed with two more high-end picks in 2013 thanks to the Pominville trade. It was then the Sabres tabbed Ristolainen, a Finnish defenseman, eighth overall before coming back eight picks later and selecting another D-man in Zadorov.
Ristolainen Rockets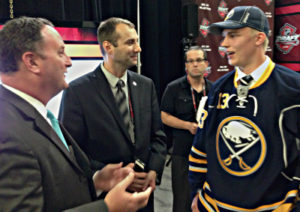 After Buffalo selected Ristolainen out of TPS in the Finnish Elite League and after he addressed the media to their satisfaction, the Sabres' brass asked Rasmus if he would "hang out," as they had another pick coming up.
Curiously, after taking the 6'4″, 219-pound defenseman, they left him all by himself in a corner of The Prudential Center in Newark. Standing there silently taking it all in, I decided to go over and keep him company.
"Congratulations Rasmus. Sabres fan, originally from Buffalo," I said as I flashed him my cell phone case with the crossed swords.
"Do you like chicken wings? Getting drafted by Buffalo, it's a local tradition there," I said.
"Yeah, I like chicken wings," the Turku, Finland native said.
"How do you like them, hot, medium or mild?" I asked.
"Hmm," Ristolainen thought for a moment. "Medium — not too spicy."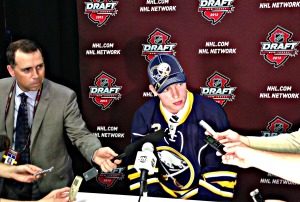 The off-the-wall line of questioning seemed to put him at ease. I asked him about another famous Finnish blueliner who made good in the National Hockey League — Reijo Ruotsalainen — who played eight seasons in the league for the New York Rangers, New Jersey Devils and Edmonton Oilers, winning a pair of cups with the Oilers in 1987 and 1990.
"Oh yeah, I know who he is but we're not the same," Ristolainen said, perhaps misunderstanding my question. "He is very famous in my country."
We chatted for a few more minutes and watched, together, as the Sabres selected Zadorov eight picks later at No. 16. I wished him all the best and we went our separate ways.
Next Up, Nikita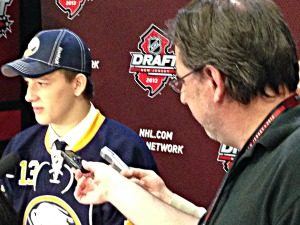 After the Sabres used its second first-round pick on towering, 6-foot-5, 235-pound Russian-born defenseman Nikita Zadorov of the London Knights of the Ontario Hockey League, the Buffalo front office couldn't wait to get the twin towers together for a photo opportunity.
The duo looked impressive standing side-by-side. Darcy Regier had to be feeling pretty good about the draft class, too — and the prospect of saving his job. But instead of defining the Sabres' defensive corps for the next decade, the two pillars would only skate together for a little less than two seasons. And Regier, as it turned out, would be gone less than five months later.
If You Rebuild It, They Will Come
You have to give to receive, and the yield from the Buffalo Sabres' 2013 Draft played a large part in defining the team's identity today.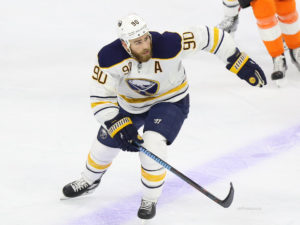 That season marked the beginning of the end. The team went into full rebuilding mode the following campaign as the Sabres dealt Ryan Miller, Thomas Vanek, Drew Stafford and Andrej Sekera — the last remaining pieces from the '06-07 Presidents' Trophy Team — over the next 18 months in an era unforgettably known as "The Tank" in Buffalo.
Management brought Regier's reign to an end on Nov. 13, 2013, and brought fan-favorite and former Jack Adams' Coach of the Year Award Winner, Ted Nolan, back into the fold albeit in a near-impossible role to succeed. While they acquired Evander Kane, Matt Moulson, Hudson Fasching, William Carrier and a few other pieces that are still part of the organization, it was a trade involving Zadorov that helped turn the page.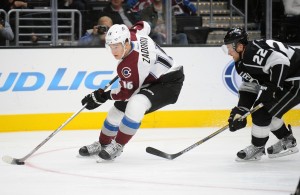 On June 26, 2015, the Sabres traded Zadorov, their 2013 first round pick, second round pick J.T. Compher, 2012 first round pick Grigorenko, as well as their 2015 second round pick (Jeremy Roy) in a deal that netted Buffalo Ryan O'Reilly and Jamie McGinn from the Colorado Avalanche. One week later, Buffalo signed O'Reilly to a seven-year contract.
While Ristolainen has rocketed to superstardom, anchoring a Sabres defensive unit with an astounding 27:07 average ice time (5th in the NHL), Zadorov has yet to realize his potential with no goals and nine assists, including a minus-17 for Colorado, though he does have three points in his last two games.
While both players were never really given a chance to gel together, Zadorov is still just 21 years old. Grigorenko, 23, is on pace to surpass his single-season numbers with five goals and 16 points this season but the clear winner in the trade was Buffalo who was rewarded with a franchise center in O'Reilly.
Rest of the Class
Aside from Ristolainen and the net gains in dealing Zadorov and Compher to the Avalanche, the Sabres' 2013 Draft Class has been a fruitful one.
The Sabres have found something in their third second-round pick, Justin Bailey whom they selected 52nd overall. The Williamsville-native is the son of former Buffalo Bills linebacker, Carlton Bailey. Bailey has excelled with the Rochester Americans in the American Hockey League to the tune of 37 goals and 72 points in 107 games. But his game has yet to translate to the NHL with just a single goal in 17 games.
Nicholas Baptiste, the club's third-round pick, 69th overall, has 30 goals and 54 points in 98-career AHL games, though he hasn't fared much better with two goals in the blue and gold.
http://gty.im/631714234
The jury is still out on Connor Hurley (2nd round, 38th overall-Notre Dame), Gustav Possler (5th, 130th overall-Djurgårdens IF), Anthony Florentino (5th, 143rd overall-Providence), West Seneca's Sean Malone (6th, 159th overall-Harvard) and Eric Locke (7th, 189th overall-St. Francis Xavier).
The most intriguing name on the list of prospects is goaltender Cal Peterson, whom Buffalo selected with their fifth round pick, 129th overall at the 2013 Draft. Peterson has been an anchor in between the pipes for Notre Dame. The 6'1″, 182-pound Iowa native has been spectacular for the Fighting Irish in Hockey East with a 14-8-3 record, a sparkling 1.97 goals-against average and a tidy .926 save percentage.
New Jersey Devils One Jersey Grass Roots Writer; 13 years writer/reporter for The Star-Ledger and NJ.com; 1st-year with The Hockey Writers; Previously covered the Boston Bruins, Boston Red Sox and New England Patriots for The Casco Bay Weekly; Portland Pirates (AHL) 2002-'03; Director of Media Relations The Eastern League (AA) 2000-'02; Great Skate 1997-2000; Buffalo Sabres 1994-'97; Buffalo boy, Maine grad; International hockey player and coach; #Buffalove #OneBuffalo