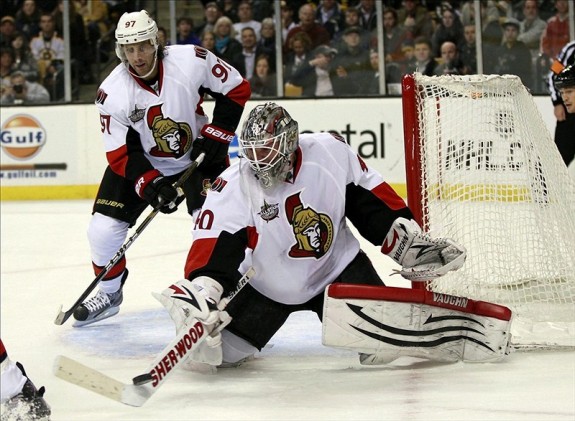 It appears the Buffalo Sabres have found their, potential, goaltender of the future.
Just hours before the NHL Draft is scheduled to get underway from Sunrise, Florida, general manager Tim Murray has pulled off the first deal of the offseason by acquiring goaltender Robin Lehner from the Ottawa Senators.
[RELATED: Who Will Be the Sabres Starting Goaltender?]
Also going to the Sabres in the deal, according to multiple reports is veteran David Legwand. Buffalo will send the 21st overall selection to Ottawa.
In 86 career NHL games, Lehner has a 2.88 goals against average with a .914 save percentage. However, those games have come over a five-season period, and he never has been given a true chance to be a number one goaltender, partially due to injury problems. In Buffalo, he'll be given that chance, if healthy.
Murray has said all along that he was looking to acquire a goaltender via trade, and he did just that by acquiring a goaltender he helped the Senators draft in 2009. However, knowing the type of GM that Murray has been since joining the Sabres in 2014, it would be silly to assume he's done dealing for this year. It wouldn't be a surprise at all to see him go forward with another major move, or two.
The deal for Lehner is just the start of what is expected to be a plethora of moves over the next 48 hours surrounding the NHL Draft. Other names like Cam Talbot of the New York Rangers and Eddie Lack of the Vancouver Canucks are also expected to find new homes via trade over the next few days.
The NHL Draft kicks off tonight from Sunrise, Florida. Be sure to stick with The Hockey Writers for full coverage!