Few things are greater in sports than an epic comeback. A team coming back from a double digit points to regain the lead at the last minute; an injured star returning to the starting lineup just when the team is in their time of greatest need; even a poker player, who is down to virtually nothing in chips, storming back to beat out the other players with a final epic hand.
Conversely, few things are worse than an epic collapse. A late game meltdown; an end of the season choke in a clutch moment; your best players not rising to the occasion. Buffalo Sabres fans are probably a little confused right now, as the end of their 2011-2012 season featured both an epic comeback and an epic collapse.
Let's time travel, shall we, back a couple months to February 6th, when the Sabres were in terrible shape and a full 10 points out of playoff contention. Starting on February 19th, the Buffalo Sabres embarked on a 15-2-3 streak to recover 33 points in the conference standings and position themselves for the 8th place playoff spot in the East. Point-wise, it was one of the greatest team comebacks in NHL history. Or, it would have been, had it heralded them into the playoffs.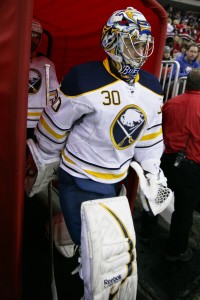 One of the principal story lines behind this miraculous comeback was the startling and sudden return to form of goalie Ryan Miller. Winner of the 2010 Vezina award for NHL's top goalie, Miller helped to carry the USA team to the silver medal in the 2010 Winter Olympics. But since then, Miller had been a veritable phantom of that MVP caliber player, which is precisely why his incredible return to form in the last 2 months was all the more dramatic. Since February 19th, Ryan Miller was 14-1-3 with a .939 save percentage, which, had it been sustained over the whole season, would have been 2nd in the league.
But those numbers did not continue. In fact, they dropped off considerably and the Buffalo Sabres missed the playoffs after a loss to Toronto in TO and a devastating loss to Philadelphia. Sabres fans must now wonder whether this will be the catalyst for new owner Terrence Pegula–the wealthiest owner in the league–breaking up the team's core unit, which many say have consistently underperformed for the last 6 to 7 seasons. Pegula, upon taking over the team said, "The existence of the Sabres from this day on is to win the Stanley Cup….I bought this team to win championships."
For Sabres fans, who have watched their team's roller coaster season with consternation, this may be the hope they can bring into the off-season, the hope of rebuilding and coming back again strong.