To say injuries have taken a toll on the Buffalo Sabres' 2016-17 season would be an understatement. "The train has come off its tracks" would be a more accurate assessment.
In addition to Jack Eichel, who missed two months and 21 games after suffering a high-ankle sprain the final practice of preseason on Oct. 12, the Sabres have a total of 118 man-games lost through Dec. 11 – the fourth-highest total in the league – costing the team an unexpected $5.51 million cap hit.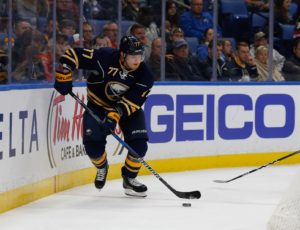 Buffalo trails only the Winnipeg Jets (147), Edmonton Oilers (146) and Dallas Stars (141) in man-games lost to injury, and to put that figure into perspective, the injuries sustained to forwards Jack Eichel, Ryan O'Reilly, Evander Kane, Tyler Ennis, Nicolas Deslauriers, goaltender Robin Lehner and defensemen Zach Bogosian, Dmitry Kulikov and Josh Gorges, have forced Buffalo to utilize 33 different players through 10 weeks this season after using all of 35 players the entire 2015-16 campaign.
"There is a cyclical aspect of injuries," Sabres coach Dan Bylsma said when pressed for an explanation by The Buffalo News last month. "Unfortunately for us, we've had ours at the start of the season with a number of guys."
The hits have forced Sabres General Manager Tim Murray to get creative, robbing the cradle and depleting its AHL affiliate, the Rochester Americans, of a number of players in what has truly been a revolving door up and down the New York Interstate I-90.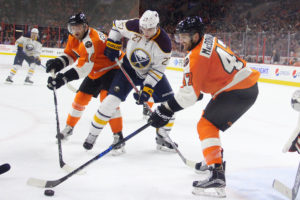 Justin Bailey, Nicholas Baptiste, Erik Burgdoerfer, William Carrier, Justin Falk, Hudson Fasching, Taylor Fedun, Derek Grant, Brendan Guhle, Casey Nelson, Cal O'Reilly, Evan Rodrigues and Cole Schneider were not expected to make an immediate contribution at the beginning of the season, but each has been called up and spent time with the club as Buffalo weathers the storm. And the list doesn't even include goaltender Linus Ullmark, who has been recalled twice on an emergency basis but has yet to appear in a game this season.
John Vogl provided a rare peek into the challenges facing Murray on a daily basis in his November "Inside the Sabres" edition. It provides valuable insight into the day-to-day operations of an NHL club up against the salary cap.
"My first stop is the trainer's room – every day," Murray said. "Who can play? Who can't play? Who's available? Who's not available? What do I have to call up?"
Baptism by Fire
Thrust into the action while Bogosian (knee), Kulikov (back) and Gorges (foot) nurse a myriad of injuries, it has been baptism by fire for Burgdoerfer, Carrier and Guhle, who each have made their NHL debuts this season.
An undrafted 28-year-old veteran with nearly 500 minor league games over the course of seven seasons in the AHL and ECHL on his resume, Burgdoerfer's path to "The Show" took a little longer to realize, but the East Setauket, N.Y. native etched his name into the NHL record books on Dec. 5 against the Washington Capitals.
"When you're on a bus from Bakersfield, Cali. to Salt Lake City, Utah, there are times when you start to think: 'What am I doing right now?'" Burgdoerfer reflected in his Sabres Travel Blog. "Those were the times when I thought I'd never receive the phone call that I received on Sunday when I was told I was being recalled to Buffalo. I mean, I played in the ECHL for four full seasons. When you're 25 years old and you only have a handful of AHL games under your belt, the childhood dream of playing in the NHL can feel a long ways away."
Crazy last few days. Thank you everyone for your support and kind words!

— Erik Burgdoerfer (@E_Burgy) December 7, 2016
The path to the National Hockey League was not as arduous for Carrier and Guhle, each highly-touted second-round draft picks, who still remain with the parent club.
Carrier, the Blues' pick, 57th overall at the 2013 NHL Draft, who was acquired in the trade that sent Ryan Miller and Steve Ott to St. Louis in 2014, has been given an opportunity with the team's top-six and has held his own with a goal and an assist to go along with 59 hits in 18 games this season. While he has yet to match the scoring prowess he showed with Cape Breton in the QMJHL, the Sabres like the 22-year old's grit and determination.
Guhle is just 19 years of age but has already displayed a calm and collected demeanor while under pressure. The smooth-skating left-handed defenseman has held his own with a plus-1 rating, three hits and eight blocked shots. He seems to be Bylsma's preferred play to Casey Nelson at the moment. Nelson was minus-4 in eight games before being sent back down to Rochester for further seasoning.
Experience Now, Dividends Later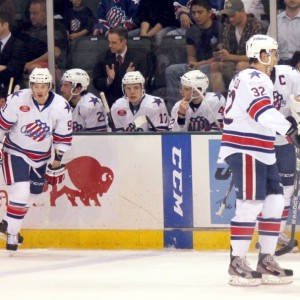 While Bailey, Baptiste, Fasching, Rodrigues and Schneider didn't have the immediate impact they hoped to have, each returns to Rochester with invaluable experience as they continue to develop and refine their games in the American Hockey League.
Collectively, the five young forwards account for 37 goals and 35 assists for Rochester this season. Schneider leads the team in scoring with 10 goals and 26 points in 21 games, while Baptiste's 14 goals lead the squad. While the Sabres did not intend on bringing up their youth so quickly, the sniff of the "The Show" and the experience lacing 'em up for the blue and gold will undoubtedly pay dividends down the line for the Sabres' prospects.
New Jersey Devils One Jersey Grass Roots Writer; 13 years writer/reporter for The Star-Ledger and NJ.com; 1st-year with The Hockey Writers; Previously covered the Boston Bruins, Boston Red Sox and New England Patriots for The Casco Bay Weekly; Portland Pirates (AHL) 2002-'03; Director of Media Relations The Eastern League (AA) 2000-'02; Great Skate 1997-2000; Buffalo Sabres 1994-'97; Buffalo boy, Maine grad; International hockey player and coach; #Buffalove #OneBuffalo