Yikes, not Eich!
With just eight minutes remaining in one of its final tune-ups before the start of the regular season and a couple hours before the players were set to greet fans at its annual Kick-Off Luncheon, Wednesday's Sabres practice at KeyBank Center took a turn for the worst.
On a seemingly innocent power-play drill in front of the net, Zemgus Girgensons collided with Jack Eichel, sending the 2015 Hobey Baker Award Winner crashing to the ice in a heap, his left leg underneath him bearing the weight of his 6'2", 198-lb frame. A scream of pain, agony, then silence followed by bewilderment.
Jack Eichel? The proclaimed savior of the Sabres? The 19-year old red head destined to lead Buffalo back to the Stanley Cup Playoffs? As teammates and trainers huddled around its first round pick from a year ago writhing on the ice and grabbing his left leg, one could only wonder: Is this season over even before it began?
VIDEO: Jack Eichel goes down at #Sabres practice, has to be helped off the ice. Looks like left ankle. pic.twitter.com/ntUj3asIGE

— Tom Martin (@4TomMartin) October 12, 2016
"I was just trying to get the puck, and we got tangled," Girgensons told The Buffalo News. "He just fell awkward. It's always tough to see someone go down, especially a guy like Eichs."
"It's Jack Eichel, so it's tough," Marcus Foligno said. "You never want to see that happen to anyone, but especially a player who means so much to your team."
The Sabres are calling it a high-ankle sprain, the dreaded four-to-six week time table, but General Manager Tim Murray is operating as if it will cost Eichel six-to-eight weeks.
                           Related – Five Tough Questions Facing the Buffalo Sabres in 2016-17
Medical Prognosis
Injuries are part of the game. It is how teams deal with them, how they overcome them which determines how their season plays out.
The legs are a player's driving force on the ice. Stopping and starting, pushing off, stabilization, a player is only as good as its engine and Jack Eichel's check engine light is on.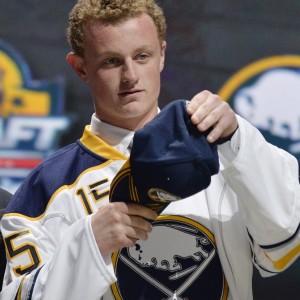 A high-ankle sprain occurs when there is tearing or damage to the high ankle ligaments. Typically, it takes a hockey player 46-to-48 days to recover from a high-ankle sprain, the vernacular for what is referred to in the medical field as a Syndesmosis sprain. In layman's terms: it is a strain or tearing of the ligaments above the ankle that connect the tibia to the fibula necessary for mobility.
"The deadly high-ankle sprain — they're tough to predict," TSN's Bob McKenzie said. "The Sabres came out with a release simply saying, 'He has a high-ankle sprain, no timeline.' General rule of thumb: minimum four-to-six weeks. Could be longer than that, and if you're Superman could be a little less than that. Can't put a firm timeline on it but right now I think the Sabres are operating on the four-to-six week assumption realizing it could be longer than that."
Robin Lehner suffered the same injury in his Sabres debut last season. He missed three months of action before returning, re-aggravating it and ultimately was shut down. Without Eichel, the Sabres' playoff hopes are on the line but it is important not to rush their super sophomore back before he is completely healthy. Buffalo must think long-term here.
Eichel Timeline: Waiting Will be the Hardest Part
If the four-to-six week prognosis holds true, the Buffalo Sabres will be without their star player through Thanksgiving, a total of 20 games.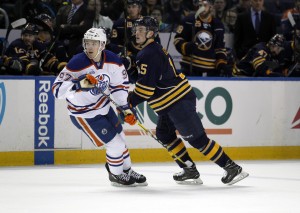 Buffalo has eight games on the slate in October and another 12 in November before the American Thanksgiving holiday. Among those, 12 are against Eastern Conference foes it is competing against for eight playoff spots, including a home-and-home with the New Jersey Devils Nov. 11-12. If a six-week time table is optimistic, Eichel could realistically miss up to two months which would keep him out for 28 games — over one-quarter of the season.
Sidney Crosby suffered the dreaded high-ankle injury in 2008 causing the Pittsburgh Penguins star six weeks of action. The Devils' Kyle Palmieri sustained the same injury in 2014 while with Anaheim causing the New York native two months.
Eichel, who has missed all of one game in his career — and that was due to food poisoning — should fall somewhere in between if the Sabres are careful managing it.
Eichel is taken off the ice. We heard the yell as he went down. It's the left leg/ankle. #Sabrespic.twitter.com/l70gI7Q9un

— Mike Harrington (@BNHarrington) October 12, 2016
"Obviously, my ankle doesn't feel good but I think the hardest part is definitely mentally," Eichel stated in an open media session after practice Friday. "You want to be out there making a difference. You want to be out there with your teammates so badly.
"You really don't want to rush into things because it's an injury that can come back to you," Eichel continued. "Timetable-wise, you really don't know. It's something that you worry about rushing things and not feeling good when you come back."
Next Man Up
Jack Eichel is an irreplaceable piece to the Sabres lineup, but the show must go on.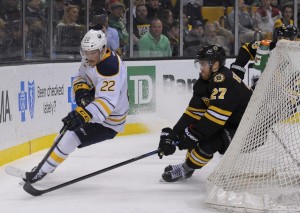 Initial reports suggested Sam Reinhart, a player with previous experience at center, would slide over to pivot the Sabres second unit behind its top line of Evander Kane-Ryan O'Reilly-Kyle Okposo. It has also been suggested Zemgus Girgensons could fill the void, but surprise-surprise, it was Johan Larsson skating with the team's second unit in its morning skate before the home-opener against the Montreal Canadiens on Thursday.
Truth be told, it may be a revolving door until head coach Dan Bylsma finds a combination that works. With Kyle Okposo (and Dmitry Kulikov) expected to miss opening night, Reinhart skated on the right alongside Kane and O'Reilly in its pre-game skate Thursday morning while Tyler Ennis and Marucs Foligno flanked Larsson. Girgensons anchored the third line between Matt Moulson and promising rookie Hudson Fasching. Pre-season hero Derek Grant, a sly pickup from the Calgary Flames organization, centered the Sabres fourth line in between Nicolas Deslauriers and team captain Brian Gionta.
Related: Sabres Have Options to Fill the Void
Okposo (knee) should return to the lineup in short order which should relegate Reinhart down to stabilize its second unit. The Johan Larsson experiment may be a short one but it appears he will be given first crack at the job.
Derek Grant may be the biggest beneficiary of the Eichel injury. He has no goals, three assists and is a minus-11 in 40-career NHL games with Calgary and Ottawa, but reserved his place on the roster after a strong preseason that saw him net three goals and three assists.
Related: Sabres put Their Money on Ristolainen
Evander Kane Gut-Punch
To make matters worse for the Sabres, Evander Kane went crashing into the end boards at full speed after battling for position with the Canadiens' Alexei Emelin. Kane was taken to the hospital for "further evaluation and precautionary measure" and as of this writing no further update has been provided.
Evander Kane crashes into the boards dangerously. Sabres already without Eichel for a few weeks. Doesn't look great pic.twitter.com/hO79twP4fQ

— Jordie ? (@BarstoolJordie) October 14, 2016
"Obviously, he went into the boards hard. You saw the discomfort pain he was in but there's really not more I can tell you other than he's getting checked out at the hospital," Sabres head coach Dan Bylsma said.
"It's never a good thing when you see one of your teammates on the ice like that," defenseman Zach Bogosian said. "It's never an easy thing to see and you just hope he's alright."
The video isn't pretty but all Sabres fans can do now is sit back and wait. One game down another 81 to go.