Thursday night, which marked the beginning of the 2016-17 season for the Pittsburgh Penguins, was full of hype and distractions for the team. Fresh off a summer of Stanley Cup parties, the team enjoyed a banner raising ceremony and celebration with fans to enjoy their remarkable championship finish last season. Then, it was time to get down to business and to no one's surprise, the Penguins weren't necessarily sharp when the puck dropped.
There are reasons teams seem to lose their season opener after winning the Stanley Cup in their previous campaign. In fact, prior to the Penguins facing off against Washington last night, the last six years saw defending Cup champs go 1-5 in their ceremonial home opener. Sometimes, it can be tough to refocus and get down to business right out of the gate.
Pittsburgh nearly suffered the same fate but eventually showed the resiliency we saw throughout their stretch run last season.
The underlying numbers in Thursday night's matchup favored the Penguins. However, that was after a rough start that saw the Capitals take a 1-0 lead less than a minute into the contest. Patric Hornqvist and Kris Letang stood out in a big way and Tom Kuhnhackl also looked very good. Marc-Andre Fleury's performance, though – which will make things interesting throughout the season if he continues to play this way – was nothing short of superb.
Opening Move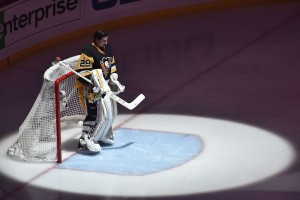 In the chess game that is Pittsburgh's goaltending situation, Fleury's opening move was brilliant. He has been afforded a head start with Matt Murray still nursing a hand injury that he suffered in the World Cup of Hockey and if last night is any indication, he's planning to make things very difficult for general manager Jim Rutherford.
… In a good way.
Fleury stopped 39 of 41 shots through three periods of regulation and a five-minute overtime frame. He also shut down Evgeni Kuznetsov and Alexander Ovechkin in the shootout, with the save on Ovechkin sealing Pittsburgh's victory. There was plenty of concern when Andre Burakovsky buried his early breakaway chance to put the Capitals up by one but Fleury never wavered. Considering his lack of game time, which dates back to his concussion in March, it's remarkable how sharp he was.
So, what now?
If Fleury continues to play at the top of his game, it will be tough to risk slowing his momentum in order to split time between him and Murray. Trade scenarios also become intriguing, since he'll boost his value in a big way if he's on top of his game but at the same time, can you trade him away at that point?
Let's face it: this storyline will haunt us until someone is moved and that isn't likely to occur anytime soon.
Not All Rainbows and Unicorns
While Pittsburgh opened the season exactly how they'd like – by beating a divisional rival who had to stand by and watch them raise a Stanley Cup banner – there were still a few concerning performances.
The Penguins need Olli Maatta to return to form and so far, he hasn't. He exhibited a lot of the same issues Thursday night that were evident throughout most of last season, most notably his lack of speed. Burakovsky's breakaway goal in the opening minute of the game was a perfect example.
It's still unclear if Maatta is battling some sort of prolonged ailment that's hindering his ability to skate but if he doesn't improve, the Penguins need an answer in their top-four. Does that answer already reside in this lineup? It certainly doesn't look like it right now. The team hasn't shown much confidence in Derrick Pouliot and Justin Schultz, while he has been good in his limited role, isn't built for what the Penguins need alongside Trevor Daley or Letang.
Ian Cole has shown the ability to move up in the past but looking back to last season, he didn't fare well and ended up a healthy scratch for a month or so.
It was only one game, so there's clearly time to figure it out but this will be something to watch closely as the season progresses. Remember, Jacob Trouba is still on the market. I'm not speculating that the Penguins are exploring that option by any means but maybe they should.