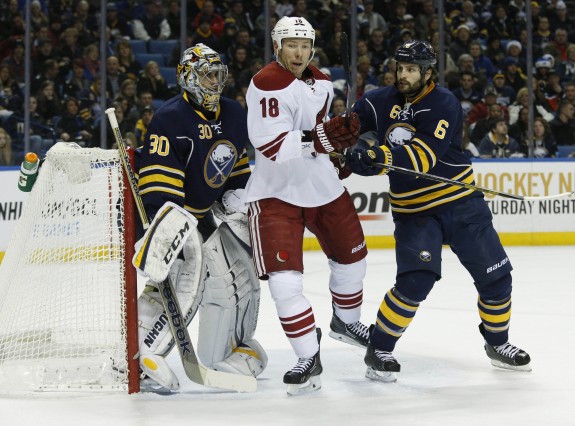 Who are these Buffalo Sabres?
Granted, they are still the worst team in the NHL by four points over the Edmonton Oilers, but over their last ten games, the Sabres look like an all new team. They've gone 5-3-2 over that stretch, playing good, competitive hockey and rarely looking like the completely lost team they were to start the season.
That's not to say that I have delusions of bigger things for this team. They are clearly going to be one of the worst teams in the league this year and that's not a gripe. They need to be torn all the way down, take their shot at a superstar and build up with the youngsters the way others have.
Still, it's refreshing to watch this team. Hell, it's even a little fun. No expectations going in makes a world of difference. You can just watch this team bust its rear and see Ryan Miller steal a game here and there. Without the pressure of success, there's nothing to worry about. If it sounds like a cop out, it's really not. This is how you enjoy a bad team.
Let's take a look at the week in review.
12/23 vs Phoenix
Miller was the unquestioned star of this game, stopping 36 of 37 in the overtime victory. His play this season – a 10-17-1 record, 2.69 GAA and .927 save percentage – hasn't gotten enough talk because the Sabres have been so bad for most of the season. Sad as it is to think, the Sabres would be approaching historical levels of awfulness if not for the outstanding play of Miller this season.
That said, the Sabres showed a little bit of gumption in this one, fighting back with a Tyler Ennis goal late in the third period to force overtime. From there, the Sabres needed a little bit of luck:
So it took the most improbable goal ever to win, who cares? The Sabres could use a little luck on their side this season and it doesn't get much luckier than that. There's even a butt goal song to commemorate it.
12/27 @ Toronto
For whatever reason, the Sabres always play the Leafs tight. Talent levels seem not to matter. Hell, the Sabres even jumped out to a quick 2-0 lead thanks to Matt Moulson and John Scott (!!!!!) within the first eight minutes of the first period. By the way — if John Scott scores on you, that should count for three goals for obvious reasons. For shame, Maple Leafs, for shame.
Of course, the Leafs stormed back to take the lead by the end of the second because this wouldn't be one of the worst seasons in Sabres history without stuff like that. But a late power play goal from Steve Ott sent it to overtime where things turned into a goaltender battle, with Joffrey Lupul managing the only score.
12/29 vs Washington
It's games like these where I feel badly for Miller. Well, about as badly as I can for a rich, famous athlete but you get the picture. He stood on his head yet again, stopping 49 of 50 shots (that's not a typo) en route to the 2-1 Sabres shootout victory.
What else can you even say about the guy anymore? It would be easy for a goaltender to let his shoulders sag and give way to apathy, but Miller continues to put on outstanding performance after outstanding performance in the face of a rotten season. I've thoroughly enjoyed watching him over the past decade, but I'll be happy to see him moved to another team. The guy deserves to win and it's just not happening here.
Ryan is a lead writer for The Hockey Writers as well as editor for Mile High Sticking and co-owner of The Farm Club. Follow him on Twitter to discuss all things puck, Bills football, or his hatred of all things Philly.