Hot take: Ivan Provorov and Shayne Gostisbehere of the Philadelphia Flyers will outscore Brent Burns and Erik Karlsson of the San Jose Sharks. All eyes have been on the Sharks' super-star duo, but it's the young up-and-comers in Philly that should be getting the spotlight.
Gostisbehere & Provorov Rise
It's surprising how many people, outside of Flyers fans, aren't aware of how deadly the Flyers' one-two punch on the blue line is. They're young, equipped with skill and tremendous skating ability, this team's blue line ceiling is high and they're on the rise.
Shayne Gostisbehere: The 'Ghost'
Gostisbehere is among the NHL's best defensemen and is perhaps a step behind Burns and Karlsson in terms of straight-up talent.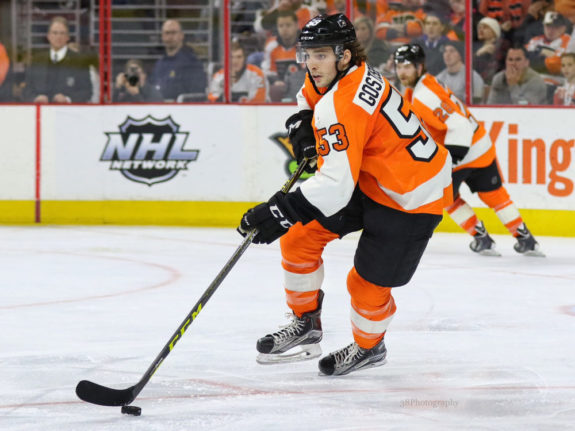 Hailing from Pembroke Pines, Florida, the 'Ghost' is a smooth-skating d-man who turns the puck up ice in a hurry and becomes a weapon in the offensive end. The 25-year-old broke into the NHL with 17 goals and 29 helpers in his first 66 games and the Flyers knew they had a gem to build their blue line around; not bad for a 78th overall pick in the 2012 NHL Entry Draft.
Ghost is coming off a career-best season with 13 goals and 52 assists in 78 games, 33 of those points came with the man advantage. It was the first season of his six-year, $27-million contract. Management must be very pleased with their investment.
With three points in four games to start the 2018-19 campaign, Ghost is picking up where he left off last season. All three points were scored on the power play. The Flyers have improved this season and I think that will have a positive impact on this young defender's output.
Shayne Gostisbehere scores 38th career goal, ties Kimmo Timonen and Jimmy Watson for 9th in goals among Flyers defensemen. His 18th PPG ties Doug Crossman for 5th among Flyers defensmen

— Adam Kimelman (@NHLAdamK) October 10, 2018
Ivan Provorov: From Russia With Talent
Provorov, on the other hand, tied for the league lead in defensive scoring with 17 goals last season and is poised to crack 20 this season. NHL.com pegged him as one of the breakout players for this season. At just 21 years of age, the young Russian has displayed the confidence and skill-set of a 10-year veteran. A brilliant skater, Provorov has the ability to create and find open ice where he can unleash his great shot.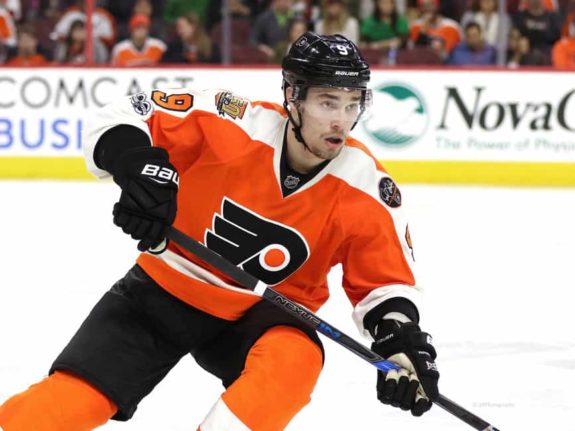 His potential is through the roof and, in turn, so is the hype about him. The biggest thing on Flyers fans' wish lists is seeing Provorov play regular power play time. With his impressive numbers last season, only two of goals and three of his assists came on the power play.
With the addition of James van Riemsdyk and the development of players like Travis Konecny and Nolan Patrick, the Flyers' second power-play unit should be able to do some damage. So far this season, the team has been rolling Provorov and Ghost on the same unit but in order to see Provorov's true potential, he needs to be the quarterback of his own unit.
To start this season, the bullies have been running Provorov and Ghost together at five-on-five (and on the man-advantage). The defensive lapses have been noticeable at even strength and if that isn't solved quickly, I don't expect they'll stay together long.  Unfortunately, the boys in orange will be without JVR for five-to-six weeks so the second unit might be lacking for the time being. Upon his return, both Ghost and Provorov will be firing on all cylinders and both power play units should be lighting it up.
Karlsson & Burns Fall
The biggest story out of the offseason was Karlsson being traded to the Sharks. No, they didn't give up Brent Burns for him and they now have both of them, the two highest-scoring defenders of the last decade; two Norris Trophy winners on the same blue line. Wow.
Who needs forwards who can score? San Jose now has the two highest scoring defencemen this decade. (Karlsson: 518 points, Burns: 449).

Since 2009-10, Karlsson ranks 24th among all skaters in points, Burns is 40th.

— Trevor Beggs (@TrevBeggs) September 13, 2018
Regardless, I think we're going to see a slight dropoff from this duo and a, perhaps temporary, passing of the torch to the dynamic duo out of Philly.
Erik Karlsson: The Drama
Karlsson is one of the best defensive talents the NHL has ever seen. You can count on this Swedish superstar to put up anywhere from 60-85 points, 60 points being an off-season.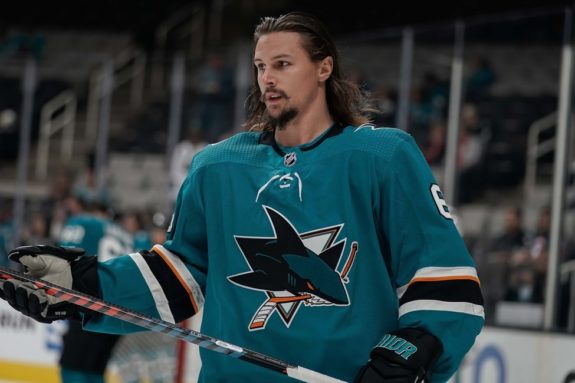 The last seven months of the 28-year-old's life have been somewhat of a nightmare. Back in March, he and his wife Melinda's son Axel was tragically stillborn. Then, in June, news broke that his teammate Mike Hoffman's girlfriend was allegedly harassing and cyber-bullying Melinda, who filed a protection order.
This is when the Ottawa Senators started to unravel. Management had lost the reigns of their hockey club. Headlined by silly statements and cringe-worthy interviews, the Senators became a league joke and Karlsson remained in the eye of the hurricane.
David Amber: "Pierre what's the number one thing you're optimistic about in terms of the Ottawa Senators"

Pierre Dorion: "We're a team"

😂😂😂😂😂😂😂😂😂 pic.twitter.com/wLWWARTIC0

— Bar South N Celly™ (@BarSouthNCelly) September 19, 2018
He was dealt to the Sharks in September.
"I'm just going to speak from my heart. I wish we were standing here in different circumstances," Karlsson told NHL.com. "It's a very emotional and sad day for me and my family, but it's an unfortunate part of the business."
Reeling from a family tragedy, drama with teammates and a crumbling dressing room, Karlsson found himself shipped to a competitive team in the Western Conference, one that plays a much tougher style of hockey than the East. On top of that, he's coming off his worst statistical season (62 points) since his sophomore season (45 points). I don't see him putting up more than 65 points this season with everything that's happened and the adjustments he'll need to make. He's still going to be very productive, but we won't see 82 points in 82 games from Karlsson as we did in 2015-16.
Brent Burns: Big, Bad, Bearded
Karlsson's counterpart, Burns, is on the same page, a potent defender who is always near the top of the defensive-scoring list. The 6-foot-5, 230-pound defender consistently skates the puck up ice with speed and aggression. He knows how to find the score sheet, especially the goal column.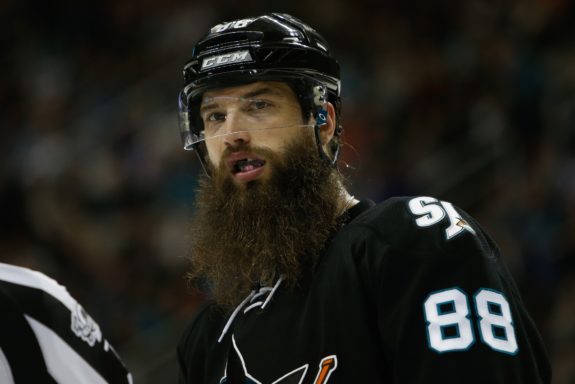 Two seasons ago, Burns chalked up 29 goals and 47 assists in 82 games and took home the Norris Trophy. Last season, he found twine only 12 times for 67 points in 82 games. Granted, you can't expect a d-man to put up 29 goals every season but, I think the league just started to hone in on Burns.
I saw a certain amount of predictability in his offensive game and decreased speed from the 33-year-old last season. Now, sharing the spotlight with a like-minded, younger Karlsson, I think Burns' output will improve slightly, but not get to where it used to be. He is now on the back-nine of his career and his stats will reflect that.
The Sharks have wisely split up the duo at five-on-five, but kept them together on the power play. The opponent's penalty kill efforts seem focused on high coverage to try to limit the pair's output, and that's resulting in holes in their down-low coverage. Expect Evander Kane and company to have an extremely productive year with the man advantage.
2018-19 So Far & Predictions
At the time of writing, Gostisbehere is 19th in defensive scoring, while Provorov has yet to hit the score sheet. Burns is 22nd and Karlsson is two behind him at 24th. This hot take is largely dependent on a big season from Provorov and two average seasons from Burns and Karlsson.
Predictions:
Ghost: 17G 53A , Provorov: 21G 47A = 138 points
Burns: 19G 49A, Karlsson: 10G 54A =  132 points
What do you think? Is this a hot take? A cold take? Do you have a better take? Let me know in the comments below.
Matt is a longtime fan, player and student of the game of hockey. Broadcast and Online Journalism student at the British Columbia Institute of Technology.