Step 1: Defend home ice.
The Grand Rapids Griffins can check that off their list.
The Griffins took a 2-0 series lead in the Calder Cup final, beating the Syracuse Crunch 6-5 in double overtime Saturday in front of a sold-out crowd of 10,834 at Van Andel Arena. The Griffins are 9-0 in the postseason at home after beating the Crunch 3-2 on Friday in Game 1.
The series shifts to Syracuse for three straight games, starting Wednesday with Game 3 and ending with Game 5 on June 10, if necessary. The Crunch also are undefeated at home, winning all 10 games.
Griffins Defend Home Ice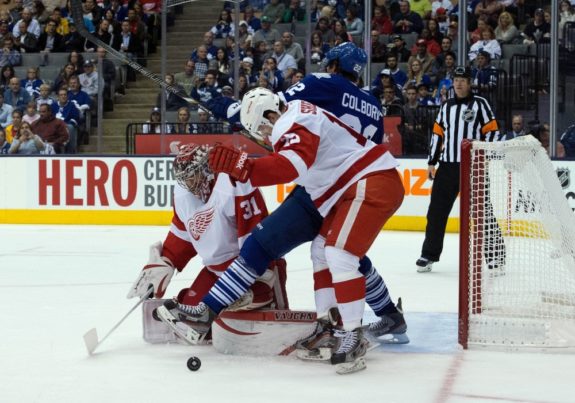 With the Calder Cup final being a 2-3-2 format, Griffins coach Todd Nelson stressed the importance of winning the first two home games, saying he believes the 2-3-2 format favors the lower seed.
He said he was relieved when Ben Street, who had two goals and an assist, scored the game-winning goal in double overtime that gave Grand Rapids a 2-0 series lead.
"I think it's more of a relief to save home-ice advantage," Nelson told The Hockey Writers. "We're going into a building where Syracuse hasn't lost a game in the postseason; they're perfect at home. It's going to be a battle."
The game-winning goal was extra special for Street, who had a delay of game penalty for shooting the puck over the glass near the end of the first overtime. However, the Griffins killed off the penalty, and Street redeemed himself in the second overtime.
"The feeling is excitement to score and relief that we won," Street said. "Obviously, it's huge to win that game when we are on the road for quite a bit — might have stolen it a little bit. We were able to hold serve at home, so that's big, we'll take that."
Despite a 2-0 series lead, Nelson said both games could have gone either way, and he's happy to be heading to Syracuse up 2-0.
"That was an unbelievable hockey game," he said. "I thought we had a good start, better than (Friday night). It was back and forth all night — two really good hockey teams going at it. Both games could have went either way. I'm happy that we are 2-0 here to save home-ice advantage. I'm speechless."
Griffins captain Nathan Paetsch also said he was relieved to go up 2-0.
"It's a huge win," he said. "I'd say more of a relief right now. Whenever you go to two overtimes and get a win, it's big. I think we got away with one; they came hard. (Jared Coreau) stole a few saves for us, let's be honest, in that first overtime, some of those saves were outrageous. It could have easily been a 1-1 series, so we're not too overconfident by any means."
Paetsch also was involved in the last Griffins game to go multiple overtimes. The Griffins won 2-1 against the Abbotsford Heat on April 25, 2014, in Game 1 of the Western Conference quarterfinal. Street was on the other end of that game, playing for Abbotsford.
Fatigue Sets In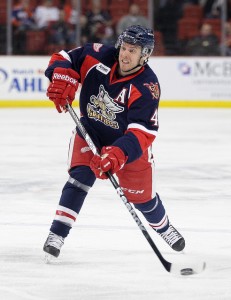 Playing on the back end of a back-to-back, fatigue started to set in during the first overtime. The Griffins were hemmed in their own zone for most of the first extra period, as the Crunch outshot the Griffins 16-11.
Coreau, who made 50 saves Saturday, continued to make key saves, one of them a sprawling left pad save that denied Kevin Lynch an overtime goal about midway through the first overtime.
Nelson credited Coreau with the Game 2 win.
"Absolutely, you look at the first overtime, and it was all Syracuse," Nelson said. "They had us hemmed in, Jared made some huge stops. They just seemed to find a different gear. The one save he made with his left leg, it was a huge save for us; it was unbelievable.
"I thought it was going in."
Tyler Bertuzzi, who scored his 21st postseason goal Saturday, which is second most in franchise history, also was impressed with Coreau's performance.
"He was really good in regulation, and then in overtime, stepped up a notch," Bertuzzi said. "Kept us in the whole way, kept us in this entire series. He was unbelievable. He gave us that opportunity, and we seized it."
Trailing 5-4, the Crunch were awarded a penalty shot with a little more than five minutes remaining in regulation. Coreau again came up big for his team, forcing Byron Froese to shoot wide to keep the Griffins ahead.
Both teams will get much-needed rest, as they'll have three days before Wednesday's Game 3 at Oncenter War Memorial Arena.
"I think both teams could use the rest," Nelson said. "Both games were grueling, both games were physical. Both teams were working hard, both teams could take a couple days off for sure."
"(Fatigue was) a huge factor. We changed things up going into that second overtime. Took a bit of stress off of our players with the system we were playing. I'm not sure if it helped or not, but you gotta hand it to Syracuse. Once Jared made that save on the penalty shot, I thought we pretty much had it. They didn't score on the penalty shot, and all of a sudden, I'm thinking we can get probably get through the next few minutes.
"They didn't quit, it's the sign of a very good hockey team. I give them credit; it was a battle. I expect every game to be this way."
Coreau said the mental fatigue started to wear on him during the two overtime periods.
"I think that's the longest game I've ever played before," he said. "You gotta get your fluids in, maybe a little bit of fruit. You just gotta keep telling yourself to fight on. … Your pads start to get a little heavier. Everyone feels it. I think it's mental for everyone, especially for goalies. The guy at the other end was playing well, too."
Mike McKenna made 45 saves for the Crunch.
Power Play Keeps Clicking
The Griffins continue to produce on the power play, as they were 3 for 5 in Game 2 and 1 for 6 after Tomas Nosek's power-play goal broke a tie with 14 seconds left in Game 1.
Grand Rapids has recorded a PPG in 13 consecutive playoff games, extending a franchise postseason record #GoGRG

— Griffins Game Day (@GriffinsGameDay) June 3, 2017
"We made a few adjustments," Nelson said of the power play. "I thought we had some chances (Friday night), we just didn't capitalize. Those things happen."
The Griffins are 18 for 69 (26.1 percent) on the power play in the postseason, which leads the league. The Toronto Marlies are second of teams that have played at least 10 games at 21.3 percent.
Nosek also had a goal and an assist Saturday to extend his point streak to six games, which ties Bertuzzi for the longest streak in a playoff since 2006.
Tom Mitsos is a writer from Michigan who covers the Red Wings and the Red Wings' AHL affiliate, the Grand Rapids Griffins, for The Hockey Writers.