Nashville Predators defenseman Seth Jones does not often get to see his youngest brother Caleb play hockey for the United States Under-18 National Team Development Program, so when he had the opportunity to see him during the NHL All-Star Break this past weekend, Seth took advantage of it. Seth and his mother, Amy, traveled approximately two hours south from Nashville to Huntsville to see the NTDP take on Alabama-Huntsville for a pair of exhibition games.
"I don't get to watch many games," Seth said Monday. "That's kind of the way it is, but sometimes my mom will put the games on in the house from FAST Hockey or something like that. I watch a few games here and there, but I don't [always] have time. So it was nice to go to Huntsville this weekend and see him play. The team got a couple wins, and he's developing well."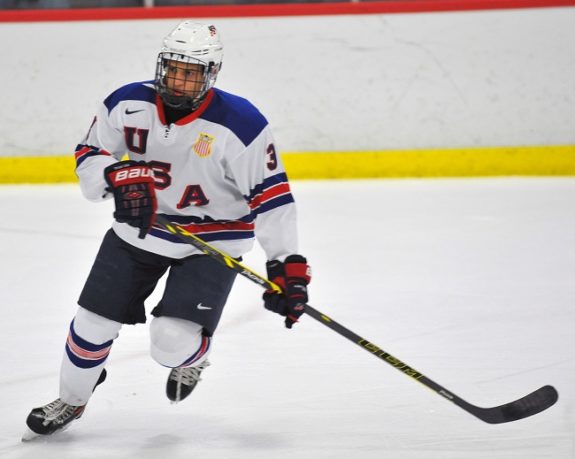 "It was great," Caleb said Saturday afternoon following a 2-1 overtime win. "He doesn't get to see me often so I wanted to play a good game tonight."
The Jones family were treated to another win Sunday, by a score of 4-2.
Caleb is following a similar path of development as Seth did in 2010-12 by playing for the NTDP. In 109 games with the NTDP, Seth scored 12 goals, 50 assists. Through 86 games, Caleb has 3 goals, 23 assists.
"He's developing really well there," Seth said. "Going to the US program, you know they focus on development there. That's kind of the purpose of the two years there. I think he's better as a player [now]."
Watching Caleb play would remind any Predators' fan of Seth. Caleb tends to pinch into the play on an offensive rush.
Said Caleb: "I like to play a little bit more of a physical game but we both definitely like to get involved in the offense."
Caleb is eligible for the NHL Draft this year in Sunrise, Florida. It does not hurt a 17-year-old to have an older brother close by to give him tips on how to overcome anxiety on draft day.
"I don't have too much for him," Seth said. "I'm not like some grizzled vet, but with the draft being this summer [for him], I just told him to take it one step at a time. It's not about rankings or this and that. Just go play hockey. Play the way you know how to play and just don't try to do too much. Just the little things."
Seth, surprisingly, dropped to 4th overall in 2012 and sought to make the teams who passed on him pay.
Unlike Seth in 2012, Caleb is not a highly touted prospect entering the 2015 draft. Caleb is ranked 77th in North American skaters by NHL Central Scouting, and many believe the low ranking is simply because of his size — 6-foot, 194lbs.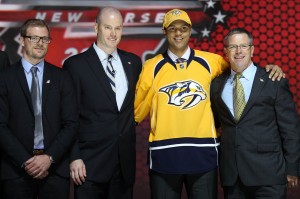 There may be an opportunity for the Predators to grab Caleb off the board in the fifth round, uniting the brothers in the same NHL organization.
"It would definitely be a dream if I could ever play with my brother or even on the same defensive pairing," Caleb said. "Whichever team drafts me I'm going to be happy."
"That'd be pretty awesome," Seth said. "In Carolina, the Staal brothers are there. That's got to be pretty cool to be able to do that with your brother. Hopefully, it could work out like that. Maybe it does, maybe it doesn't."
Despite being older, wiser, more skilled, taller and larger, Seth continues to be challenged by a confident Caleb on the ice.
Why? Because that is what brothers do.
"In the summer, he thinks he can shoot harder than me, skate faster than me, hit harder than me," Seth said. "We're pretty competitive, so whenever he wants to battle pretty hard, I battle. He's going to be just as tall as me and is going to weigh more than me. He's going to be a little thicker, so I've got to put him in his place now while I can."
(S/t to Nashville Predators' manager of communications Kevin Wilson for Seth Jones' quotes.)
Colin Fitts is a Nashville Predators staff writer and is a credentialed media member of the Chicago Wolves. From Nashville, Tennessee, Colin majors in journalism and public relations at Columbia College Chicago. Follow him on Twitter, @FittsTHW. Email: 22fitts [at] gmail [dot] com.