As many of the National Hockey League's clubs scramble to prepare for the playoff stretch drive, the rebuilding Calgary Flames are preparing for their future. With president of hockey operations Brian Burke operating, temporarily, as general manager for the beleaguered team, expectations are high locally for big moves at the deadline.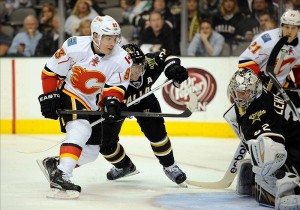 Given the marketplace and the team's assets, those expectations may be slightly out of whack.
Here's a quick and dirty primer for the Calgary Flames' wants, needs and desires at the deadline.
ASSETS
The Flames have owners that are financial solid – ownership group chairman Murray Edwards is one of Canada's wealthiest people, and the remainder of the group are all pretty close to him – and have authorized the team to spend to the cap. That means that the Flames have the financial ability to eat expensive contracts, bury expensive contracts or buy players out. That gives them the ability to do teams favours trade-wise if they get something back in return. They have over $10 million in cap space this season, and more than three times that for next season.
Oh, and the Flames have both of their compliance buyouts still available to them. The club also has just 27 players under contract for next year, so they can be aggressive in terms of adding bodies with term left on their current deals.
Thanks to a few years of savvy drafting, the Flames (finally) have a core group of solid, albeit untested, prospects – NCAA standout Johnny Gaudreau, QMJHL star Emile Poirier, and others like Sean Monahan, Bill Arnold, Morgan Klimchuk, Sven Baertschi and Jon Gillies. They also have several depth options, as in players that don't project to be stars at the NHL level quite yet, but could be useful role players – in the same way Lance Bouma's emerged for the Flames this season.
Finally, and most obviously, the Flames boast a handful of pending unrestricted free agents that could be useful for a team poised for a playoff run – notably Mike Cammalleri, Lee Stempniak and Chris Butler.
NEEDS
The Flames need everything, to be blunt. Goaltending is a bit of a question mark, defensive depth beyond their top four is spotty, and they lack top scorers at the NHL level.
President of hockey operations and interim general manager Brian Burke laid out his philosophy behind team-building at a media availability prior to the deadline.
"My whole philosophy on trying to win a championship was based on a conversation I had with Bill Torrey probably 25 years ago," Burke said, noting he was picking Torrey's brain as to how he built the powerhouse New York Islanders teams of the 1980s. "He says, 'To get to a Stanley Cup, you play four series. You're going to play a big team, so you gotta be big enough to beat a big team. You're gonna play a team that relies on special teams, so you need good special teams to win that series. You're gonna play a speed team, so you need enough foot-speed that you can match a speed team. And one of those series is gonna be a hybrid, so you'll need all of those things."
The Flames presently lack a lot of size in their forward group. They have a few speedy players, but could use more. Their special teams are extremely streaky. They'll likely try to upgrade positionally across their roster, but may have to settle for untried prospects from other organizations or for draft picks.
DESIRES
Change.
For the past several years, the Flames have slogged around in the mushy middle of the NHL as (1) then-GM Darryl Sutter seemingly drove himself mad trying to recreate the 2004 Stanley Cup finalist club and (2) Jay Feaster was brought in to effectively clean up Sutter's mess. The departure of Jay Feaster and arrival of Brian Burke have seemingly signaled that the organization is headed in a new direction and that the club's rebuild will be accelerated.
That said, we haven't seen much movement from Brian Burke, so what stamp he'll place on this club has been a big question mark. Burke noted that he expects to see a lot of movement on Deadline Day. He's also pretty blunt about the team's needs.
"Face it, we are in the standings where we are for a reason," said Burke. "We need to get bigger. We need to get better."
The first big hockey moves of Burke's Flames tenure are pending, and fans and media are anxious to see how much bigger and/or better he can make the team by the 2014 trade deadline.