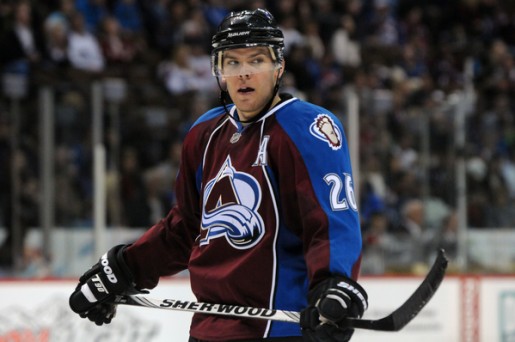 With less than 24 hours until the NHL Trade Deadline, all is quiet on the Avalanche front. Before the Olympic break I speculated that the team was primed to add a defenseman, but the team swallowed some bad news once players returned from Sochi.
INJURY NEWS: Alex Tanguay to undergo hip surgery on Friday; will miss remainder of season. #Avs

— Colorado Avalanche (@Avalanche) February 20, 2014
This has stalled any plans the team might have had to trade forward depth and improve the team heading into the playoffs . There remains, however, one big elephant in the room: the contract status of Paul Stastny. As an impending unrestricted free agent, it is surprising his name hasn't garnered more attention in trade talks.  As the deadline inches closer the Avalanche have a decision to make with their longest tenured player, or risk losing him for nothing in the off-season. Let's look at the thought process Avalanche management must go through to determine the best direction for the team now and in the future. To keep Paul Stastny, or to trade him, that is the question.
To Keep Paul Stastny
Lack of Trade Options
While Paul Stastny would be a great addition to any team, one of the best arguments to keep Stastny is the lack of ideal partners. No General Manager of a non-playoff team is going to give fair value for an impending free agent, and no General Manager of a playoff team will want to give up a significant roster player for what looks to be a rental. The only trade that makes sense would be to risk trading for another high profile impending UFA (aka Ryan Callahan) and hope to sign him before the July 1st deadline; a scenario in which never happened in the salary cap era of the Trade Deadline.Therefore any type of return the Avalanche get through trade will be prospects and/or draft picks, hurting their chances to compete rest of this season and especially in the Stanley Cup Playoffs.
Essential to Team Success
Matching up against the opposition's top line on a nightly basis,  Stastny has put up an impressive 46 points in 55 games and led the team with 14 points in the month of January. Not only is he the longest tenured member of the Avalanche, he is the team's alternate captain. He is centering one of the league's hottest lines and at age 28 is entering the prime of his career. Losing a player with his leadership and experience would create a hole in any team's line up;  a hole that is magnified on a young team like the Avalanche whom possess little offensive depth in their prospect pool.
An Abundance of Cap Space
The Avalanche have just over $45 million committed to 16 players next season, leaving  ~28M to sign 7 players. With only Jamie McGinn and Ryan O'Reilly as the only notable restricted free agents to sign, the Avalanche have more than enough cap space to sign Stastny and remain with an abundance of cap flexibility. Whatever his contract demands are, there are no financial restrictions to keep Stastny's in Denver.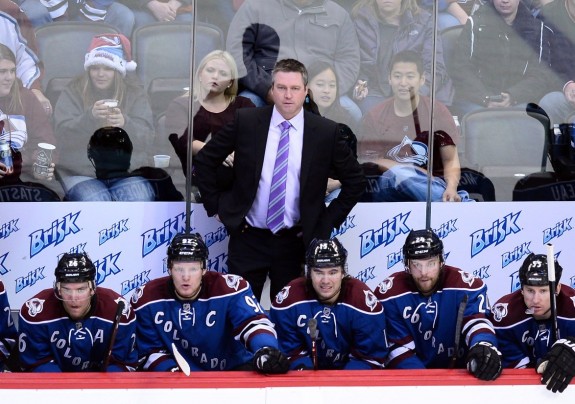 Ties to the Franchise
Paul Stastny is in a unique situation of having his "bosses" as former teammates. This could certainly help the negotiation process. Sakic & Roy know exactly what they get in Stastny and familiarity always helps in a locker room. Although professional sports is always a business, this relationship to management would be extremely difficult to sever for either side. In fact, it could even work in the Avalanche's favor if they are able to sign him to a home town discount, something Stastny seems open to:
"You can obviously go somewhere and get more money somewhere else. But if you have something good and you want to stick with it, that hometown discount is obviously something that everyone's aware of and is important to do. You want both sides to be happy." Stastny told the Denver Post.
In fact, Stastny called Colorado home even before playing a single NHL game when he played college hockey at the University of Denver.  Paul even wears his father's old number 26, and Peter Stastny remains one of the best players in the history of the Nordique/Avalanche franchise.
To Trade Paul Stastny
Nathan MacKinnon and Salary Cap Management
The emergence of Nathan MacKinnon as a future top player in the league is what has made keeping Paul Stastny such a difficult decision. The rookie has taken the league by storm and his play has forced Patrick Roy to move him to right wing just so he can play top six minutes. It is a shift that is temporary, as he is a natural center and will need top six minutes next season to continue to thrive (see Tyler Seguin). If Duchene and MacKinnon occupy the top 2 center positions, where does that leave Paul Stastny? Certainly no team wants to pay their third line center over $6 million a season, that is poor salary cap management. Instead, that money could be used to cover a third line center AND a top four defenseman, something the Avalanche desperately need.
Valuable Trade Chip
Stastny has the ability to be a first line center in this league, something that is coveted by most NHL teams. With Duchene, MacKinnon and even O'Reilly able to play the position the Avalanche have an embarrassment of riches at the position, making Stastny expendable. With a trade chip like Paul Stastny available to them, the Avalanche can significantly improve the for the future by moving Stastny.  or risk losing him for nothing in the off season.  Although there may not be many roster players available, there are plenty of NHL ready defensive prospects on teams looking for a center. A player like Brandon Gormley of the Coyotes or Jarred Tinordi would be great additions to the team moving forward.
Playoff Picture
The Avalanche look to have secured at least third place in the Central Division, meaning they are set to face either the Blues or defending Stanley Cup Champion Blackhawks in the first round. Neither of these options seem very promising for the Avalanche, as these are two teams that are seen as favorites to take home the Lord Stanley. With a first round exit a very real possibility, what then do the Avalanche really have to lose by trading Stastny to help the team in the future?
The Verdict
My gut tells me Joe Sakic & Co. would prefer to keep their second line center and explore other options to improve the defensive core. A move only seems likely if contract talks disintegrate between the two sides before the deadline and the team believes he will walk in the summer. Whatever the case, it will be a key story to focus on for the next 24 hours as trade talks heat up.
Stastny agent and Avs expected to talk later today. Situation still fluid, anything might still happen

— Adrian Dater (@adater) March 4, 2014
Avs getting lots of calls from teams. Gonna be an interesting next 24 hours on Stastny

— Adrian Dater (@adater) March 4, 2014
.