The Avalanche literally hit the jackpot when they won the draft lottery last summer.  At the time, most of the hockey world predicted a Seth Jones selection because of their need on defense and his ties to Denver.  The  Avalanche put a stop to this rumor when they announced they would be taking MacKinnon days before the draft. They could not have made a better decision. MacKinnon currently leads all rookies in goals, assists, points, game winning goals and is showing no sign of slowing down. At this point it's easy to say he is a front-runner for the Calder Trophy (no disrespect to Jacob Trouba), but that's not what this article is about. I'm going to tell you why MacKinnon will be known as a top 5 player in the league in a few short years.
The Numbers on Mackinnon
I know what you're thinking: "Top 5?! There's no way he'll be better than Crosby, Malkin, Stamkos, Ovechkin, Tavares, Datsyuk, Toews, Kane (etc, etc, etc.)." Before you berate me, let's look at the evidence. First of all, five of the players listed are former 1st overall selections; so MacKinnon has that going for him.  Secondly, let's look at how MacKinnon's rookie season against other first overall selections and those who led all rookie scorers the first year out of their draft:
Table 1: Rookie Point Per Game Rate Since 2008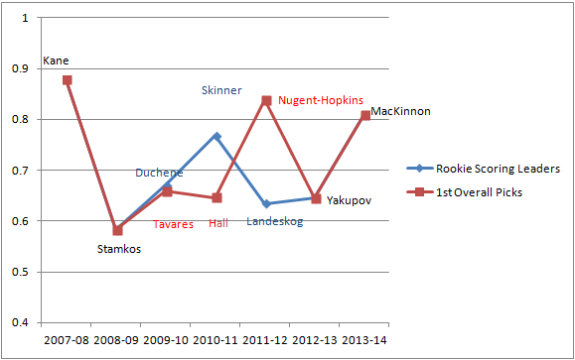 MacKinnon's 43 points in 57 games puts him 4th among rookie points per game (PPG) since 2007-08, and ranks 3rd amongst 1st overall picks during that span. Only Patrick Kane and Ryan Nugent-Hopkins rank higher, whereas both John Tavares and Steven Stamkos fall in the bottom half. Stamkos actually ranks lowest in PPG rate yet is clearly the best player on this chart, so this doesn't tell us the whole story. Every player adapts to the NHL at a different rate. John Tavares might be the perfect example of a linear progression, shown by his steadily increasing point totals every year in the league. Stamkos' growth was much more exponential, which is why I link his development to MacKinnon.  Like Stamkos (for separate reasons), MacKinnon struggled adapting to the NHL game early on, and was constantly shuffled through lines and roles. At times he looked lost defensively, prompting Roy to move him to right wing. Also like Stamkos, something has clicked around the mid-point of the season and he has been victimizing the opposition ever since. Below is a chart outlining both players' rookie point totals in 20 game segments:
Table 2: Stamkos Rookie Season vs. Mackinnon Rookie Season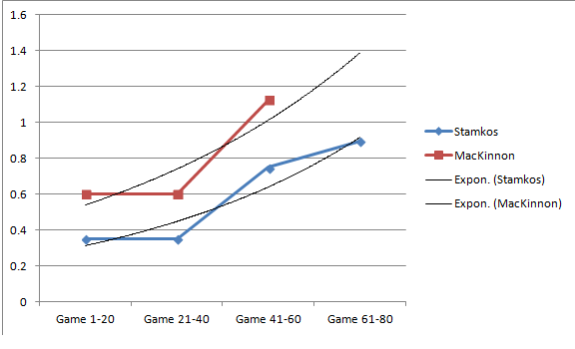 Stamkos scored 32 points in his last 39 games as a rookie and exploded with 95 points in his sophomore campaign. Similarly, MacKinnon has 23 points in his last 22 games and seems to improve every game. While I doubt he will put up as impressive numbers as Stamkos in his second season,  it would not be surprising to see him finish with at least a point per game given his current pace.  The fact is that he currently sits 7th in ice time amongst forwards on the Avalanche and has spent most of his minutes with Max Talbot and John Mitchell on the team's third line. Increased ice time and better line mates (*cough* Landeskog *cough*), will only boost his point totals. Let me throw one more number at you; one that could factor in most to his development. MacKinnon is the second youngest player in the NHL, one day older than the 2013 2nd overall selection Alexander Barkov. If he was born two weeks later he would have been in next year's draft. Let that sink in for a second. For comparison's sake, Seth Jones is almost a full year older than MacKinnon and many of the other 1st overall picks were born in the first six months of their draft class.
The Tools
Not only do the numbers speak for themselves, but MacKinnon passes the eye test as well. His play seemingly improves every game in some aspect as he grows more comfortable at the NHL level. The kid's pure skill is something to marvel at. His speed has always been one of his best assets, and he's been able to show it off at the NHL level:
To go along with his explosive speed, MacKinnon possesses a wrist shot that can beat a goaltender from any angle:

Given some space, his combination of hands and high hockey IQ will make the opposition pay:
The tools he has extend to the players around him. With its tremendous offense, Colorado is a team on the rise. MacKinnon will always be in a position to succeed. Playing sheltered minutes behind Duchene and Stastny will allow him to develop his skills this season, and once he does get top minutes he will be playing with extremely talented players. Unlike most other first overall selections, Nate get a chance to showcase his abilities in the playoffs his first season in the league. This will give him a chance to compete at the game's highest level and will only get better with the experience.
Nathan MacKinnon Has The X Factor
"Okay, okay, we get it, he's good. But what makes him better than other 1st overall picks like Patrick Kane, Taylor Hall or Nugent-Hopkins?".  The same thing that separates all good players from the great ones: his unrivalled competitive nature.  Any time a player presses him physically, MacKinnon battles back with a vengeance. Just ask 6` 7 defenseman Tyler Myers: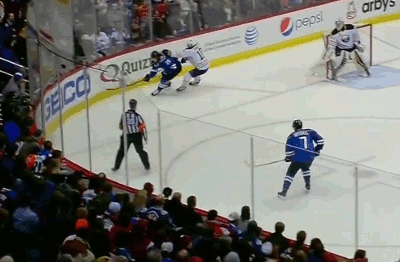 When things aren`t going his way, MacKinnon doesn`t avoid the action but confronts it like a bull on skates.  He also elevates his game when the pressure is on, proven by his two hat tricks in the Memorial Cup last season which earned him tournament MVP. He has continued his clutch play during his young NHL career. So far 15 of his 21 goals have come when the game was within 1 goal;  providing the team with goals at important moments of a game. Based on the evidence, I think the sky is the limit for this kid. He has the speed of Michael Grabner, skill of Steven Stamkos and the will of Jonathon Toews.  I see him as a top 5 player in the league in a couple of years time. I will even be so bold to say he could be ranked 2nd best player in the world next to Sidney Crosby before it is all said and done. What are they putting in that Cole Harbour water?
Veteran of two Hometown Hockey tours. Have worked for the NHL, London Knights and a sports agency in various capacities. Above all, student of hockey hoping to provide unique, thought provoking analysis of the game and business I love while having a little fun along the way.