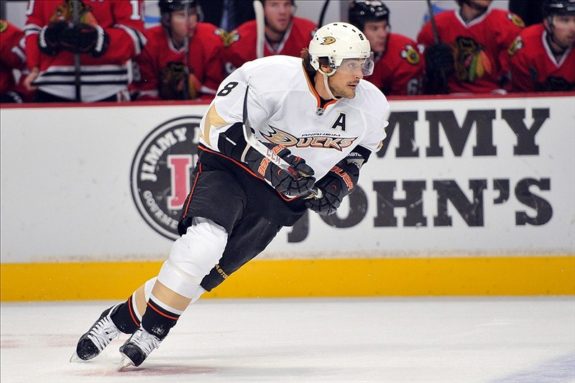 Though the Olympic ceremonies begin tomorrow night, Men's hockey action doesn't kick off until next Wednesday. A total of seven Ducks will be making the trip to Sochi, which is tied for fifth most in the league behind Chicago (ten), Detroit (ten), St. Louis (nine) and Vancouver (eight). While Some are getting their first taste of Olympic play, others are looking for a repeat gold medal performance or to set some all-time records on the big stage. We'll take a look at the seven Ducks and how they could each be the key cogs in their team's pursuit of a medal.
Canada
There's no doubt Sidney Crosby and Chris Kunitz will play on the top line together as the two rank first and 13th respectively in total points and have tremendous chemistry. However, Canada may see even more production from their second line, as Ryan Getzlaf and Corey Perry will surely be paired together to create a one-two punch. Getzlaf is tied for second in the league in points, and Perry is only five points behind in sixth. Oddly enough, these two pairs are on par with each other through the first two thirds of the season as Pete Jensen of www.nhl.com points out.
Top point pairs: T-1.Getzlaf-Perry & Sid-Kunitz (40G where each recorded point); 3.Benn-Seguin (34); 4.Kessel-JVR (32); 5.Sharp-Toews (31)

— Pete Jensen 🏒 (@NHLJensen) February 5, 2014
Were it not for Crosby's undeniable prowess and his 13 point stranglehold over the league leaders in points, Perry and Getzlaf would make a good argument for first line honours on any team. The two have reached a new level together this season as they've helped the Ducks to a first overall spot. Getzlaf has been scoring more, and has displayed an almost psychic awareness of Perry's presence. Meanwhile, Perry doesn't think twice before burying these gifts, which is why he sits third in scoring and is on pace for his first 40-goal season since 2010-11.
Take a look at this goal scored against Philadelphia last Thursday. Getzlaf comes streaking up the right side. He keeps his head up and notices Dustin Penner crashing the net. Hampus Lindholm is open down the middle, but he also notices Corey Perry trailing along the left side, wide open. Getzlaf feathers a perfect saucer pass through the middle directly onto the tape of Perry's stick before he rips it short side without thinking twice. If you look closely, Perry even says "good pass."
Perry and Getzlaf will be vying for a repeat as they are defending gold medal champions in Vancouver.
Finland
At only 22 years old, Sami Vatanen will be making his first appearance in the Olympics, which may have been a little more nerve-wracking if he didn't have the most successful hockey Olympian of all time to guide him along. What more can be said about Teemu Selanne that hasn't been said all ready? The 43-year-old is entering his record tying 6th Olympics (which happens to be with his Finnish pal, Raimo Helminen). He holds the all-time Olympic record for most tournament points with 37, and has won one silver and two bronzes along the way. With a resume like that, Vatanen need look no farther than the seat beside him on the plane.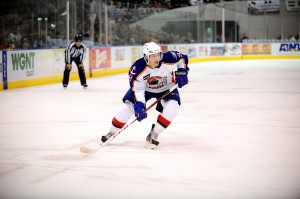 Vatanen has been a solid third-line D-man all season long, sitting third on the team among defencemen with 14 points. His puck moving abilities and speed could be enough to fool opponents, especially when he finds himself on the ice with Selanne at the same time. Having played together all season and sharing a good chunk of minutes, that partnership could go a long way toward Finland's drive toward another medal – something Finland has had their fair share of in recent tournaments. With arguably the best group of goalies in the tournament, gold may not be out of the question.
Sweden
As the key player coming back in the Bobby Ryan trade with Ottawa, sophomore Jakob Silfverberg has experienced some success early on with Anaheim. Though he's missed 28 games with a broken hand, the crafty young right-winger averages a point every two games. On a stacked Swedish roster, Silfverberg will most likely play on a third line with players like Nicklas Backstrom and Johan Franzen. This line should bring lots of energy and will not be shy around the net, just like in this video where he pots a juicy rebound right on the doorstep in his first game back after injury.
 Switzerland
Switzerland hasn't won a medal in hockey since 1948, when they won a bronze and ended a 20 year drought. Those two medals mark Switzerland's success in men's ice hockey. This year may not end the 66 year medal drought, but if anyone on the Swiss team can make it possible, it's Jonas Hiller. The 31-year-old backstop has helped propel Anaheim to the top of the league going 24-9-4 in the meantime. His propensity for maintaining a lead in a one goal game (a stat Anaheim leads the league in when it comes to wins) could be the deciding factor Switzerland is looking for. Better yet, Hiller is taking his role seriously, dawning his Olympic-made glove, blocker and mask weeks before the first game.
#hiller of #nhlducks had #swiss goalie gloves and mask in his stall, breaking them in for the #olympics, I presume. Now that's real news.

— Brian Kennedy (@GrowingUpHockey) February 2, 2014
USA
Last but not least is Cam Fowler, representing his country for the first time in his career. Fowler has soared his way up the depth charts among American defencemen, which has most sites projecting him on a first line pairing with Washington's John Carlson. The young D-man leads Anaheim in terms of points and sits 17th overall in the league, but most importantly he has been the centerpiece of the Ducks 7th ranked defensive corps. The Americans look solid coming into Sochi and are hoping to avenge their 2010 overtime loss to Canada. Anything less than a gold medal will be a disappointment, which should drive Fowler to work even harder than he all ready does.
It's very likely four or five Ducks will come back with a medal in hand, but who and what colour? That's the fun part.