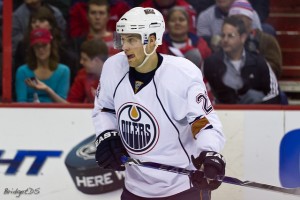 In today's internet driven society, it's not uncommon for athletes to get run over the hype machine. Prospects are faced with an enormous amount of pressure, many times before they even suit up in a professional league. Sports media needs something to talk about, and there's nothing better than pumping up young players and projecting that they're going to be the next big thing. Unfortunately, often times these prospects simply can't live up to the hype that swirls around them, and they're labeled a bust, whether fairly or unfairly.
YouTube Sensation to Trade Bait
Linus Omark wasn't a first overall pick. He wasn't heralded as the savior for the Oilers. But thanks to a YouTube video that very quickly went viral, the legend of Omark began to grow. His skill set was not to be denied, and thus he came into the NHL with a reputation to dazzle. The Oilers drafted Omark in the forth round in 2007, though he didn't come over to North America until 2010.
In 2009, while representing Sweden in international competition, Omark scored a shoot-out goal that quickly caught the attention of people around the hockey world. It was a fantastic goal, and it stirred a lot of excitement over what he could possibly bring in an NHL uniform.
Teams and fans alike always salivate at the possibility that they have uncovered a hidden gem, that a lower level draft pick will become a staple for their franchise for years to come. But that doesn't happen as often as many would hope. There were a few things working against Omark in his attempt to make the NHL. Firstly, he came into training camp and had to fight forwards (who were much higher draft picks) similar to his size and skill set for playing time.
There were also some questions about his attitude and work ethic, and that kind of thing can follow a player around like a bad smell. Old school hockey people believe that rookies need to earn their keep and gain respect. Omark drew the ire of some with a shootout attempt against the Tampa Bay Lightning in 2010.
Lightning veteran Martin St. Louis and goalie Dan Ellis were less than impressed over the youngsters move in the shoot-out.
"It's kind of a slap in the face a little bit. Maybe it's a little too much" said Martin St. Louis. Asked if it was disrespectful, defenseman Mattias Ohlund said, "Absolutely." "It's embarrassing for him," Ellis said. "You come into a league, a respectful league like this, and you try a little move like that. It's not a very classy thing. That's just the kind of person he is." [Crowned Royal]
Again, fair or not, reputations for NHL players are hard to break. Omark rubbed some people the wrong way. He wouldn't be the first and certainly wouldn't be the last, but often times, if a young player shows off in any way, older players expect him to back it up with great play, and Omark wasn't able to do that.
Omark has played just 79 NHL games and has eight goals. Many believe he was never given a fair chance in Edmonton, for whatever reason, and when it was announced he was traded to the Buffalo Sabres earlier this season, his supporters rejoiced that he would finally get his shot. However after just 13 games in which he scored no goals, the Sabres announced they had placed Linus Omark on waivers.
The move affects the Oilers, because they won't receive the conditional sixth round draft pick they traded for him (he had to play at least 15 games). What does this mean for the 27 year old? Is he career in the NHL effectively over? So many people hoped this kid would become something, and everyone's desire to see skill and goal scoring fueled that. But things just haven't turned out for the former YouTube sensation. It happens sometimes. Hype is often greater than reality. For Linus Omark, it certainly was.