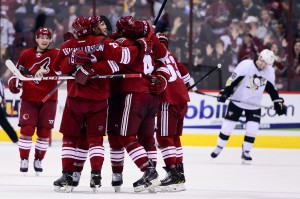 Notch a shutout win over the Los Angeles Kings, then lose two nights later to the Buffalo Sabres . . .
Achieve a commanding victory over the Pittsburgh Penguins, then stumble three nights later to the Dallas Stars . . .
Such is life for the Phoenix Coyotes during their current home stand headed into the two week NHL Olympic hiatus.  While the Coyotes have demonstrated from the season's onset that they have the potential to become as elite a team as any other Western Conference powerhouse, they have been struggling profusely to turn in a solid performance every time they hit the ice.  Solid wins against some of the league's best teams are quickly overshadowed by embarrassing losses to other teams not so stellar.  It's been an ongoing frustration for the team, including veteran head coach Dave Tippett, ever since the Coyotes began cooling off after a formidable start to the season.  They possess the talent to excel, all the pieces are in play, the team finally has a healthy roster . . . yet problems with inconsistent play persist nonetheless.
Tippett: "Players want solutions when things aren't going well. They want to know how we correct things, not how you skate back and forth."

— Arizona Coyotes (@ArizonaCoyotes) January 31, 2014
GM Don Maloney: "We can't afford (for guys to have) off-nights. When we get everybody firing & doing their jobs, then we're a good team."

— Arizona Coyotes (@ArizonaCoyotes) February 5, 2014
Captain Not Mincing Words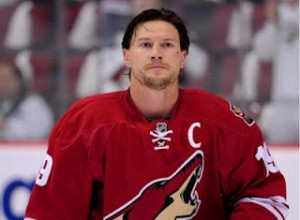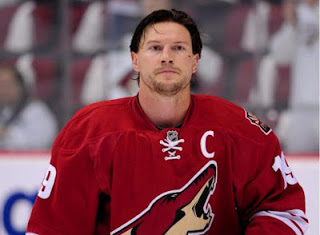 Shane Doan, a 17 year NHL veteran who has captained the Phoenix Coyotes since the 2003-2004 season, hasn't been the least bit hesitant of late to convey his post-game vexation on evenings when he and his teammates aren't able to get the job done.  Doan's indignation reached a boiling point after the  3-2 loss to the lowly Sabres to culminate a rough January in which the Coyotes won only five out of fifteen games played.  The Coyotes jumped out to a 2-1 lead at the first intermission, but failed to make any strides the final two periods to put the game away, eventually allowing Buffalo to come clawing back to not only tie the game on a second period power play goal, but also pull ahead for good on a short handed goal in the third period.
Veteran team insider Jerry Brown commenced his game recap by writing that "The Phoenix Coyotes lost a game in Buffalo last month to plain bad luck. On Thursday, it was the Coyotes who were just plain bad."  However, the words flowing from Mr. Brown's pen were romantic tête à tête compared to what Doan had to say in the locker room when confronted by a swarm of media after the embarrassing performance on home ice against the league's worst team.
"We're up 2-1 to start the second and we do absolutely nothing as a group," Doan fumed.  "I don't think we got a shot for over twelve minutes.  It's embarrassing . . . We scored two goals in a minute in a half and we didn't do anything after that . . . We found a way to lose another one."
"I don't even know what our level is," he continued.  "We're barely above average right now, if average.  It's not acceptable, not even close."
Even the team's local beat reporter seemed dumbstruck at the usually affable Doan's disposition during the interview.
Angriest I've seen Doan since Game 5 loss to Kings two years ago.

— Sarah McLellan (@sarah__mclellan) January 31, 2014
Bouncing Back and Then Falling Again
Thankfully, the Coyotes were a completely different team when they hit the ice for their next home game versus Sidney Crosby and the Pittsburgh Penguins, a team currently perched comfortably atop the NHL Eastern Conference standings.  Aware of the exigent task at hand, and looking to bury unpleasant memories of their most recent contest, the Coyotes dominated the Penguins in majestic fashion on both ends of the ice for the full 60 minutes and earned a commanding 3-1 win.  Crosby, the current league leader in points and assists who will also captain Team Canada in the upcoming Winter Olympics, only managed to fire off two shots the entire game as he was consistently shut down and rendered useless by the Coyotes top blueline pairing of Zbynek Michalek and Oliver Ekman-Larsson, two defenders he may very well encounter again in Sochi (Michalek is playing on the Czech team, Ekman-Larsson for Sweden).  Forward Mike Ribeiro, who had been in the midst of a seemingly unending offensive slump, opened the scoring with a goal in the first period (the 200th of his NHL career) and assisted on Michalek's second period goal.  Radim Vrbata, another potentially explosive veteran Coyotes forward slogging through scoring woes, lit the lamp for the second time in five games.  Goaltender Mike Smith, who sat out the prior two games after also struggling of late, returned in dynamic fashion, making 23 saves and registering a .958 save percentage.  The team finally appeared to start trending in the ideal direction with everyone playing to their full potential.
Dave Tippett on tonight's win: "We've just got to remember how we're playing and bring it to the next game. That's been our challenge."

— Arizona Coyotes (@ArizonaCoyotes) February 2, 2014
However, the Coyotes again failed to build on positive momentum generated from a solid win.  In their very next tilt at home a few days later versus the Dallas Stars, the Coyotes were outplayed and outhustled from the initial puck drop and dropped the game 3-1, despite the fact that a win would have catapulted them into sole possession of 8th place in the Western Conference.  Apart from an unassisted goal by Antoine Vermette after a slipshod Dallas line change, the Coyotes offense could not muster anything and saw 20 of their shots blocked.  On defense, they allowed 40 shots on goal, the most since December 29 versus Anaheim.  For his part, Smith performed exceptionally well for the second straight game.  He stopped 37 of those shots, registering a .949 save percentage despite the heavy workload thrust upon him.  However, lack of reciprocation at the offensive end of the ice negated Smith's stalwart outing in net, and once again, Shane Doan was not afraid to bluntly yet accurately assess the team's overall performance.
"You waste a performance from [Smith] like that, it's tough," said team captain Shane Doan.  "He played great and we didn't find a way to generate enough offense."
Tippett also weighed in and expressed disappointment that the team could not replicate its success in the contest against Pittsburgh.
"I didn't think we had enough players play well enough to win this game," said Phoenix Coyotes Head Coach Dave Tippett.  "We lost too many battles and made too many mistakes with the puck and didn't give ourselves a chance."
After Wednesday's practice, Tippett further assessed the situation by stating that "on too many nights we don't have that consistent push from enough players."
What Lies Ahead
Before the NHL recesses for the Olympics, the Coyotes face two more crucial contests on back to back nights, hosting the Chicago Blackhawks on Friday night and then heading to Dallas for a rematch versus the Stars on Saturday night.  Friday's matchup is set against a backdrop of strikingly similar circumstances the team faced entering their impressive performance against the Penguins.  Once again they are reeling from a stinging defeat as they prepare to battle one of the league's top teams, in this case the defending Stanley Cup champions.  After Thursday's practice, Coach Tippett expressed optimism that the team could again regroup and get back on a more optimal trajectory.
"I think guys realize there's a break coming but also realize there's a task at hand," Tippett noted.
Several players, including forward Mikkel Boedker, seemed zeroed in on that task, knowing full well that the Blackhawks are never a team to be taken lightly.
Boedker: "We gotta match (their skill) with our effort and one-on-one battles. We have to be hard in every battle for the full 60 tomorrow."

— Arizona Coyotes (@ArizonaCoyotes) February 6, 2014
Just how beneficial is it for the Coyotes to gobble up four points heading into the break?  Even though they are currently out of the eighth and final Western Conference playoff spot by only one point behind the sputtering Vancouver Canucks, so are the Dallas Stars.  Meanwhile, the Winnipeg Jets and Nashville Predators are not far behind.  The battle for the final conference postseason invite is potentially a hair-raising thriller that could go down to the very end of the regular season in mid-April.  Every game counts.  Every point counts.  If the Phoenix Coyotes don't start playing more consistently every time they lace up their skates and take the ice, their version of this thriller will not contain a pleasant ending.
For more on the Phoenix Coyotes and the NHL, follow Casey Gagnon on Twitter @CaseyPSH