Nathan MacKinnon has a lot of talent and potential that is obvious to anybody that turns on a hockey game. His speed and creativity are the types of things that a player needs to become a breakout star in the NHL; but, Nathan MacKinnon is struggling to find that level of play since making the jump to the NHL.
What is Working?
One of the things that MacKinnon is always going to have in this league is his speed, and he has shown that, when he gets things going, he can blast by anybody on the ice. There was a sequence against the L.A. Kings where he took a loose puck from in front of his net, skated behind his own net and then just shot himself out of the zone and onto the attack. This prompted Avalanche color commentator, Peter McNab, to mention that the Kings all now knew one thing about MacKinnon, his number because that's the only thing they saw. MacKinnon needs to make his speed work for him more. Defenders have to respect that speed and will give him the blue line if he can get that head of steam.
His intelligence is another thing that is working well for him. Watching MacKinnon, you can just see that he has the mindset of a big-time NHL scorer. And not just a goal scorer, but the type of guy who just knows where his teammates are going to be and can get them the puck. He showed that type of instinct in his first game as a professional by setting up Jamie McGinn twice with fantastic passes that left the goalie absolutely no chance to do anything other than fish the puck out of the back of their net.
At this point, you can tell when MacKinnon is feeling confident because he will pull a couple of passes like that out of his hat and create some great scoring opportunities. You can also tell when he isn't as confident, because his decision making and passing suffers. His passing is probably the best thing he has going for him right now as he is tied for the team lead in assists, with 10. As his hockey instincts continue to mature, and the game begins to slow down for him, he will become a much more dominant player.
His physicality is another thing that has been very impressive from the beginning. MacKinnon will go right into the corners and isn't afraid to fight for the puck with bigger players. He's very strong on his skates and isn't afraid to take, or throw a hit. He can battle through people and create something out of what should be nothing.
What are the Struggles?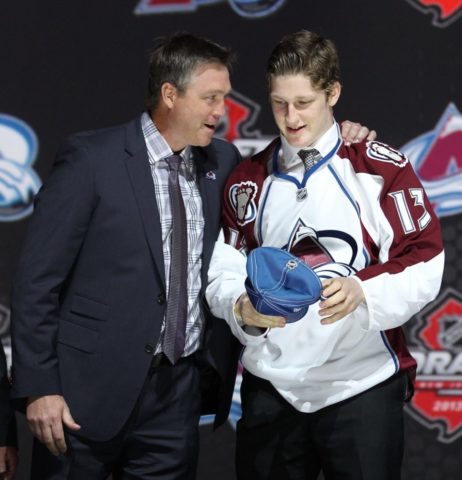 As one would expect, the game at the NHL level is much different than what is being played in major junior. In the NHL, you simply aren't just bigger and stronger than everybody else, or at least, the margin is much smaller. MacKinnon is still used to being able to do very little in order to get by defenders on the rush, something you simply can't do at the NHL level. Everybody can skate very well in the NHL, and defenders are able to adjust in a way that junior players just aren't. MacKinnon needs to accept the fact that not every entrance into the zone is going to be a big scoring chance and it is okay to just dump it in and use his speed to go get it. There is no need to get cute going into the zone, because if you get too cute, it's going to be in your own net faster than in your opponent's.
MacKinnon's stick-handling is another thing that I am noticing in a negative way. Far too often MacKinnon just simply overdoes it. It isn't even as if he is trying to make any type of big deke move either, he simply just over does your basic stick-handle and loses control of the puck on the rush. He just seems like he is so intent on making a big play, he forgets to do the simple things right and costs himself a scoring opportunity. Just look at the three goals that he has scored to this point, every single one of them have been quick shots. His first goal vs. Washington, a quick one-timer in the low slot. Second goal vs. Montreal, a quick rebound he batted in on his backhand. Third goal vs. St. Louis, another one-timer on the power play that he just shot quickly and in the right spot. Each of those were plays that required exactly no thinking and didn't allow him to get too pretty. In the NHL, you simply don't have time to be too pretty.
Faceoffs are the biggest struggle for MacKinnon right now, and that is to be expected of a rookie straight out of major junior. Matt Duchene had similar faceoff issues his rookies season, so I'm not all that worried. But MacKinnon currently is 38% on faceoffs, which is just plain bad. This too, will come with time.
Future is Still Bright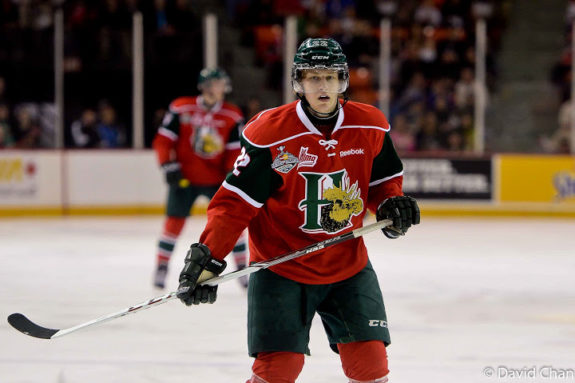 Don't take this the wrong way, though, MacKinnon is still a dynamic player who will be a huge star in the NHL. His struggles are very common of players his age, but we are getting near the point of the season, as we move into the month of December, that MacKinnon should start to turn a bit of a corner. The biggest thing that needs to happen in MacKinnon's game is some simplification. There's no need to try and fake the defenseman standing you up at the blue line out of his skates, use your teammates and get the puck in deep. Don't over-handle the puck as you're coming into the zone, take your time and survey your options. Most importantly, use the things that got you to the NHL level to begin with. MacKinnon is fast, physical and shifty and has the potential to give opponents nightmares. As these things all start to come together, those nightmares will eventually become a reality for Nathan MacKinnon's opponents.
I'm a Denver native who has been a fan of the Avalanche since they came to town and a fan of the game before that. I started writing my own blog a couple years ago before moving to Bleacher Report and becoming a Featured Columnist there. You can also find me the Burgundy Brigade Podcast