No matter how tough you may think you have things, there's someone else out there that has it tougher.  That applies to hockey as well.  This season the New Jersey Devils have had their share of moments and frustrations.  In keeping with the Thanksgiving theme, their fans may want them to put the biscuit in the basket with more frequency but they do have much to be thankful for on the young season.
Ownership Change
Depending on what you read or to whom you listened to, the Devils were either status quo or the northeast version of the Phoenix Coyotes.  Either way, as hard as former owner Jeff Vanderbeek tried, it was evident that the Devils needed more stability financially.  Enter David Blitzer and Joshua Harris.  The two purchased the club and the Prudential Center for a reported sum of $320 million.  The two inked Adam Henrique to a long-term deal and brought in the next player on this list.
It is quite the testament to the caliber of player Jagr is, that he at age 41, is carrying the lead pitchfork for the Devils.  Of course ideally one wouldn't have to rely on a 41-year-old to fill up the net but Jagr has been everything advertised this season.  It's all gravy for Jaromir at this point and it is so enjoyable to watch him revel in it.  This season has seen Jagr tie Gordie Howe with 121 game winning goals and pass his former Pittsburgh Penguins teammate Mario Lemieux, with 691 career markers.  On the campaign, Jagr leads New Jersey with 10-goals, 19-points, 59-shots and 3-game-winning-goals.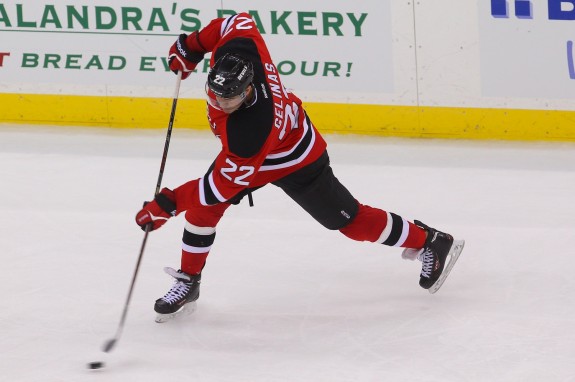 The Albany Devils got off to a stellar start this season and carrying those good vibes from the Times Union Center to the Prudential Center, was Gelinas.  With Alexander Urbom claimed on waivers by the Washington Capitals and Captain Bryce Salvador injured, the Devils defence needed a shot on the arm and one on the blue line.  What they got was a howitzer of a shot on the power play and as former Devils' coach Larry Robinson noted, some much needed speed, that Gelinas has provided.  The Devils have played markedly better with the insertion of Gelinas and a scoring element that already ranks him seventh on the club in scoring, in just 16 games played.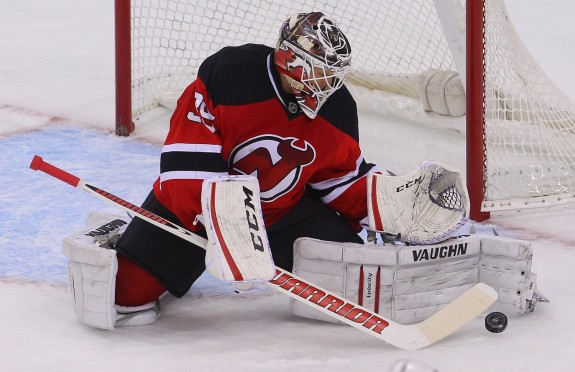 Honestly, one could really add Martin Brodeur here too, as the Devils goaltending has been stout this season. Devils fans have to be confident that they are set in net for the foreseeable future with Schneider. Schneider has played like a number one this season and one could argue that he has warranted more playing time, especially lately. In his most recent start, Schneider stood on his head against the Los Angeles Kings, in a 2-1 overtime victory. This season, Schneider has posted a microscopic goals against average of 1.87 and a .925 save percentage.  He has been well worth a first round draft pick.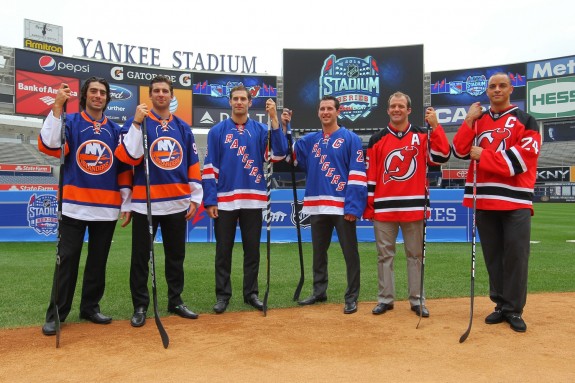 I could've gone with the resurgence of multiple veterans or the hot start of the A-Devils in the AHL but even though it hasn't happened yet, it'll be pretty cool to see the Devils on the big stage.  As a native New Yorker (and an unabashed New York Yankees supporter), I've been waiting and salivating at the thought of an outdoor game in the New York/New Jersey area.  If you'll recall, the Devils, Lou Lamoriello and the Yankees all have a history, dating back to 2000.  While I would have stuck with a classic red and black jersey, it should be intriguing to see how it all plays out.
Michael Gwizdala covers the New York Islanders for The Hockey Writers. Michael is also an Associate Producer at WNYT NewsChannel 13. Additionally, Michael was once a Media Relations intern for the AHL Albany River Rats. Michael is a graduate of The College of Saint Rose in Albany, NY.