You'll have to excuse Brad Treliving, GM of the Calgary Flames, if he's not feeling the World Cup of Hockey hype right now. Mikael Backlund's concussion, sustained at the tournament, combined with the stellar performance (4 pts in three games) of unsigned puck magician Johnny Gaudreau leaves the Flames with lots of unanswered questions as training camp gets underway. The most glaring, of course, is Gaudreau's status as a training camp holdout as the team grapples with his agent, Lewis Gross. At issue is the reported gap between the $8 million per season that Gaudreau is seeking and the $6.75 million per year offer from the Flames.
"We'll continue to bang away at (contract negotiations). You hope for the best. We hope it's going to get done and going to get done soon. Time will tell," said Brad Treliving to the Calgary Herald late last week. "Listen, Johnny's an important piece; an important player. This is not the first player that's gone through a contract situation, and it won't be the last. It's just part of the business."
It may be part of business, but it's becoming harder for the Flames to argue with Gaudreau's $8 million per season request when he keeps scoring breakaway goals like this one.
Still, it's a long way from the season opener vs Connor McDavid and the Oilers on Oct. 12 but for the Flames Gaudreau's contract is only one of a number of holes they need fill up front. Right now, it's hard to say who will step up and play the left side on a potential second line with Sam Bennett now at center alongside newly acquired right-winger, Troy Brouwer. Also, up for grabs is the left-wing spot on what could be an impressive checking line centered by Mikael Backlund and right winger, Michael Frolik.
The Potential Candidates
Glen Gulutzan, the new head coach of the Calgary Flames and his assistants, Paul Jerrard, formerly an assistant with the Utica Comets of the American Hockey League and David Cameron, previous head coach of the Ottawa Senators have a mix of journeyman and rookies to consider this season. Leading the class is forward Alex Chiasson, acquired this summer in exchange for bruising defensive prospect Patrick Sieloff who drew the rage of new teammates, Chris Neil and Bobby Ryan in Ottawa after drilling Clarke MacArthur with a check from behind during practice.
But, it's isn't like Chiasson is all finesse either. At 6 foot 4 and 208 lbs., he is known for using his big body to get to the net and for wreaking havoc in the crease, but he's also coming off two poor seasons with the Ottawa Senators where he seemed to lose some of the fire and ambition he showed when he last played for Gulutzan with the Dallas Stars in 2013.
If Chiasson isn't up for the task, the Flames could be looking to players like Canucks cast-off and former first-round pick, Hunter Shinkaruk to step up after he potted three points in a seven-game stint with the Flames last season. Linden Vey and Chris Higgins, two more former Canucks, will also be jockeying for roles with the Flames. But, the competition will be stiff with Flame first-round picks Mark Jankowski and Matthew Tkachuk looking to solidify a place in the line-up. Also, don't count out Michael Ferland who is still trying to equal his impressive 2014-15 playoff performance from his rookie year along with grinder Garnet Hathaway or Freddie Hamilton who signed a two-year one-way contract before training camp. Other longshot candidates include Lauri Korpikoski, or rookies Brett Pollock, Morgan Klimchuk, Emilie Poirier or Andrew Mangiapane.
What About the Back End?
Roles on the Flames defense are a little harder to come by as veterans Mark Giordano, T.J. Brodie, Dougie Hamilton and Dennis Wideman are likely to make the Flames top four, even though Treliving would love to dump Wideman's contract but at $5.25 million per season that's not going to happen. But, it's the third line pairing where competition will be high especially after Ladislav Smid announced he will not play for the 2016/17 season due to a neck injury. Jyrki Jokipakka had a solid year and a strong World Cup of Hockey tournament and veteran Derek Engelland may well earn the sixth spot but if the Flames can sign Gaudreau at a bargain price of around $7 million per season, it's possible that Jakob Nakladal could return to Calgary for another season or we could even see the return of free agent Kris Russell if the price is right. A more likely scenario though is that either Niklas Grossman at Flames camp on a professional try-out or youngster Tyler Wotherspoon will grab the seventh defenseman spot with the team. Other longshot candidates could include rookies Kenney Morrison, Brett Kulak and Ryan Culkin.
In the Crease
For the first time in recent memory, the goaltending situation for the Calgary Flames is not in doubt. On draft day, the Flames traded for Brian Elliott a solid #1 goaltender who had a 23-8-6 record with the St. Louis Blues last season to go with a 2.07 Goals Against Average (GAA) and a sparkling .930 save percentage. He will no doubt be thrilled to be the uncontested #1 in Calgary, but free agent signing Chad Johnson provides fantastic insurance, coming off a 22-16-4 season with a 2.36 (GAA) and a .920 save percentage.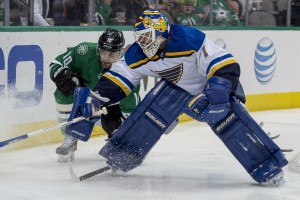 Goaltender of the future, Jon Gillies will likely battle it out with Czech International free-agent signing David Rittich for the starting job in Stockton of the American Hockey League this season.
What's the Latest?
On Sunday, the first cuts of training camp were announced. The Flames assigned Brayden Burke (Lethbridge/WHL), Aaron Hyman (Calgary/WHL), Matthew Phillips (Victoria/WHL) and Nick Schneider (Medicine Hat/WHL) to their respective junior teams. The Flames also announced they have released Dennis Kravchenko from training camp after he accepted an invitation to the Stockton Heat's training camp.