The Calgary Flames just finished a successful two-game sweep of the Vancouver Canucks. The team was led by goalie Jacob Markstrom; however, other Flames' players contributed. In this edition of Flames News & Rumors, I'll take a look at the news emerging from the games of this back-to-back series. At the same time, I share the implications of some of the news emerging from the Flames' organization.
Item One: Jacob Markstrom Beats Down His Old Friends
Of the 27 shots Jacob Markstrom faced, he stopped all but two to lead his new Flames' teammates to a 5-2 win over his old Canucks' teammates. It wasn't the shutout he tossed on Saturday, but it might have been. Both Canucks' goals bounced off Flames' players and past Markstrom – just bad luck. Everything he saw, he stopped.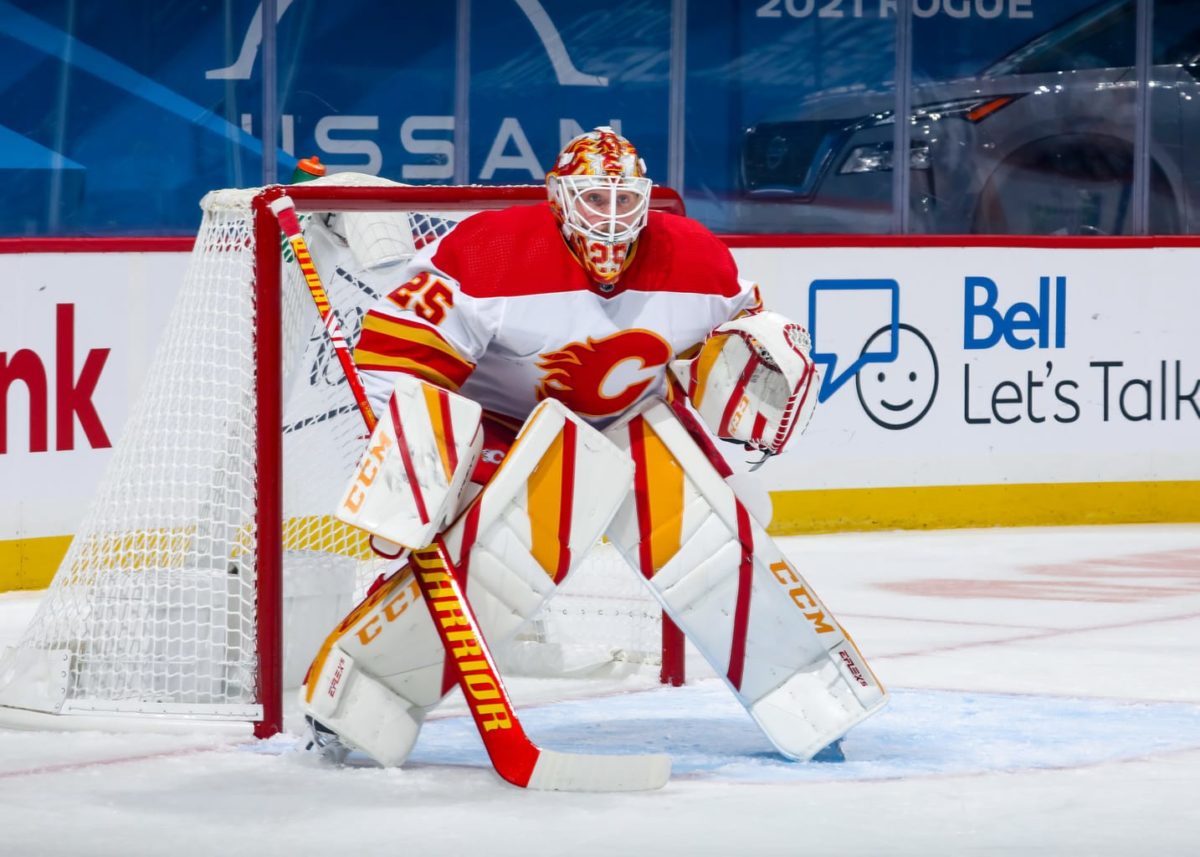 It was Markstrom's second win of the season, and he's been hot – especially during his last two games. In total, he's allowed only six goals on 93 shots (for a save percentage of .935) to go along with his 2-0-1 record and his 1.99 goals-against average. Markstrom will have lots of time to rest between games and won't be in the net again until Sunday when his team faces the Toronto Maple Leafs.
Item Two: Milan Lucic Productive in Flames Win
Sometimes, Milan Lucic's contract is shown as an example of one of the worst contracts in the NHL. It might be that Lucic is overpaid and doesn't produce as he once did. Still, he has a history with Flames' head coach Geoff Ward when both were with the Stanley Cup winning Boston Bruins at a time when Lucic was in his heyday as an NHL power forward. It might be my imagination, but Lucic seemed to add more quickness to his skating stride when Ward took over as the Flames' coach last season.
Related: Calgary Flames: News & Rumors: Leivo, Parsons, Kinnvall, Stone & More
From watching Lucic play against the Canucks, he was productive. During Monday night's 5-2 win over the Canucks, he scored an assist and took two minor penalties. Lucic had the first assist on Mikael Backlund's go-ahead goal during the second period. Lucic also was called for two tripping minor penalties. The assist was his first point in three games.
Lucic has been skating on the team's fourth line, which isn't likely to produce much scoring. However, the 32-year-old remains a physical presence and takes up lots of space in front of the net on the team's second power-play unit. So he does have his own impact.
Item Three: Sean Monahan Scores Two Assists
Sean Monahan contributed two assists to the win over the Canucks. It's been a positive start to the season for Monahan, who set up Johnny Gaudreau's goal to get the Flames on the scoreboard. The 26-year-old Monahan's second assist was late in the game when his defensive-zone faceoff found its way to Rasmus Andersson, who made a long-range empty-net goal to put the game out of question.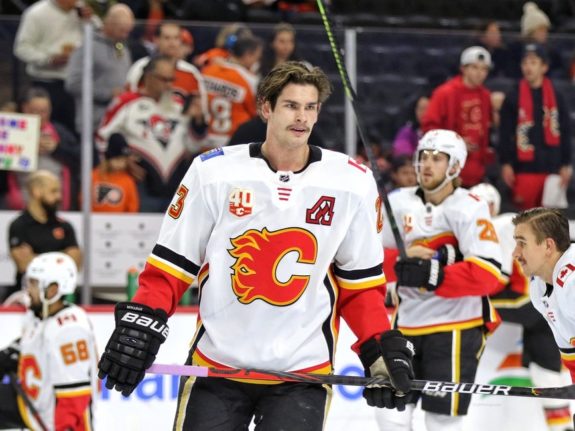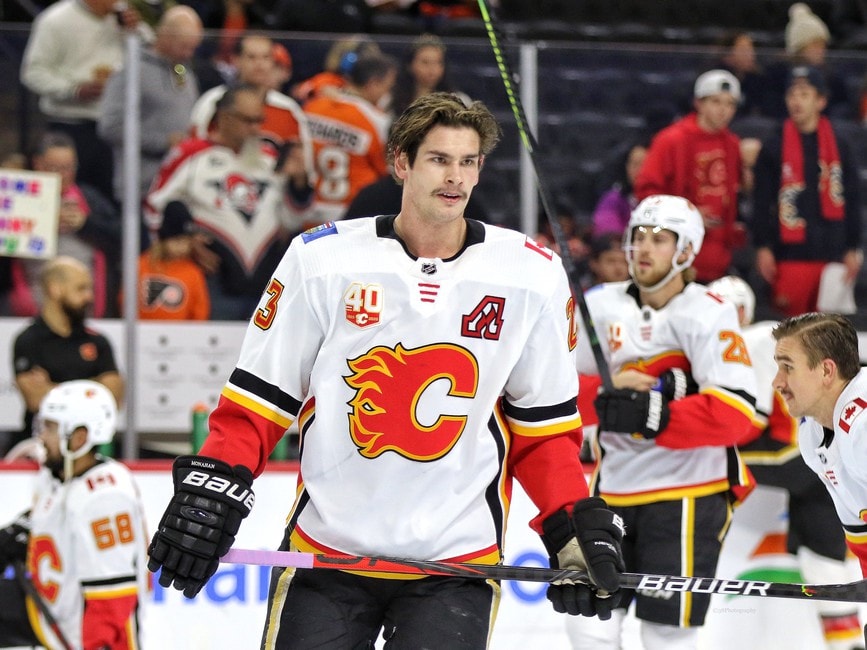 In the three games Monahan has played this season, he's averaging more than a-point-a-game with goal and three assists. During the offseason there was chatter about Gaudreau being traded; however, both Monahan and Gaudreau have been hot to start the season and that chatter, by and large, has stopped.
Related: They Wore It Once: Flames Players and Their Unique Numbers
The 26-year-old Monahan also won 10 of his 16 faceoffs (62.5) and was on the ice for just under 20 minutes (19:40) during his 19 shifts.
Item Four: Rasmus Andersson on a Three-Game Point Streak
Rasmus Andersson was mostly unlucky but then got very lucky against the Canucks. Although Andersson skated more than eight minutes (8:10 minutes in total) on the power play, he had nothing to show for it except close calls. He hit a post and had a number of other almosts, but nothing on the score sheet.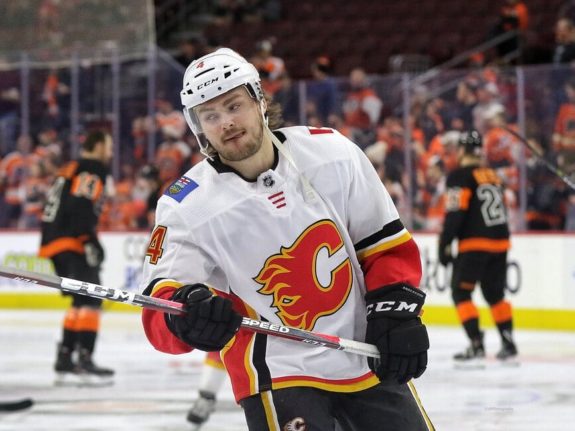 Then, late in the game he converted a Monahan face-off win into a long-range empty-net goal that helped make up for his earlier frustrations. In fact, Andersson might have simply been trying to clear the puck without expecting it find the net.
With that goal, the 24-year-old right-shot Swedish defenseman has hit the score sheet in all three games he's played in 2020-21. Although the season's early, Andersson seems to be thriving in his larger role with the team.
Item Five: Mark Giordano Scores on the Power Play
Mark Giordano threw a team-high six shots – almost all from long range – on net during Monday's 5-2 win. During the third period, one found the back of the net. The 37-year-old defenseman still is in the middle of his team's action and is still skating big minutes in five-on-five situations.
Related: Jets With 100-Point Seasons
However, his ice time so far this season has been reduced from an average of almost 24 minutes per game to something closer to 21 minutes. Much of that time difference comes because Giordano is now working on the team's second power-play unit.
Item Six: Johnny Gaudreau Produces Two Points in Second Canucks Win
Johnny Gaudreau scored a goal and a power-play assist in Monday's win over the Canucks. His game-tying second-period goal that beat Canucks' goalie beat Thatcher Demko was aided by a Dominik Simon screen. The 27-year-old Gaudreau's assist came during the last few seconds of the period when Elias Lindholm scored on his cross-ice pass.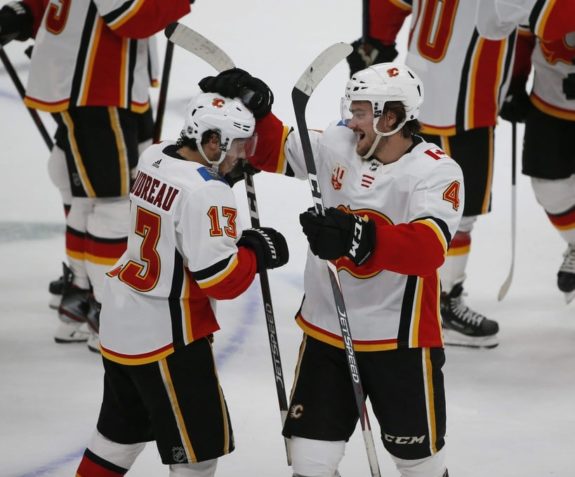 Gaudreau's been productive this season, scoring four points in total and three on the power play in three games. He's seeking to better last season's scoring dip of only 18 goals and 40 assists (for 58 points) in 70 regular-season games.
What's Next for the Flames?
The Flames have been hot and hope to stay that way. However, in an odd twist of scheduling, they have a large space before another game. As noted, they don't play until they meet the Maple Leafs in Calgary on Sunday afternoon.
Related: Calgary Flames News & Rumors: Final Roster, Mackey & Bennett
Given both team's recent hot streaks, that should be a good game. I'm looking to see if the Maple Leafs' Wayne Simmonds and the Flames' Matthew Tkachuk might meet in some altercation.
---
---
The Old Prof (Jim Parsons, Sr.) taught for more than 40 years in the Faculty of Education at the University of Alberta. He's a Canadian boy, who has two degrees from the University of Kentucky and a doctorate from the University of Texas. He is now retired on Vancouver Island, where he lives with his family. His hobbies include playing with his hockey cards and simply being a sports fan – hockey, the Toronto Raptors, and CFL football (thinks Ricky Ray personifies how a professional athlete should act).
If you wonder why he doesn't use his real name, it's because his son – who's also Jim Parsons – wrote for The Hockey Writers first and asked Jim Sr. to use another name so readers wouldn't confuse their work.
Because Jim Sr. had worked in China, he adopted the Mandarin word for teacher (老師). The first character lǎo (老) means "old," and the second character shī (師) means "teacher." The literal translation of lǎoshī is "old teacher." That became his pen name. Today, other than writing for The Hockey Writers, he teaches graduate students research design at several Canadian universities.
He looks forward to sharing his insights about the Toronto Maple Leafs and about how sports engages life more fully. His Twitter address is https://twitter.com/TheOldProf