Calgary Flames general manager Brad Treliving was busy this past off-season. After a disappointing 2017-18 campaign that saw his club miss the playoffs, Treliving made several big moves to reconstruct the Flames' roster.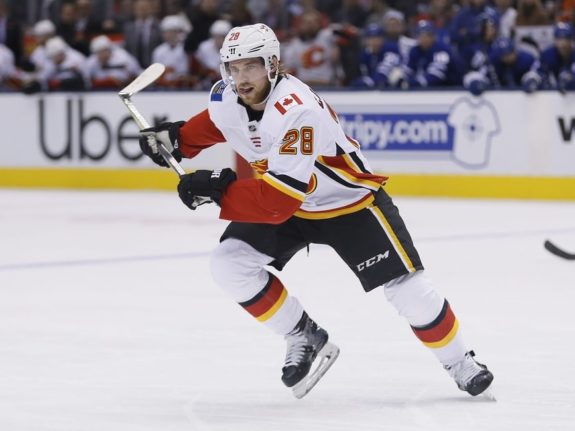 Through the first 22 games of the 2018-19 season, the five newcomers he brought into the organization have produced varied results. A couple of them have been very good, while a few haven't quiet lived up to expectations yet.
The Superb Swede
Logistically speaking, the Flames swapped a fairly effective top six forward in Micheal Ferland for an up-and-comer in the form of Elias Lindholm when they made their big trade with the Carolina Hurricanes at the 2018 NHL Draft. Ferland had unrestricted free agency on the horizon and despite his chemistry with Johnny Gaudreau and Sean Monahan on the Flames' top line, the thought was his development had topped out and he was about to get pretty expensive. On the other hand, Lindholm was still in his restricted free agency years and would make more sense long-term.
Micheal Ferland's hot start has fizzled out, as he currently sits with 13 points in 19 games.

Elias Lindholm on the other hand, with 21 points in 20 games, is over a PPG with a quarter of the season gone.

— Christian Roatis (@croatis) November 18, 2018
A highly-respected two-way player in pro scouting circles, Lindholm's top offensive output in five prior NHL seasons was 17 goals (in 2014-15) and 45 points (in 2016-17). With Gaudreau and Monahan being more offensively-minded players, it's likely that the Flames felt Lindholm's defensive mindset would help round out the trio's game and make them a bit more dynamic. Through 22 games, Lindholm had accumulated 11 goals and 23 points – he seems well on his way to career highs in his offensive numbers.
Simply put, Lindholm has just "worked" in the Flames lineup. He's been an effective contributor on the Flames' first line, top power play and penalty killing units, and has looked equal parts confident and comfortable in a high-pressure Canadian market. He's signed at a $4.85 million cap hit through the 2023-24 season and already looks like a bargain.
The Steady Defender
Noah Hanifin came over with Lindholm from the Hurricanes, ostensibly replacing the outgoing Dougie Hamilton. What ended up actually happening was the Flames moved a top pairing defender to the Hurricanes for a second pairing blueliner, which allowed TJ Brodie to move up to play with Mark Giordano. While Hanifin hasn't played with the same dynamic qualities that made Hamilton so popular with Flames fans, he's fit in very well with Travis Hamonic on the team's second pairing.
Hanifin's performance in a vacuum has been quietly effective. His defensive game has been an occasional adventure – Hamonic's had to defend quite a few odd-man rushes due to Hanifin's aggressiveness in the offensive zone – but he's found strong chemistry with Hamonic and managed to produce offensively on a consistent basis. With nine assists over his first 22 games, he's on pace for a career year in points.
But Hanifin's biggest impact is arguably that his addition has allowed the team to slot their defensemen more effectively. Giordano and Brodie have been superb together, a pairing made possible by the Hanifin/Hamilton swap, and Hanifin and Hamonic have been very effective as well. A year ago the Flames had one strong pairing in Giordano and Hamilton; this season they've gotten contributions from all three pairings because of their roster tinkering.
The Quiet Goal-Scorer
The Flames made a big free agency splash on July 1, signing winger James Neal to a five-year deal worth $5.75 million per season. Some saw the length of the deal as a red flag, as Neal began the pact as a 31-year-old. But his consistent career-long offensive production and status as a perennial goal-scorer assuaged some worries, particularly given the Flames' struggles with offensive depth.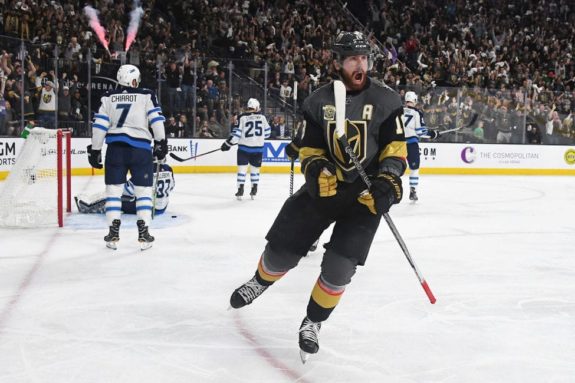 So far Neal's offense hasn't materialized, with three goals and four points through 22 games. He's gotten consistent scoring chances, but his luck hasn't been there. He's also been a bit of a victim of circumstances: Lindholm's found a long-term home on the right side of the first line, while Sam Bennett has provided energy and grit on the right side of the second line with Matthew Tkachuk and Mikael Backlund. That leaves Neal playing on the third line and getting less frequent, lower-quality offensive deployments than he would have enjoyed on the top two lines.
The thought is Neal might benefit from the maturation of the younger players on the bottom six rotation, as many of them are on the up-slope of their careers. It hasn't happened so far, but it's still very early in the playing season.
Mixed Results on the Bottom Six
Treliving made a pair of depth signings on July 1, signing veteran center Derek Ryan and minor league star Austin Czarnik. Ryan had established himself as a strong face-off performer with the Hurricanes, while Czarnik was a tweener with the Bruins organization who had been one of the top scorers in the American Hockey League. The duo hasn't faced the same spotlight than the Flames' higher profile additions have, but they're both been quietly effective to varying degrees.
Ryan has three goals and six points playing on the team's third and fourth lines. He's continued to perform well at the face-off dot and has been a steady presence on the penalty kill along with an occasional face on their second power play unit. He's occasionally struggled with the physicality of some games with Western Conference teams, but he's been a very steady if unspectacular performer. He's a depth player, so it's probably a good thing that he's usually not noticeable.
Czarnik has had a tougher go of it, with one goal and four points this season while bouncing around the lineup quite a bit. He was tried out with Backlund and Tkachuk before Bennett found his fit there, which sent Czarnik toppling down the rotation looking for a home. He's been a healthy scratch a few times, but he's also been an inconsistent performer when he's dressed. He's still a very young player who hasn't found his NHL niche yet, so it's likely that the Flames will continue to be patient with him as he finds his way.
Ryan Pike has covered the Calgary Flames and the NHL Draft extensively since 2010 as a Senior Writer for The Hockey Writers and Senior Contributing Editor of FlamesNation.ca. A member of the Professional Hockey Writers Association, he lives in Calgary.