The Calgary Flames went into the 2017-18 National Hockey League season with high expectations. Bolstered by the off-season additions of Mike Smith and Travis Hamonic, the team didn't just expect to qualify for the playoffs but to make some noise once they got there. Instead, they missed the post-season by 11 points.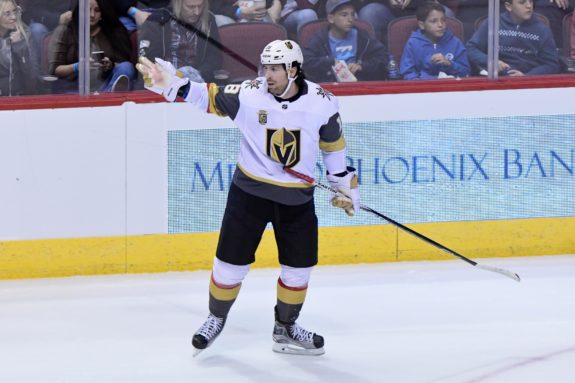 These disappointing results resulted in a lengthy evaluation of the club and its personnel by team management. That process resulted in the ouster of head coach Glen Gulutzan, but also manifested itself in how general manager Brad Treliving attempted to improve his club between the 2018 NHL Draft and the opening days of free agency. To put it simply: Treliving took a sledgehammer to his forward group, and the team is likely better off for it.
A Lack of Flexibility or Depth
The 2017-18 Flames had a forward group with some strengths and weaknesses. Their top two forward lines were primarily Sean Monahan between Johnny Gaudreau and Micheal Ferland, and Mikael Backlund between Matthew Tkachuk and Michael Frolik. The top line scored goals, the second line shut other top lines down. The challenge was when one of those lines faltered in their roles, there weren't many players that could step into the top six to change up chemistry or challenge anybody's place in the line-up. Players were slotted in specific spots, and left to muddle through any challenges they had during the season.
#Flames have lost what little "truculence" they had over the last year: Deryk Engelland (to Vegas) and Micheal Ferland (traded to Canes). Toughness is on their radar but they're not going to go out of their way for it… It could be a fun day tomorrow

— Jermain Franklin (@TSNJFranklin) June 30, 2018
Part of the muddling was due to Gulutzan's hesitance to blow up his forward lines – he eventually did so late in the season when injuries ravaged the Flames – but a large part of it was that the Flames didn't have a lot of players who offered versatility. This lack of depth saw the Flames get only 176 goals from their forwards, which contributed to the team being fifth-worst in the entire NHL in goal-scoring.
Faceoff Challenges
The Flames also suffered due to a common trait of their four primary centermen: they were all southpaws. Monahan, Backlund, Mark Jankowski and Matt Stajan were the Flames' four most-used centers, and all are left-handed shots. Collectively the Flames won 49.4% of their draws, 19th in the league, and a good amount of that was due to having left-handed players taking draws on the right side of the ice, where their handedness is a disadvantage.
One of the bigger challenges for the team was that the only player that could be relied upon to take face-offs on the right side of the ice was Troy Brouwer, who's not a regular center.
Four New Faces
Treliving added four forwards to his group between the draft and free agency: Elias Lindholm, Derek Ryan, Austin Czarnik and James Neal. All four regularly play on the right side. Three of them are right handed and can take face-offs on the right side.
Between the forwards that were added and those that departed – Ferland, Kris Versteeg, Stajan and Jaromir Jagr – the Flames have arguably become a more versatile group in regards to their forward lines. Rather than having players slotted in a particular spot, and having it unlikely that they'd move around that much, the club now has players that can be used in a variety of different situations along with a coach that isn't afraid to tinker mid-game if things aren't clicking.
Who on the Flames has a defined role that likely won't change: likely Gaudreau and Monahan, but probably not too many other players. The hope is likely that the line-up's versatility will give Peters options, while the fluidity of every player's role keeps everybody on their toes for the whole season. In hockey, as in life, safe is death, and last season's players arguably felt a bit too safe.