A dozen of the 33 players invited to the New Jersey Devils' development camp from July 10-14 at the Prudential Center will come from a college hockey background. Although some will return to school in the fall after gaining pro experience this summer, others are further removed from their NCAA days and will be looking to crack a Devils lineup, either in Newark or in Binghamton (AHL). Here's a look at the 12 skaters, in alphabetical order, several of whom have national championships on their résumés.
Joey Anderson, RW, Minnesota-Duluth
Anderson, 20, returns to the Devils' development camp after winning an NCAA title with Minnesota-Duluth in April, one year after the Bulldogs finished as national runner-up. A third-round selection (73rd overall) by New Jersey in 2016, the 5-foot-11 winger collected 11 goals and 27 points in 36 games last season with UMD, which was down a tad from his totals of 12-25—37 points in 39 NCAA contests the year before.
The Roseville, Minn. native, who won gold with the U.S. at the 2017 World Junior Championship before earning bronze in 2018, won't be headed back to college for his junior or senior years, as  Anderson signed a three-year, entry-level contract with the Devils on April 15.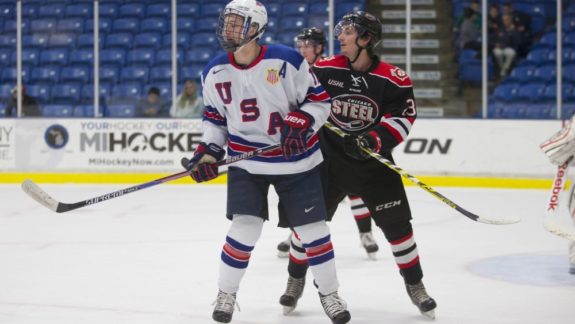 Max Andreev, F, Cornell
Andreev, who will turn 20 in October, will make the jump to the Division I college ranks this fall when he joins the Big Red. The Moscow native, who stands at 5-foot-11, tallied 31 assists and 43 points in 56 games for Central Illinois (USHL) last season, one year after putting up 43 points for the New Jersey Junior Titans (NAHL).  It remains to be seen how long it will take him to adjust to NCAA play, as Cornell seeks to improve on last year's NCAA Tournament appearance.
Robert "Bobo" Carpenter, F, Boston University
The son of former Devils Stanley Cup Champion forward Bobby Carpenter, the younger Carpenter, 21, has seen his point totals increase in each of his three seasons at BU. He went from 16 points as a freshman in 2015-16, to 32 points as a sophomore and then 35 points as a junior.
He was a 20-goal scorer a year ago as the Terriers won the Hockey East Championship and then came within one victory of the NCAA Frozen Four, the 5-foot-11 forward also participated in last year's New Jersey development camp. A 30-goal scorer in juniors in the USHL, Carpenter could forego his last season of college competition to try to crack the NHL lineup.
John Edwardh, F, UMass Lowell
Edwardh, 23, was one of the key members of UMass Lowell's turnaround in recent years, as the 5-foot-11 forward out of Calgary tallied 87 points in four seasons with the River Hawks. As a junior in 2016-17, he notched career-highs of 19 goals and 20 assists for 39 points as UML won the Hockey East regular-season and tournament titles before coming up one game short of the NCAA Frozen Four.
Edwardh completed his college career with 20 points in 35 games last season before going pro immediately after. He posted one assist in his lone AHL appearance while on loan to Binghamton in the spring, after two scoreless ECHL games with the Adirondack Thunder, and will be looking to try and earn a third- or fourth-line spot in Newark.
Tariq Hammond, D, Denver
The 6-foot-2 Hammond was a member of Denver's NCAA championship team that defeated Anderson's UMD squad in the national title game in Chicago in 2017. The undrafted Calgary native signed with New Jersey as a free agent shortly after completing his college career, when the Pioneers were eliminated by Ohio State in the NCAA Midwest Regional Final in late March.
A three-year college teammate of former DU blueliner and current Devils defenseman Will Butcher, the stay-at-home d-man, 24, contributed six goals and 20 assists for 26 points in 125 NCAA outings, then registered one assist with Binghamton in five AHL outings this spring.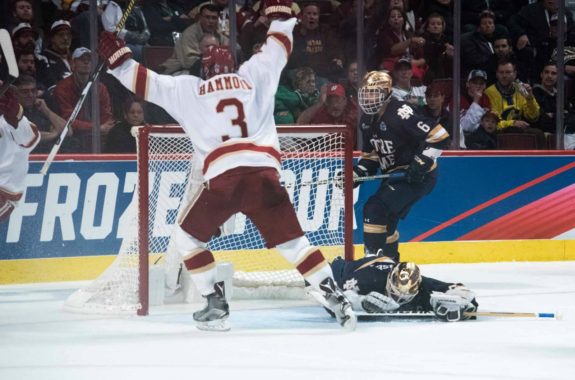 Cam Johnson, G, North Dakota
The 6-foot-1, Michigan native backstopped the Fighting Hawks to the 2015-16 NCAA title and finished with a career-best 24-4-2 record that winter. After fashioning a 12-9-7 mark as a senior at UND last season, he turned pro with Binghamton and went 0-1-0 in three AHL appearances with a 3.90 goals-against average.
Johnson, 23, will likely be in the AHL or even ECHL next season getting more acclimated to the pro game unless something drastic happens to Keith Kinkaid or Eddie Lack, or if Cory Schneider's recovery from hip surgery takes longer than expected.
Michael Kim, D, Boston College
Kim, 23, has been a mainstay on the BC blue line since enrolling midway through the 2015-16 campaign when he helped the Eagles to their last NCAA Frozen Four. In 2 1/2 seasons with BC, the Toronto native tallied 11 goals and 36 assists for 47 points with just 38 penalty minutes. A team captain last season, he has shown a penchant for scoring key goals. The six-foot defenseman is expected to finish his college career with the Eagles in 2018-19.
John Ramage, D, Wisconsin
The son of former NHL blueliner Rob Ramage, John is entering his sixth season of professional hockey after dividing last year among three AHL clubs in Cleveland, Tucson and Milwaukee. A four-year letter winner at Wisconsin, the six-foot blueliner helped the Badgers to the 2010 NCAA championship game as a freshman before being drafted by the Calgary Flames in the fourth round that summer.
Ramage, 27, who has seen action in a handful of NHL games to date, enjoyed his best scoring season so far with Lake Erie (AHL) in 2015-16, when he notched eight goals and 19 assists in 67 outings.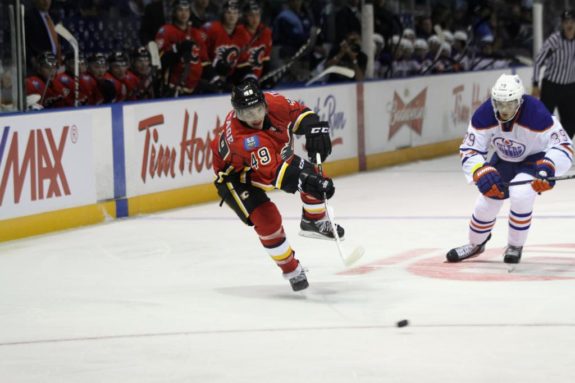 Ryan Schmelzer, F, Canisius
A native of East Amherst, N.Y., the 6-foot-2 forward strung together three straight seasons of 30 or more points at Canisius after recording 14 points as a collegiate rookie in 2014-15. After finishing his NCAA career with the Golden Griffins in March, he turned pro and averaged a point per game with the Devils' ECHL affiliate in Adirondack.
Schmelzer, 24, registered two goals and seven points in seven regular-season appearances, before adding 17 points in 17 Kelly Cup playoff contests as the Thunder skated to the ECHL's Eastern Conference Final. For now, Schmelzer would provide organisational depth for the Devils, either in Binghamton or Adirondack.
Brett Seney, LW, Merrimack
A sixth-round choice (157th overall) by New Jersey in 2015, Seney, 22, played four seasons at Merrimack and topped out at 13 goals and 19 assists for 32 points as a senior last season to earn Hockey East Third Team All-Star accolades.
Shortly after his college career with the Warriors was done, with 42 goals and 114 points to his credit, Seney jumped to Binghamton as a free agent and notched three goals and eight points in 12 outings with the AHL Devils. The 5-foot-9 winger may look to fill a role similar to that of former Devils forward Brian Gibbons, who left New Jersey for Anaheim as a free agent earlier this month.
Max Véronneau, F, Princeton
Véronneau, 22, was one of the top scorers in NCAA Division I last season, finishing second overall in the nation with 55 points on 17 goals and 38 assists. He also helped the Tigers to their first NCAA Tournament berth since 2008-09 and their first winning season since 2010-11. A clever playmaker and power play specialist (20 power-play points last season) who earned All-America status in 2017-18, the six-foot, Ottawa native is slated to return to campus this fall as Princeton seeks to remain atop ECAC Hockey after winning last year's league postseason championship.
Reilly Walsh, D, Harvard
A coveted right-handed shooter from the blue line, Walsh, 19, made his college debut last season by registering seven goals and 13 assists for 20 points with Harvard, as the depleted Crimson squad was unable to return to the NCAA Tournament. A third-round choice (81st overall) by New Jersey in 2017, Walsh, 5-foot-11, is expected to return to Cambridge, Mass. to gain more collegiate experience before making a full-time jump to the pro level.