There have been tremors of possible Boston Bruins activity since the 2017-18 season came to a close in June, yet there is little to show for all the commotion. General manager Don Sweeney landed John Moore, Jaroslav Halak, Chris Wagner, and Joakim Nordstrom once July 1 rolled around, marking the beginning of free agency. These signings were minor, to say the least, filling Boston's locker room with depth; footnotes compared to the rumors that the team was in talks with Ilya Kovalchuk and John Tavares.
But there is a hefty transaction on the horizon. The Bruins need a second-line winger to play with center David Krejci and Jake DeBrusk, who had a stellar rookie year. Otherwise, head coach Bruce Cassidy would be forced to break up the team's first line of Brad Marchand, Patrice Bergeron, and David Pastrnak in order to spread the scoring wealth.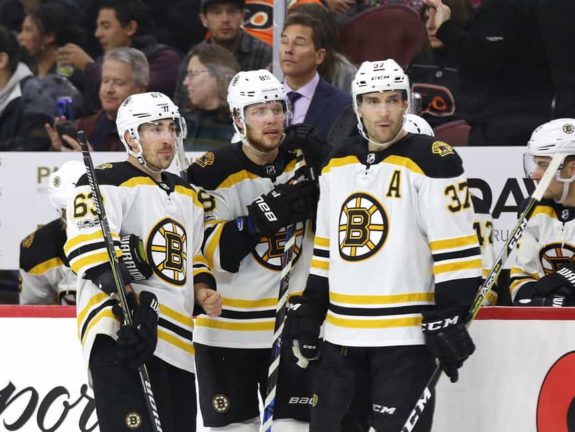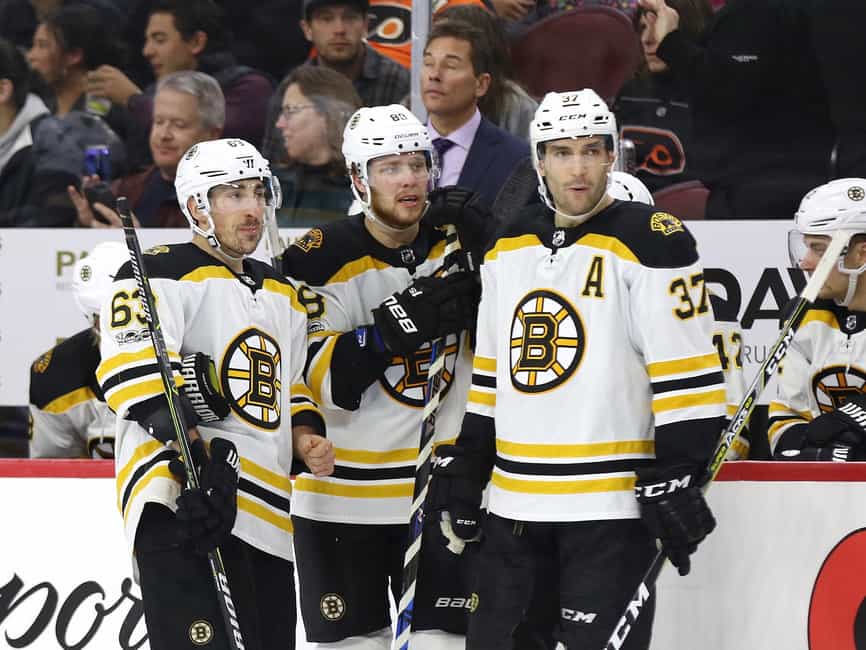 Considering that top-notch free agents are falling to other teams at a rapid rate, a trade is the only feasible route to fulfill the gap in the top six. While Sweeney has a number of assets to offer in a deal, there are a handful of players that should be considered untouchable.
Marchand, Bergeron & Pastrnak
The Bruins' first line combined for 99 goals and 129 assists, a total of 228 points in 214 combined appearances. Pastrnak was the only member of the line to appear in all 82 games, but it seemed as though Marchand's (68 games) and Bergeron's (64 games) missed time was not enough to halt their production. Imagine how much more offense the trio could have produced if all were healthy.
All three players should be untouchable after their performance during the 2017-18 season. Pastrnak, who will enter the 2018-19 campaign as a 22-year-old, is far too young and lethal to consider moving. Bergeron is Boston's franchise player and one of the best centers in the NHL. Marchand, however dirty, provides enough production to override the trouble his extracurricular activities cause himself and the team in turn. You must also consider the chemistry he and Bergeron have developed playing together.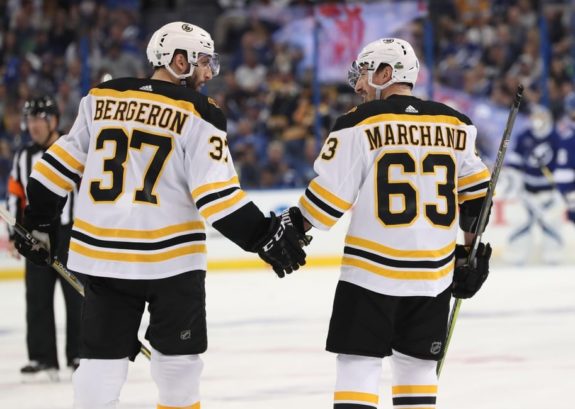 Without this first line carrying the team, the Bruins would not have seen the postseason this year. Without even one member of the line, the team would have scored roughly 30 fewer goals from the 267 scored during the regular season, over 11% of Boston's production.
McAvoy, DeBrusk & Donato
Three of Boston's up-and-coming stars ought to be considered off the table during trade negotiations. Last season, the story was different for DeBrusk – Boston had not seen him perform at the NHL level, and the team was blessed with a surplus of rookies fighting for starting minutes during the offseason. However, the Bruins held on to the winger and must be delighted they did.
DeBrusk tallied 16 goals and 27 assists in 70 regular season appearances. During the postseason, the 21-year-old played with the poise of a veteran, outperforming some of the B's best players in all three zones and notching six goals and two assists in 12 games. Entering his sophomore season, the forward has nailed down a top-six role; Keeping him on the third line would be a waste of his talent and potential. DeBrusk seems destined for a 20-goal campaign next year and given his young age, he should be considered unmovable.
Then there is Charlie McAvoy. The 20-year-old, who was named to the NHL's All-Rookie team, is on a path to stardom and perhaps even a Norris Trophy before he hangs up the skates. Trading this young defenseman would be laughable and Bruins fans would be beside themselves, especially after the number of young stars the team has let slip away in the past including Joe Thornton and Tyler Seguin.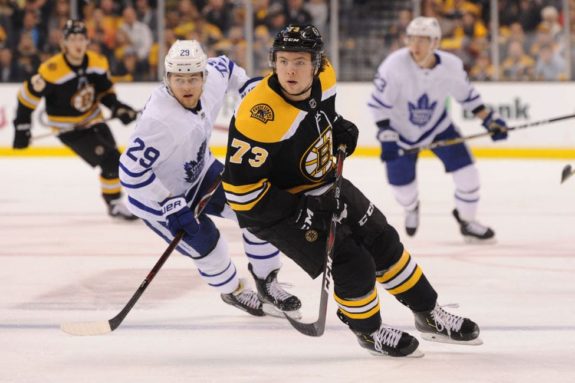 The blueliner is already a No. 1 defenseman in the NHL, and playing alongside a veteran like Zdeno Chara for another season bodes well for McAvoy's continued development. Barring a series of unfortunate events, the youngster will be a lethal two-way defenseman. Sweeney should just hang up the phone if the name McAvoy is mentioned during trade talks this summer.
Then there's Hobey Baker finalist Ryan Donato whose future is uncertain at this juncture. He has the potential to be a star but without a full NHL season under his belt, he could also be a flop. The 22-year-old tallied five goals and four assists in 12 appearances during the regular season and will likely find himself with a starting role next year. With his ceiling still uncertain, trading the youngster now would be a gamble. It would be wise to see what Donato can bring to the table, so he should be considered untouchable until more is seen from him at the NHL level.
Conditional: Rask, Krejci & Carlo
Beyond the outright untouchables, are players who have an asterisk next to their name. Tuukka Rask receives a healthy dose of criticism but trading the B's starting goaltender is unrealistic unless, of course, the team nets a starting goaltender in return. Otherwise, you can kiss a 2019 playoff run goodbye.
Krejci is also the topic of trade rumors. It was reported that Sweeney was listening to offers on the second-line center but nothing has come to fruition. That is likely because trading the 32-year-old, like Rask, would require finding a  worthy replacement in order for the Bruins to stay afloat as a Cup contender. While Krejci's stats last year (17 goals and 27 assists in 64 games) were underwhelming, he could easily bounce back especially if Boston plugs the hole on the Czech native's right wing.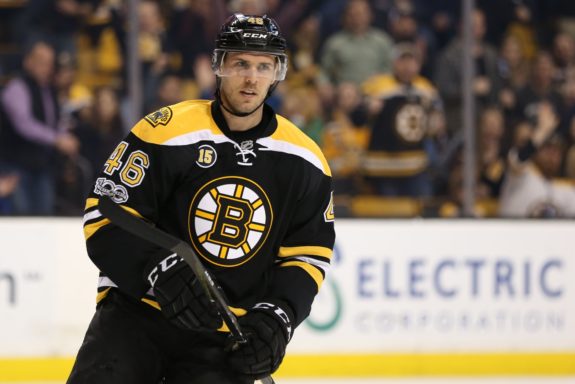 Another conditional untouchable is defenseman Brandon Carlo. While he may not have the same value as McAvoy, it looks like he will have a lengthy NHL career as a top-four defenseman. The 21-year-old's defensive play is remarkable for his age. Of course, he made some mistakes during the 2017-18 campaign, but what else can be expected from a player who is barely old enough to buy a beer? If he learns from his mistakes rather than beating himself up, Carlo will continue to round out his defensive game and can hopefully pitch in with a few more points than the six he produced last year.
The asterisk next to Carlo's name is the same as Rask's and Krejci's: they require a replacement. The only way these young defensemen are shipped off during the 2018-19 campaign is at the trade deadline for another top-four defenseman who significantly heightens Boston's chances of a long postseason run. However, I'd rather see Carlo get a crack at postseason play unless he suffers yet another untimely injury.