The Carolina Hurricanes have re-signed defenseman Trevor van Riemsdyk to a two-year contract worth $4.6 million, according to Frank Seravalli and later confirmed by the team. The deal comes with an annual cap hit of $2.3 million per season and will keep van Riemsdyk locked up through the 2019-20 season.
The #Canes have agreed to terms with @TvanRiemsdyk6 on a two-year contract!https://t.co/J1b2Hec2ec

— Carolina Hurricanes (@Canes) July 5, 2018
While van Riemsdyk originally filed for an arbitration hearing to settle his contract, the Hurricanes were ultimately able to offer him a deal that was suitable for both sides. For van Riemsdyk, it's an increase on the $825,000 per season he made in each of the last two seasons as well as the $925,000 he made in his first two seasons on his entry-level deal. For the Hurricanes, this is a very affordable bridge contract that will allow them to see exactly what they have in the 26-year-old van Riemsdyk who was traded to the Hurricanes prior to the 2017-18 season.
"Trevor was a steady presence on our blue line last season," said Hurricanes' president and general manager Don Waddell. "He's shown progression each year of his NHL career, and is a well-liked player in our locker room."
Though van Riemsdyk is far from a prospect (he's set to turn 27 years old at the end of July), he's only been in the league for parts of four seasons. With his ability to play a solid two-way game coupled with his right-hand shot and size at 6 foot 2 and 188 pounds, van Riemsdyk was locked up for a very team-friendly deal and will still get a chance to cash in at 28 years old when his contract expires.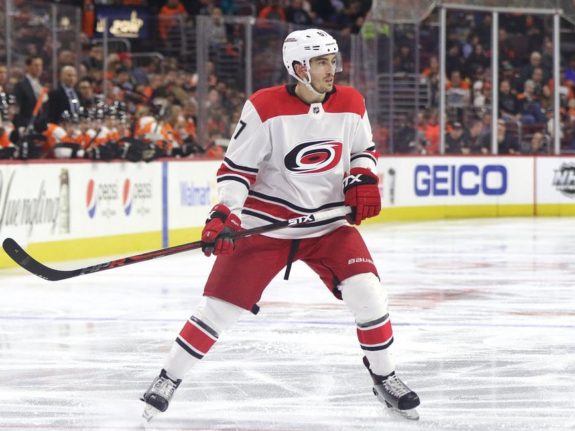 Last season, his first in Carolina, van Riemsdyk scored three goals and 16 points in 79 games. In his career, he's scored 11 goals and 47 points in 237 games and has been much more of a puck-mover and defensive-minded player than a true two-way offensive threat. With that in mind, there is certainly room for van Riemsdyk to grow offensively if paired with better offensive players around him in Carolina.
Major Changes to the Hurricanes
The Hurricanes have made some major moves this offseason on defense by adding Dougie Hamilton from the Calgary Flames and Calvin de Haan out of free agency. This of course also came with the subtraction of Noah Hanifin who was a part of the Hamilton trade. Even more, the Hurricanes could realistically move Justin Faulk at some point this offseason which would just add to the carousel on their blue-line.
Related: Hurricanes Acquire Hamilton From Flames
It's unclear what type of team the Hurricanes will be next season. With their plans to revamp the team already in full-effect with the aforementioned moves on defense as well as the subtraction of Elias Lindholm but additions of Micheal Ferland and Andrei Svechnikov up front, the 2018-19 season for the Hurricanes could be an interesting one. Whether they are able to compete for a postseason berth or not, the team is doing all they can to break free from the status-quo – something that's been necessary for some time in Carolina.
The Eastern Conference is full of powerhouses in the Tampa Bay Lightning, Boston Bruins, Toronto Maple Leafs, Washington Capitals, Pittsburgh Penguins and Columbus Blue Jackets. With that in mind, teams like the Hurricanes, Florida Panthers, Philadelphia Flyers and New York Islanders (minus John Tavares) could legitimately make a push for wildcard spots in 2018-19. The opportunity is there for the taking.