Talking about the Montreal Canadiens inevitably leads to a conversation about their problems at centre. The recent signing of John Tavares by the Toronto Maple Leafs was especially hard for Habs fans, who watched their division rivals bolster their offense while they had to be satisfied with the return of veteran Tomas Plekanec.
The drafting of Jesperi Kotkaniemi and continued progress of Ryan Poehling suggests the team may not have to wait long for help up the middle, but lost in the excitement are the remaining centres who will likely start for the team next season. Jonathan Drouin's development will no doubt continue, aided by his old coach with the Halifax Mooseheads, Dominique Ducharme, who is now an assistant with the Habs.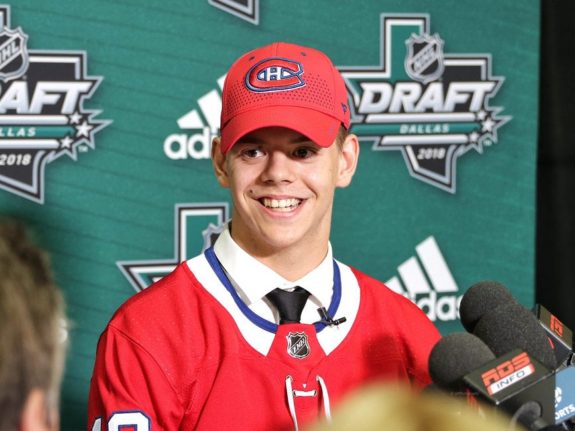 Plekanec will squeeze back into his old role on the third line, checking first-line opponents and providing help on the penalty kill. Jacob de la Rose showed the occasional flash of dependability last year, but his most noteworthy accomplishments were as part of the Swedish national team at the 2018 IIHF World Hockey Championship. His performance likely earned him a chance at a spot in the starting lineup more than his play with the Habs the previous year.
There is one more player in the mix – with the absence of any solid acquisitions through trades or free agency, Phillip Danault is slated by many to be the Habs' first-line centre next year. Although his previous season was cut short by a concussion, his accomplishments prior to the injury bear closer scrutiny. Certainly, his versatility will come in handy while the team deals with some obvious holes in their lineup.
Danault's Value Offensively
When the Canadiens' acquired him from the Chicago Blackhawks for Dale Weise and Tomas Fleischmann just before the 2016 trade deadline, Danault was primarily considered a defensive centre. His solid faceoff win percentage and ability to read plays made him the ideal third liner, but he found himself initially splitting duties between the bottom two lines at the start of the following season.
Alex Galchenyuk's knee injury in early December changed everything. By the end of the month, Danault was logging first-line minutes with Max Pacioretty and Alexander Radulov, and in January 2017, he surprised the Winnipeg Jets with a two-goal performance, including a highlight-reel end-to-end rush.
Suddenly there was a lot of talk about Danault becoming a legitimate offensive threat, but coach Claude Julien continued to shuffle his lines and place the young forward all over the lineup. In his remaining 39 games he averaged 18 minutes of ice time but produced only 19 points, finishing the year with 13 goals and 27 assists. Still, among forwards that year, his overall performance matched players like Derick Brassard and Lee Stempniak.
2017-18:  A Season Cut Short
Danault entered last season with optimism after becoming a regular for the first time in his NHL career. Although the Habs struggled overall, his statistics were consistent with his previous year, earning 25 points in 52 games. He played again with Pacioretty, but this time Andrew Shaw was his most consistent right winger. Before a Zdeno Chara slapshot ended his year prematurely in January, Danault continued to develop as a playmaker and faceoff man, largely on an injury-riddled team that didn't have the depth to compensate.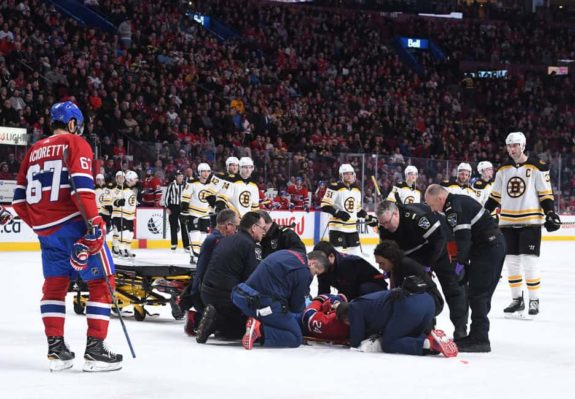 While fans were initially concerned about the length of time he would miss, fortunately, his recovery is complete and there will be no issue with his readiness for the Canadiens' training camp in September.
Phillip Danault is feeling 100%, and has never appreciated being a Hab more than he does now.

READ ➡️ https://t.co/fUtFRRRNza#GoHabsGo

— Canadiens Montréal (@CanadiensMTL) June 29, 2018
Finding a spot in the lineup should prove interesting. Brendan Gallagher had a breakout season playing primarily with speedy left-winger Paul Byron. With Danault as their centre, they can take advantage of his ability to hold onto the puck while Gallagher gets into position and Byron uses his ability to rattle opposing defenders and goaltenders. Certainly, Julien is not adverse to trying different combinations until finding one that works.
Why Signing Him is Important
Aside from the team's immediate lack of depth at centre, Danault's versatility will pay off in the long run. Unlike de la Rose, he's been able to play consistently over a full NHL season. With Plekanec likely to retire after this year, the Habs may see a lot of youth up the middle in 2019-20. Kotkaniemi may be ready by then, and NCAA star Jake Evans could be a call-up if de la Rose falters or the team is hit with another injury bug.
Whether he continues to improve offensively or not, his ability to play in the back end, take defensive-zone faceoffs, and kill penalties is a key to his value with the team. Alex Galchenyuk helped write his ticket to Arizona by neglecting this side of his game, but Danault is clearly the player who will do anything his team asks of him.
There is also the cultural factor. As much as the Habs' fanbase wants to deny it, the team is built around the mythology of French-speaking local heroes bringing honour to this unique part of North America through their accomplishments in hockey. Danault is a local boy from Victoriaville who made the NHL and earned himself a spot on the Habs. He's been gracious with the community and the media and has avoided the notoriety that sunk many careers here.
As a restricted free agent with a qualifying contract offer from the Habs, Danault has some negotiating power. Losing him would cast doubt on Marc Bergevin's skill to assess the talent he has, as well as his plan for the club in the short term.
Born and raised in Montreal, I've been a Montreal Canadiens' fan since I was 7. By day I work advising students in a university and the rest of the time I enjoy family life and a number of activities. I'm actually a basketball dad- My son never developed a love for hockey but plays on one of the top five high school basketball teams in Quebec.