The Hobey Baker Award will be awarded to NCAA Hockey's most outstanding player on Friday, April 6. The achievement is not only recognition of an athlete's ability at the college level but often foreshadows success at the NHL level as well. Recent winners include Jack Eichel, Johnny Gaudreau, and Jimmy Vesey.
This year's finalists—Henrik Borgstrom, Ryan Donato, and Adam Gaudette—have all already seen a handful of games in the NHL, which emphasizes just how much they have impressed during their time in the NCAA. However, this is about the only quality all three of these players share.
Henrik Borgstrom, Denver Pioneers
Born on Aug. 6, 1997, in Helsinki, Finland, Borgstrom grew up watching his favorite player, Pavel Datsyuk, make defensemen look silly for a living. Now, thanks to his emulation of this trait, the 23rd overall pick of the 2016 NHL Entry Draft finds himself as a Hobey Baker Award finalist.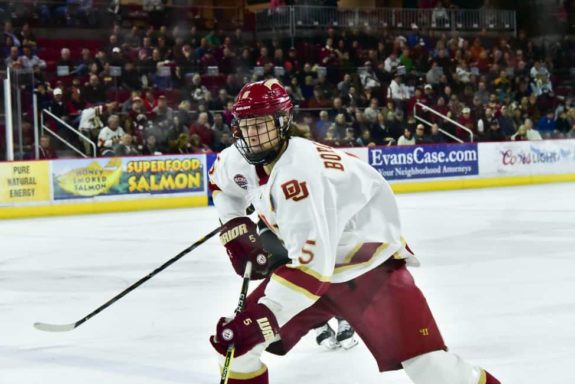 Nicknamed 'The Artist', Borgstrom's young hockey career has been nothing short of a spectacle. He spent the 2015-16 season in the Finnish Elite League (SM-Liiga), earning himself a spot on the league's First All-Star Team. In just 40 games, the forward notched 29 goals and 26 assists, maintaining a plus-23 rating.
In the 2016-17 season, Borgstrom was named Denver University Athletic's Male Freshman of the Year. He led all NCAA freshmen in goals with 22 while managing a total of 43 points in 37 games en route to being named the National Collegiate Hockey Conference (NCHC) Rookie of the Year.
This past season, Borgstrom turned heads once more, starting off the year with an 11-game point streak, notching 13 goals and nine assists between Oct. 13 and Nov. 18. He continued to make waves throughout the entirety of the season, tallying 23 goals and 29 assists in 40 games. In fact, out of those 40 games, there were just 10 in which Borgstrom failed to produce a point.
Borgstrom rounded out the year by signing an entry-level contract with the Florida Panthers, who hope he can be a difference-maker as they attempt to propel themselves into the postseason.
Ryan Donato, Harvard Crimson
Donato, of Scituate, Massachusetts, was born to play the game of hockey. He followed in the footsteps of his father, Ted Donato, who played for the Harvard Crimson and won an NCAA Championship in 1989 before going on to become the program's head coach—a position he has held for over a decade.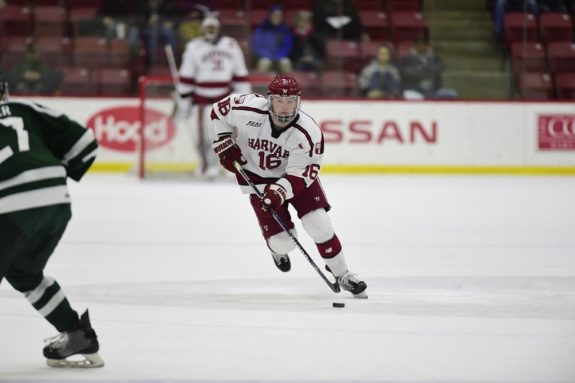 Donato used the Dexter School in Brookline, Massachusetts as a launch pad for his hockey career. During his senior year, he served as the team's captain, scoring 18 goals and 35 assists during the 2014-15 season.
During that same campaign, Donato played with the South Shore Kings of the United States Premier Hockey League-Premier (USPHL-Pr) and the Omaha Lancers of United States Hockey League (USHL). He tallied 10 goals and 10 assists in 21 games split between the two teams.
During the 2015-16 season, Donato was awarded the George Percy Award as Harvard's best freshman athlete, registering 13 goals and eight assists in 32 games. He eventually joined the U.S. World Junior Team, winning a bronze medal at the 2016 IIHF World Junior Championships.
The following year, the 6-foot-1 forward was named Ivy League Player of the Year, scoring 21 goals and 19 assists while appearing in all 36 of the Crimson's games that season.
This past season during his junior year, Donato notched 26 goals and 17 assists in 29 games, only four of which Donato failed to register any points in. Midseason, he joined the U.S. Men's Ice Hockey Team at the 2018 Winter Olympics.
Donato followed in his father's footsteps once more when he was selected by the Boston Bruins in the second round of the 2014 NHL Entry Draft. He went on to join the club at the end of the regular season. He has scored four goals and three assists in his first eight NHL games.
Adam Gaudette, Northeastern Huskies
Before joining the Northeastern Huskies, Gaudette was a member of the Cedar Rapids RoughRiders of the USHL during the 2014-15 season. The Braintree, Massachusetts native scored 13 goals and 17 assists in 50 games that year.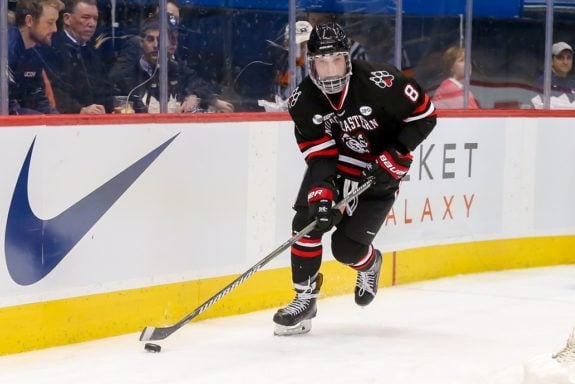 Gaudette went on to make an immediate impact with the Huskies, becoming the team's fifth-best point producer in his freshman year with 12 goals and 18 assists.
By the end of his sophomore year, the 6-foot-1-inch forward was tied for ninth place in the nation for scoring, tallying 26 goals and 26 assists. He even broke a Northeastern single-season record with 16 power-play goals.
But it was this past season where Gaudette really took flight. He finished out the 2017-18 campaign with 30 goals and 30 assists in just 38 appearances, making him just the ninth player in Northeastern history to register 100 points within a span of two seasons.
While Gaudette is looking to take home the Hobey Baker Award on Friday, he has already received a number of accolades this season. He was named the Beanpot MVP—a tournament he helped the Huskies win for the first time in 30 years. He was also named the Hockey East Scoring Champion and was awarded Hockey East Player of the Month in both January and February of this year.
Now Gaudette's focus has shifted to the NHL after signing with the Vancouver Canucks. The 21-year-old was selected 149th overall in the fifth round of the 2015 NHL Entry Draft—by all means, a steal.
On April 6, one of these fine young hockey players will be awarded college hockey's most prestigious award. While just who will take the cake is not yet clear, one thing is certain: all three are worthy.
I cover the Boston Bruins and NCAA Hockey here at The Hockey Writers. Born and raised 10 miles north of Boston, I developed a love for the game of ice hockey at a very young age. There's really nothing better than this sport, though steak is a close second.